Top 5 Best Ankle Holsters 2018: Concealed Carry Ankle Holsters
When you think of an ankle pistol holster, you might think back to the old West movies when people had their guns tucked away in such a holster during an important card game.
These days, however, they are becoming a much more well known piece of gear to have on hand.
Best Ankle Holster for Concealed Carry
---
There are still a great many places where you can carry a concealed weapon, and a concealed leg holster is a great way to do it. Not only are they easy to put on and not cumbersome to wear, accessing them is as easy as bending over to "tie your shoe".
---
Galco Ankle Glove/Ankle Holster Review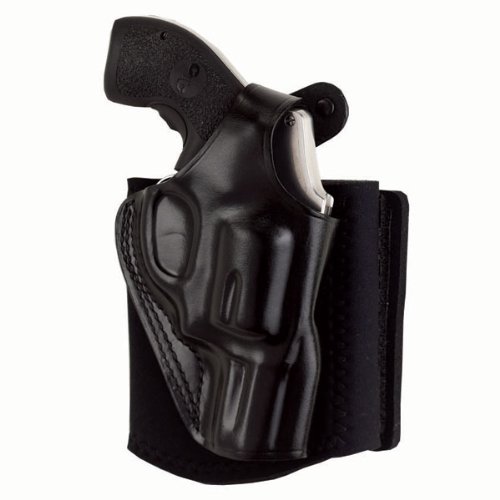 Finally, we come to the Galco Ankle Glove/Ankle Holster for Glock 26, 27, and 33. Serious gun carriers who need deep concealment and prefer an ankle holster almost always choose the Galco Ankle Glove.
Those who need concealment 80 hours a week, year in and year out, find this holster incredibly comfortable to wear and can nearly forget that it is even there, until they need it. The wide neoprene ankle band and Velcro closure offer extended wearing comfort and unmatched security. Additional comfort is provided by sheepskin padding between the holster and the ankle. It also features a reinforced thumb break for speed of draw and detailed molding for firearm retention.
The Galco is constructed of premium saddle leather stitched to a neoprene band and accommodates ankles up to 13 inches in circumference. Made for semiautomatic pistols and double action revolvers, the Ankle Glove is available for both right and left hand draw in a black finish. Some guns that feature custom or oversized rubber grips will not fit because the retention strap is not long enough to wrap around them. This one works best with slim wood or boot grips.

---
Outbags OB-31ANK Ankle Holster Review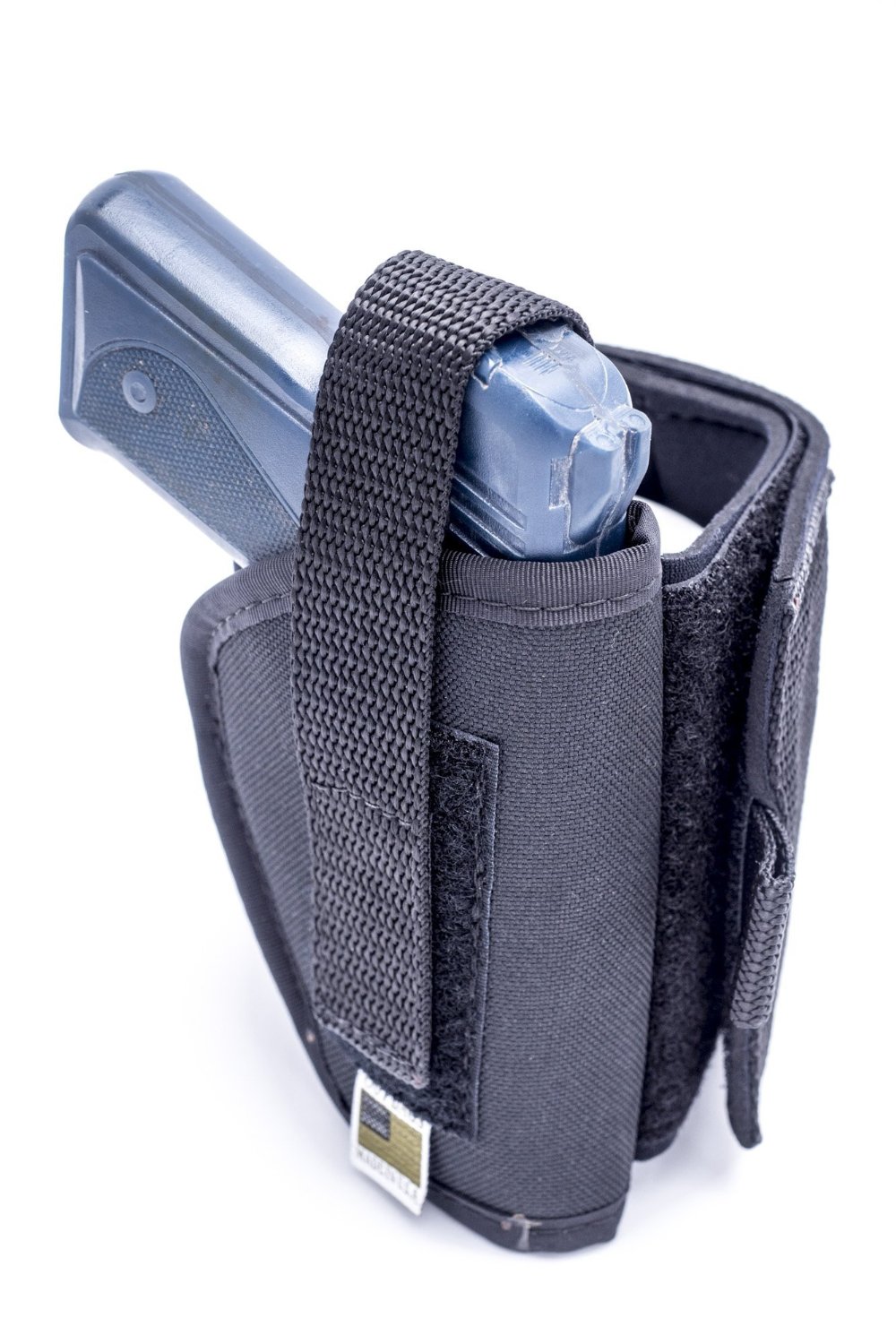 Next is the Outbags OB-31ANK Ankle Holster. This particular holster is unlike any other ankle holster available on the market today. Made in Southern California from high quality nylon materials, the Outbags Ankle Holster brings you a durable kit at a reasonable price.
It is set apart from other substandard holsters by its neoprene ankle brace. Other ankle holsters are made with elastic materials, which can stretch and deform over time. This stretching will critically affect the ankle holster's hold, making it less than efficient for every day carry.
The Outbags neoprene brace will never stretch and will always provide a secured fit. Made primarily for ankles with a 10-13 inch circumference, this is the perfect to use as a 38 special ankle holster or a .22 ankle holster, as well as other comparable sizes.
Some people report that, due to the shape of the leg and no upper retention support, this holster does sometimes work its way down your leg, even though you have the straps tightly locked in place. However, others report no such problem at all. There is also a complaint that the vertical strap is a bit long and has to cut and sewn back together. Overall, the comfort level cannot be beat by any other holster.

---
UTG Concealed Ankle Holster Review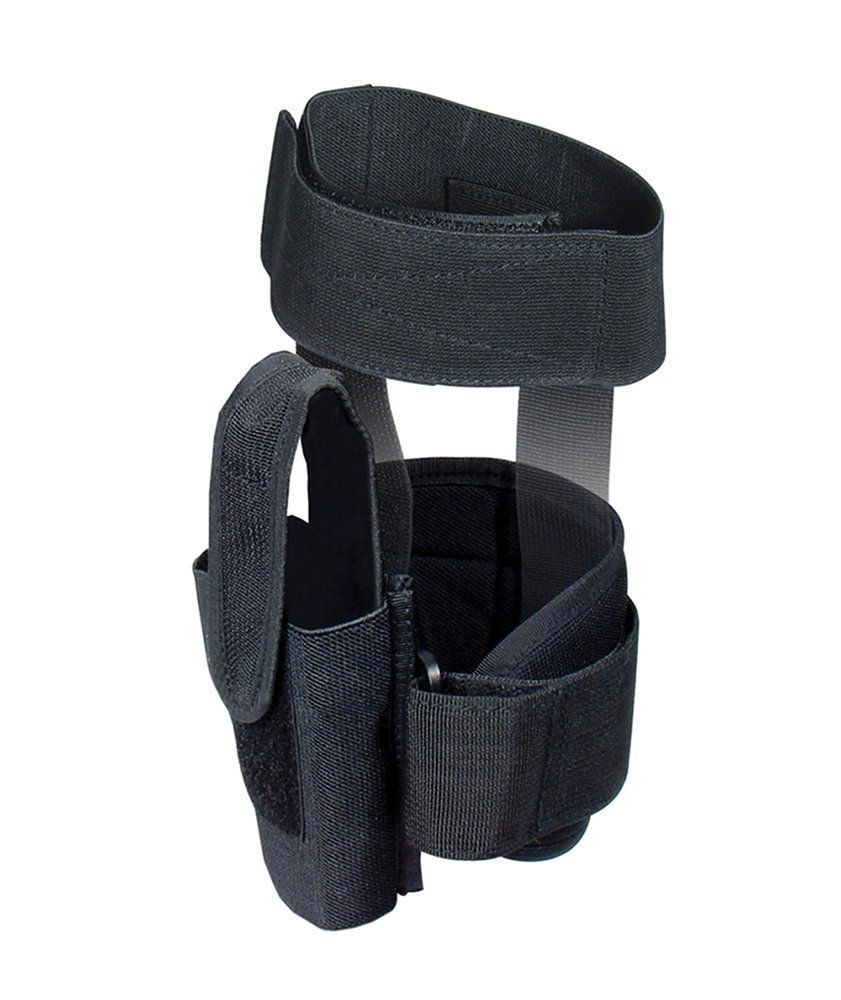 We will first take a look at the UTG Concealed Ankle Holster. This CC ankle holster is made of heavy-duty adjustable elastic with an integral padding made right into the design.
There is a padded wrap around strap with hook and loop adjustment that makes for a very comfortable and secure fit. There is an additional adjustable strap that goes around the calf as well as double vertical security straps for even the most demanding of applications.
Whether you are out for a leisurely stroll, hiking through rough terrain, or running from a would be attacker, the UTG ankle holster is surely going to hold up its end of the bargain.
The UTG Concealed Ankle holster fits all compact and subcompact pistols. Weighing in at only four ounces, this is definitely a lightweight holster. The wide range of available adjustments that can be made may make for a bit of confusion, but not for long.
As soon as you realize that there are adjustments for fitting on your person, as well as different adjustments for fitting the weapon, it should make for a quick job. For extra concealment, some people like to wear this holster with the gun on the inside of the leg, which makes the weapon almost undetectable.

---
Uncle Mike's Law Enforcement Ankle Holster Review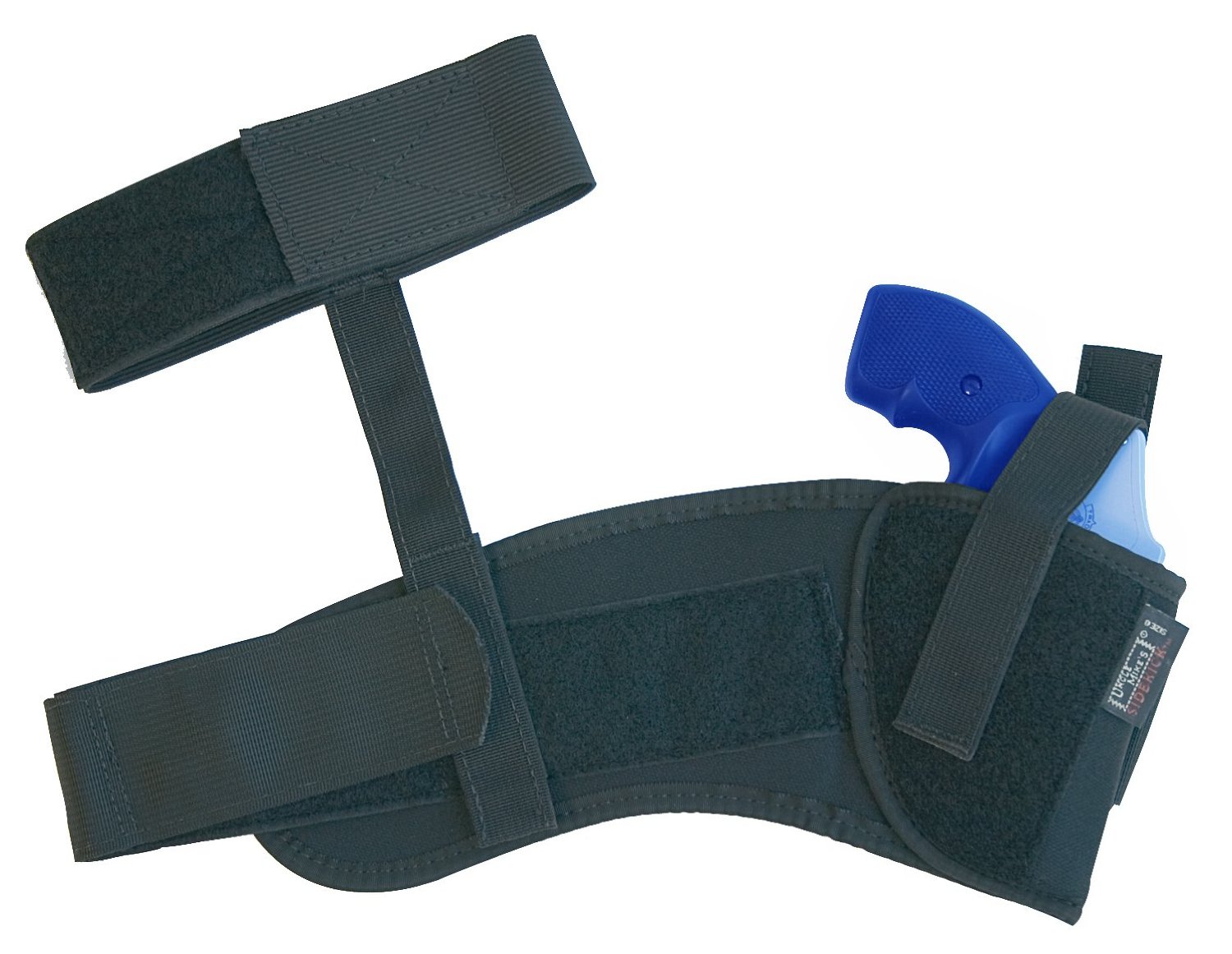 Next on our list is Uncle Mike's Law Enforcement Ankle Holster with Retention Strap. This kodra nylon holster does a great job of concealing small and medium firearms and even works for some compact large frame automatics right inside the pant leg.
The soft knit fabric is comfortable enough to be worn right against the skin, with closed cell foam to act as a moisture barrier as well as padding for support and comfort. The nylon retention strap that gives added support to the holster also has a reinforced thumb break.
For extra comfort, this holster features a cinch down design with hook and loop adjustments so that you can get the perfect fit, every time. Right hand models work well on the inside of the left leg and left hand models work well for the inside of the right leg. The wraparound design snugs the holster strap around the ankle and the removable calf strap has Velcro adjustments.
Weighing in at 7.2 ounces, this holster is lightweight considering its size and its largest length is 13.5 inches.

---
TufForce Concealed Ankle Holster Review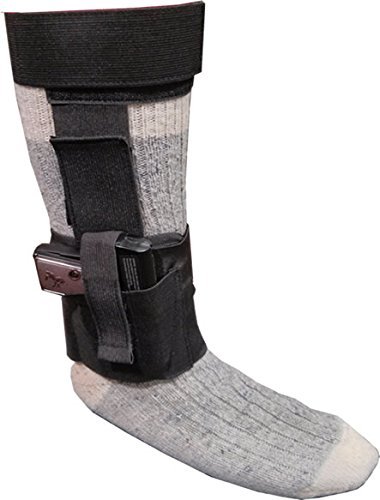 Our next model is the TufForce Concealed Ankle Holster. This holster is made to fit small to medium frame pistols and revolvers, has a soft, comfortable padded back and is adjustable for a great fit.
With a two-inch wide leg strip featuring a cinch down design, the TufForce adjusts for both right hand and left hand models with ease and also features a moisture barrier for those hot days that might get uncomfortable with other holsters.
While the abundance of adjustments makes for a great fit for both you and your gun, it can be somewhat confusing to figure out which strap does what. However, with a bit of maneuvering, you will find that you can achieve the perfect fit in no time.
This holster's adjustments make it possible for even those with large calves to get a nice comfortable fit with the use of these straps, or it can be cinched up for a fit for those with smaller legs. This makes it great as a EDC ankle holster.
Of course, as with all ankle holsters, you will need a pant leg that makes concealment of the firearm easy. Tight fitting clothes will of course not allow this to happen. Since this is a good as a EDC holster, it is one of the most comfortable ankle holsters you can find.

---
My Vote for Best Ankle Holster
All of these are excellent choices to use as an ankle gun holster. That said, everyone will have his or her own preference, as do I.
Of the five best ankle holsters on our list, my personal top pick is definitely the Galco Ankle Glove. The superior quality of the leather, paired with the neoprene and the sheepskin has the ultimate in comfort and wear ability.
This is one of the main things that an every day gun carrier looks for in a concealed weapons holster. Without comfort like this, it nearly becomes a chore to carry a weapon, and that certainly will not work for every day carry.
Another plus for this holster is the fact that there is a reinforced thumb break, which makes it incredibly easy to draw, even with a hammerless weapon. While other holsters might have the thumb break, the fact that this holster is made of leather and wears so well makes it an obviously better choice.
And finally, the detailed molding retention is a gun's best friend. While other holsters simply hold a weapon until you are ready to use it, the Ankle Gloves actually hugs your weapon, making it feel as if it isn't even there at all.