Top 5 Best Under the Bed Gun Safes 2018: Under Bed Safe Reviews
Of all the places in a home where a gun is kept, under the bed is one of the most often chosen places. When kept under the bed, your gun usually out of the way, safe and secure. Visitors usually never have access to your bedroom, thus making an under bed gun safe an excellent choice for keeping it away from anyone who might have a tendency to snoop and the children are usually taught not to dig around in their parent's bedroom as well. Of course, for someone who lives alone, children are not even an issue.
Another reason why so many people opt for a bed gun safe is the ease of access to it should there be an intruder in the middle of the night.
This means that you will be close to your weapon and can find and draw it quickly and easily. However, it must also be noted that if you are not home and an intruder breaks into your home, this is most likely the first place they will look for a weapon, which is why it is important to have an under the bed safe instead of just storing your gun under your bed without a safe.
---
Under the Bed Gun Safe Reviews
The last thing you want is to arrive home from an outing to be surprised by an intruder who is armed with your own gun.
In light of situations like that, we are going to review the top five under bed safes that you might want to invest in for your own personal and family protection.
---
Monster Vault Dual Lock Under the Bed Safe Review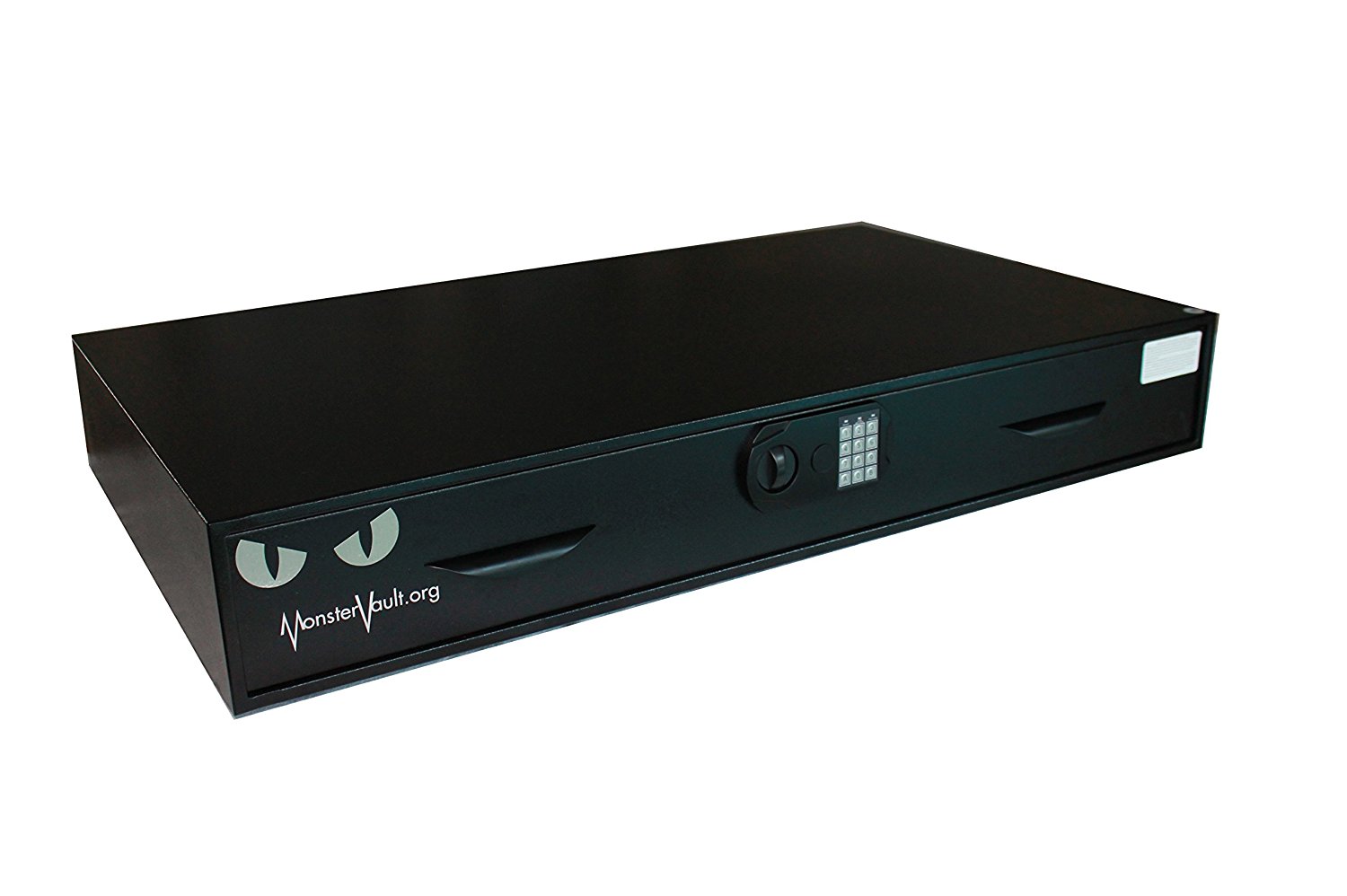 The Monster Vault Dual Lock Under the Bed Safe is another great safe that is made of 11-gauge solid steel construction on the top and bottom with 7 gauge solid steel on the sides. Proudly made in the USA, this 28 x 48 x 7 inch safe weighs in at 140 pounds and features a user programmable electronic key pad with a back up keyed entry as well.
There are mounting holes for securely fixing this safe to the floor so that you have no worries at all that it will ever be stolen.

---
Stealth Defense Vault Under Bed Gun Safe Review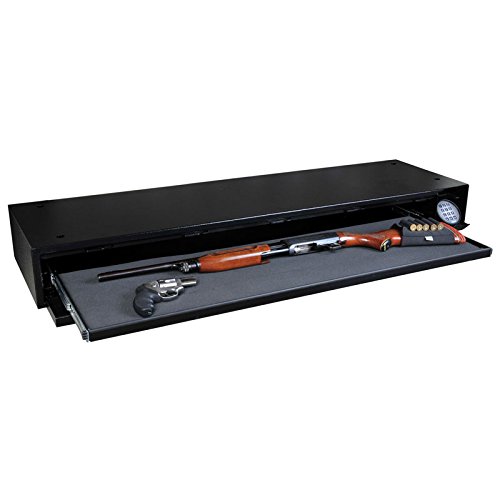 Our first item for review is the Stealth Defense Vault Under Bed Gun Safe. This under bed safe gives you the option of keeping your firearm under your bed while still knowing that it will never reach the hands of anyone other than yourself.
Imagine the peace of mind you will have knowing your firearm is within arms reach while you are sleeping. This is exactly what the maker's of this safe were thinking when they designed the Defense Vault. Engineered to the highest quality specifications and designed with the safe's application in mind, this safe is unique in relation to other under the bed safes. The most notable feature is its electronic lock, the same lock used on high security gun safes, that illuminates when touched allowing you to see the numbers even in the dark.
Once the safe is opened, you may slide out the foam-padded tray to access your weapon. Made of 14 gauge steel and measuring 6 x 52 x 14 inches, this is the perfect under the bed storage option available.

---
American Security Defense Under Bed Gun Vault Review

Next, we are going to take a look at the American Security Defense Vault under the bed rifle safe. This safe utilizes space that is normally wasted underneath the bed and is a great storage solution when other spaces are limited.
The larger more traditional safes are typically placed in larger rooms, basements or garages, but if you do not have the pleasure of having those extra spaces, a traditional safe is not your best option. With The American Security Defense Vault, you will have the peace of mind in knowing that you are protected within seconds of a home intrusion. With a tray size of 3 3/8 x 43 ¼ x 13 inches, this safe features AMSEC's new ESL5 electronic lock with an illuminated keypad for easily entering your codes, even in the dark.
The AMSEC Defense Vault is constructed of 14-gauge steel with a unique five-point slide locking bar and features a foam padded slide out gun tray and four precut anchor holes with mounting hardware should you wish to mount this safe to a wall.
Either way, you definitely have a safe, secure place in which to keep your firearms, rifles and handguns.

---
BARSKA Under Bed Gun Safe Biometric Review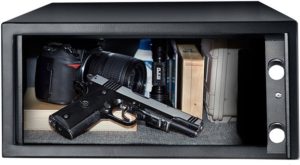 Next up is the BARSKA Biometric Safe. This under bed handgun safe features a unique fingerprint keypad for easy, secure access and allows the safe to be opened with the simple touch of a finger.
There is nothing that compares to the peace of mind you will have from knowing that you will be able to quickly and effortlessly access your weapons and valuables during a time of an emergency.
Up to thirty fingerprints can be stored giving you the option of allowing other members of your household, whom you trust, the ability to open the safe as well. No more need to worry about recalling a complex numeric combination under duress. As well as firearms, you may also choose to store other important things in this safe as well, such as important documents, valuables, jewelry and more. Mounting hardware is also included, as are two emergency backup keys.
This safe measures 16.5 x 7.75 x 14.5 inches and weighs 31 pounds. Factory pre-drilled anchor holes allow you to permanently secure the safe to the floor or wall.

---
Gun Casket Fast Opening Shotgun Safe Review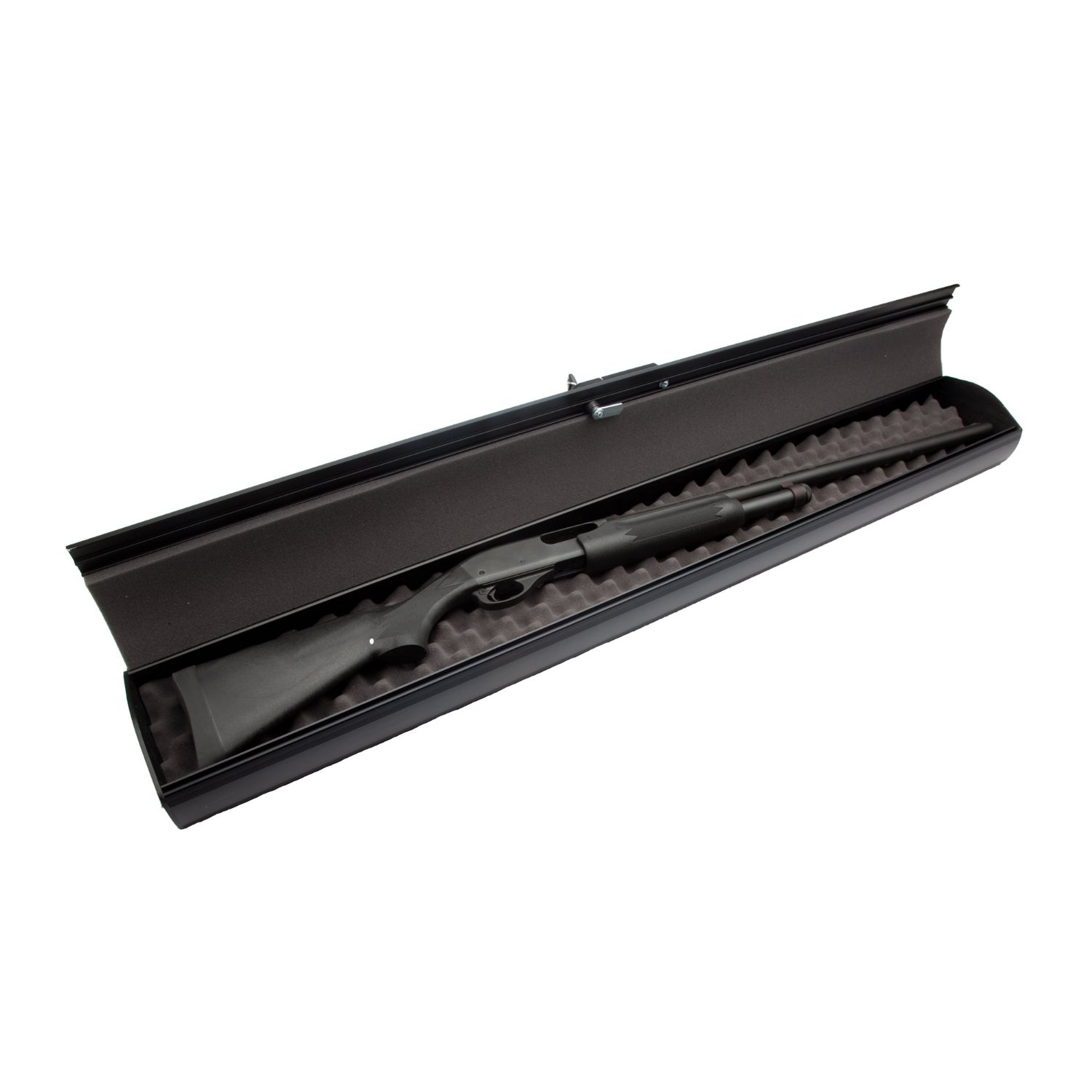 Finally, we have the Gun Casket Fast Opening Shotgun Safe. The low profile design of this particular gun safe makes for easy under the bed gun storage. It can also be stored in closets, behind doors, or anywhere there is a slim, limited amount of space.
Measuring at 50 inches, this flat gun safe provides the storage room for most shotguns and is made of anodized aluminum, which will never rust. The electronic lock allows you to access your shotgun quickly with a fast, keyless entry by pressing four to six buttons.
The Gun Casket is great for home defense, school administrators, police departments, offices, trunks and so much more. It will be great to know that while keeping unwanted hands off your weapon, you can still gain access to the contents of the safe in a matter of seconds, thanks to the keyless entry. You can even memorize a pattern instead of the numbers that coincide to them so that number recollection will not cause problems if you find yourself in a very emotional state.
It should be noted, however, that the keypad on this particular safe does not have the backlit capability so you will need another means of seeing the keypad in a dark situation. The size of this safe also does not allow for storage of tactical shotguns or those with a pistol grip. There isn't any room for storing extra such as accessories, extra ammunition or scopes, so that needs to be kept in mind as well.

---
My Vote for Best Under Bed Gun Cabinet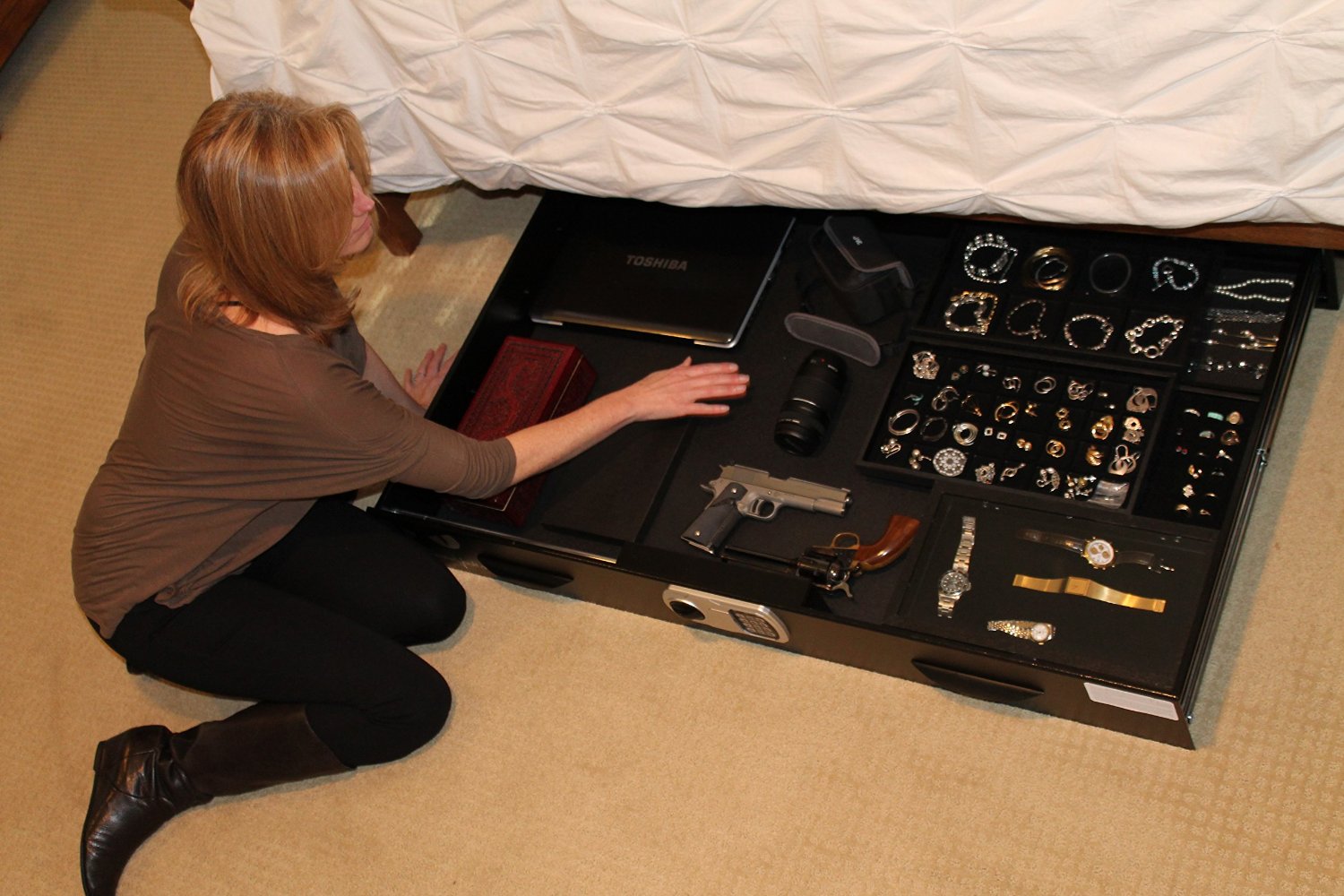 My top personal pick of these five under the bed gun safes is the Monster Vault Dual Lock Under the Bed Safe. This truly is a monster safe in that it is large enough to store more than one firearm as well as accessories, extra ammunition, as well as other valuables such as jewelry, important papers, medication and so much more.
The solid steel construction guarantees that it will keep the items protected while the dual locking mechanism gives you the peace of mind that it cannot be broken into my children or anyone else. Being able to mount it to the floor is another level of security. In this way, no one can remove it from your home to break into it at their leisure elsewhere.