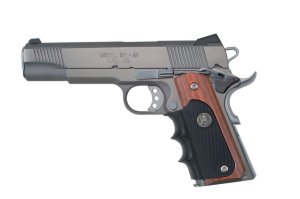 The Pachmayr American Legend 1911 grips are a slick looking set of grips, and Pachmayr is a trusted name in the world of handgun grips. They make semi-auto grips, revolver grips, grip gloves, recoil pads, and more. Pachmayr products are very well made, they look great, and they are still very affordable.

---
General Features
Wood-rubber combination grip.
Wraparound finger grooves for added grip.
Fits a wide array of Colt and Colt copies.
Greatly improves grip on gun.
The American Legend series by Pachmayr are beautiful, elegant grips that function at the highest level. The basic design is a standard wooden grip with a rubber insert that wraps around the front of the frame. The rubber has a textured outside just like a set of polymer grips or checkered wood, so it really is the best of both worlds. You get the classic look and feel of wooden grips, but you also get the functionality, control, and handling of rubber grips. This combination sets the Pachmayr American Legend grips far above the rest in style and functionality.
The wood itself comes in a rich walnut with a great looking varnish on it. I really like the way these grips look on a gun and unlike some grips, I think these look good on stainless or blued steel.
One of the great parts about these grips is, since they are rubber, you can rest assured that you can shoot several hundred rounds from your gun without getting chaffed hands. If you do not like ultra-aggressive grips, but want to maintain the control that they offer, rubber grips like these might be for you.

---
Shortfalls
Since these grips are designed to fit a wide array of 1911 makes and styles, on certain makes they require a bit of modification. For instance, if you have a gun with an ambidextrous safety, you may need to use a dremel tool to make these grips fit your gun.
Also, if you prefer rubber grips to be very stiff/hard, the Pachmayrs might not be the best ones for you. Pachmayrs uses what they call a "Decelerator" rubber for a soft controlled feel. It isn't squishy obviously, but it is softer than say Hogue's rubberized grips. I have read reports, although never experienced it personally, that the Pachmayr rubber can deteriorate if you clean it with heavy solvents, so be sure to avoid that.
---
My Recommendation
Overall, the Pachmayr grips offer what no other grip on the market can offer right now, and that is wood/rubber combo. I've mentioned this a few times now, but it really does take these grips to a new level as they look very classy and perform exceptionally well.
However, for me personally, if I'm going to get rubber grips, I do like the hardened rubber that Hogue grips offer. These of course have a few problems as well, but they are my personal preference. They aren't as pretty as the Pachmays, but they fit my tastes better. Of course, some people swear by the soft-controlled feel of Pachmayr. I mean, that is the point of rubber, isn't it?