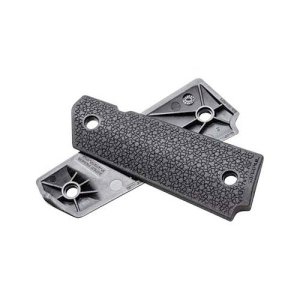 The Magpul Original Equipment (MOE) is a line of firearm accessories that offer affordable alternatives to standard weapon parts but still maintain the high quality you would expect from an OEM part. Magpul offers some great products all with very favorable reviews that are economically affordable and allow you to customize your handgun without much cost.

---
General Features
Constructed out of reinforced polymer.

Simple yet elegant design gives gun a classic look and feel.
Slim profile grip.
Diamond-shaped pattern that prevents gun from twisting in hand.
Magazine release cut out.
These Magpul grips are extremely durable and are a new, modern take on the classic 1911 grip. They are made out of a reinforced polymer that is lightweight but still very tough.
The diamond pattern design of these grips has a good sticky feel to them that isn't extremely rough, but it gives you a nice, firm grip on the gun. These grips are stickier than your standard checkered wood, but they aren't as extreme as other grips on the market.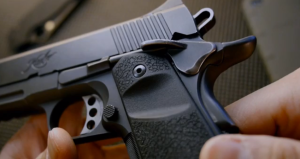 Two important features of these Magpul grips are the cutaway for magazine release and their slim profile. These grips have a deep cutaway for the magazine release that I personally find appealing. It makes it very convenient and easy to pop the magazine out after shooting as your thumb slides right across the cutout to release the magazine.
The design is very low profile sleek design, too. These grips hug the gun very well. They still have a raised angular center that fits your hand nicely, but the perimeter of the grips is flush with the contours of the gun. This is another feature of the gun that gives it a very modern look.

---
Shortfalls
Some people aren't fans of cutouts for magazine releases, and if you're one of those people, these probably aren't the grips for you. This set of Magpul grips have a pretty aggressive magazine cutout that doesn't particularly bother me, but it can bother some people.
If you prefer an extremely aggressive grip, this might not be the grip for you. I would describe these as a medium-aggressive grip. Like I said above, they are surely stickier than your standard grips will be, but some people like grips so aggressive that they make your hands bleed (slight exaggeration). Bottom line, these aren't meant to be super aggressive, so if that's what you're looking for you might want to look at the VZ grips.
---
My Recommendation
I like these grips a lot for a few reasons. First, they are very reasonably priced. They offer a great value for the money and are a solid set of grips to shoot with.
I also like their slim profile design. When I'm shooting a handgun, I like to have my hand wrapped around it tightly and sometimes with other bulky grips this is difficult to do. The slim design of these grips allows you to easily wrap your full hand around the gun because the grips hug the frame so closely. They really are a sleek set of grips.