Best Concealed Carry Purses for Women: Handgun Purse Reviews
There is an old saying that diamonds are a girl's best friend. It may actually, in fact, be a purse instead. It's one thing that nearly all women have to have with them at all times, even if there's no chance she's going to need anything that's in it. Sometimes it is a fashion statement, sometimes it is a catch all, but it is always right there.
The purse has been joked about and made fun of by men all over, but in this particular case, he may just be the one sending her out the door with it the next time. These conceal carry purses really can be girl's best friend because they allows her to be safe wherever she happens to be.
If she can reach one of these gun concealed purses, she can reach her weapon, and isn't that what concealed carry is all about? Being able to access your weapon at a moment's notice makes this kind of bag an absolute must have.
---
Best Conceal and Carry Purses
Now let's take a look at the top 5 gun purses we recommend. Hopefully, one will catch your eye—whether it's for yourself, or given as a gift, this might be that one thing that they do not already have.
---
Purse King Magnum Concealed Carry Handbag Review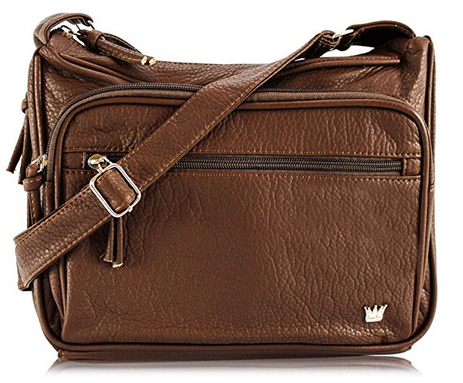 Our first item is the Purse King Magnum Concealed Carry Handbag. This nifty little gun purse measures 11 x 10 x 3 inches and comes in a variety of beautiful colors, including denim that will match just about anything. Purse King is a premier American boutique handbag designer.
Recognized for its functionality and minimalism, the brand offers an everyday essential style for women, teens and girls. The lightweight, versatile style of the Purse King Magnum Concealed Carry Handbag is modern and playful. Its soft, stonewashed, vegan leather design is stain resistance, casual and chic. The Magnum structure is unique and functional.
With stunning interior and exterior labeled hardware, this conceal carry purse is ideal for concerts, shopping or just a weekend getaway. It is a perfect fit for your handgun, smart phone, wallet, and keys. This shoulder bag is an essential must have in the city or the country.
The Purse King features two front zip pockets with credit card slots and a cell phone pouch. The top central pocket has an interior zip pocket with a pouch inside, a back zip pocket, and finally, the side zip pocket where you can place your weapon for easy drawing. All gun sizes fit inside with ease, even a full size revolver, and the Purse King can be carried on the shoulder, as most bags are, or it can be carried across the body, for extra security and ease of access.

---
Montana West Ladies Concealed Gun Handbag Review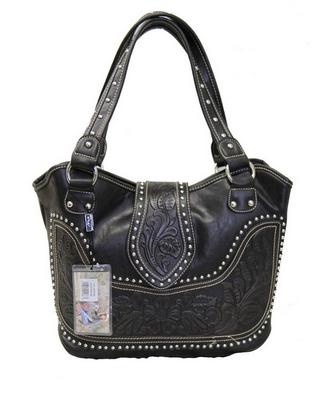 Next up is the Montana West Ladies Concealed Gun Handbag. Made of genuine tooled leather, this imported handbag features a top zipper closure with a center flap and magnet snap closures. It also has one open pocket and a pocket with a zipper closure on the back to carry a concealed handgun.
There are three inner compartments on this conceal purse, the middle one featuring a zipper closure and two open pockets on either side, the Montana West has double flat handles with an 11 ½ inch drop.
Built in feet on the bottom of this conceal carry handbag help it to stand on its own and protect the bottom of the bag from wear and tear. There are eight different colors to choose from and the outside of the purse is decorated in silver. Overall dimensions are 14.5 x 4 x 12 inches so it's the perfect bag to carry to just about any occasion.

---
Leather Locking Concealment Purse Review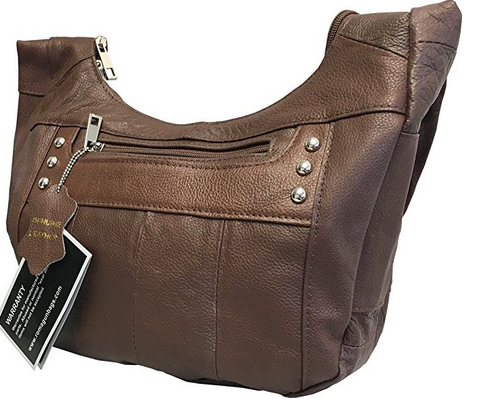 The Leather Locking Concealment Purse is the next we'll take a look at. Made by Roma Leathers Company, this carry concealed purse is made from premium leather with reinforced stitching and quality zippers.
The bag measures nine inches tall, four inches deep and twelve inches wide with a fifteen-inch bag drop. The bag includes a gun compartment on the right side with patented YKK lockable zippers for which two keys are included for locking. The gun compartment is Velcro lined for precise gun positioning.
The left side of the bag is designed with a zipper pocket for a cell phone and the zipper on top opens to a large center compartment with a ½-inch deep zippered compartment on one wall with an open pocket along side. There is an elastic closed open pocket on the other wall. And of course, it comes with that wonderful new leather smell!

---
Goson Concealed Carry Purse Review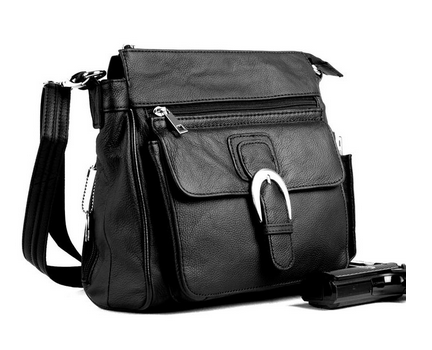 The Goson Concealed Carry Purse is a fine addition to the line up. It is a leather locking concealed gun purse that features right or left hand draw. Not too big and not too small, this bag has everything you are looking for.
Made of genuine cowhide leather with lots of pockets, this super stylish bag functions with either left or right hand draw, as well as being an overall great everyday handbag.
The front of the bag features a snap close, silver tone buckle with eight slots for credit cards and ID. It also has a zippered pocket directly above it for keys and small personal items and your cell phone has its own compartment on the side with a Velcro flap closure for the perfect fit.
The back of the bag conceals your weapon and features left and right hand padded CCW compartment. The gun compartment itself if 9×7 inches and should easily conceal a medium size automatic .380, .38 or subcompact 9mm in the horizontal position. It is held securely in place with a nylon adjustable fit-all holster. The back of the bag also has a small zippered pocket for other small items.

---
Chevron Crossbody Faux Leather Gun Concealment Bag Review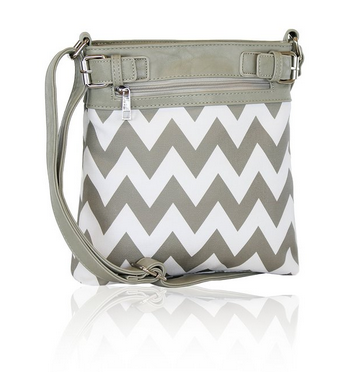 Finally, we are taking a look at the Chevron Crossbody Faux Leather Gun Concealment Bag. Made by Fashion Helpers, this super cute crossbody purse features chevron zigzag stripes and the shoulder strap is adjustable up to 25 inches long. You can wear it long, short or in between and it is the perfect size at just 11 inches by 10 inches.
Created with faux leather, the exterior back of the purse features a slip pocket, which is great for easy access to your cell phone or keys, as well as a concealed carry pocket perfect for a small handgun.
The concealed pocket measures 8 inches wide by 5 ½ inches tall. The roomy interior of this pistol purse features two slip pockets on one side and side wall zip pocket on the other. The front features a zippered pocket as well. The top of the bag is trimmed with a coordinating solid color and there is a buckle and strap on each side.

---
My Vote for Best Conceal and Carry Purse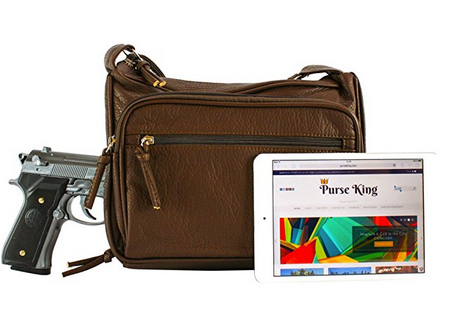 My personal top pick for favorite, of these five concealed carry bags, will be the Purse King Magnum Concealed Carry Handbag. Of these five carry concealed purses, it has the most classic look, most resembling an everyday handbag and no one would suspect it contains a weapon. The color choices, and the fact that it can be purchased in denim make it just as appealing, as you can find one that will fit just about any wardrobe.
Whether you dress in primarily formal fashion, or you just have an every day casual look, you'll be able to make one of the handbags work for you, no matter the occasion. With the handy strap, you can carry it in a variety of different ways as well, making it even more secure when you need that added bit of protected feeling. For the money, it is definitely an affordable option amidst everything else that is out there right now. And with all the interior pockets and zippers, you simply cannot go wrong if this is your choice.