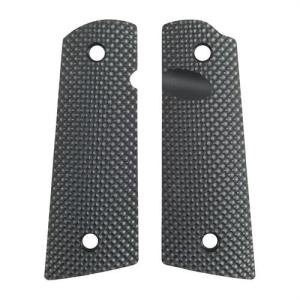 Strike Industries offers very affordable modern looking grips for 1911s that you can use to customize your gun if you're tired of the stock grips or just want to experiment with some new ones. They have many different styles and the PX09 will add a nice tactical feel to your handgun.
---
General Features
Molded, semi-gloss golf ball pattern.
Heat and high impact resistant.
Made out of PX extreme polymer.
Magazine release cutaway.
These Strike Industries grips are a great set of grips if you just want to spice up the look and feel of your gun. They offer a better grip than do stock wooden grips do and they make you gun look pretty cool too.
These particular grips have a molded golf-ball pattern to them, so they are more aggressive than your stock grips will be but they aren't too aggressive. I would put them in the medium aggressive range.
They are made out of a PX extreme polymer, which is very durable and capable of withstanding a fair amount of abuse. They are heat resistant, which is very good for those of us who like to shoot a few hundred rounds at a time. You won't have to worry about these grips getting to hot while you're shooting.
They also have a nice magazine release cutaway to aid in switching between magazines. I really like grips with a magazine cut out because it is so easy to switch magazines in and out and it makes doing so feel so natural. As far as cutouts go, this one is pretty standard in size, nothing huge like the Magpull cutout, but still enough for you to know it's there.

---
Shortfalls
One downfall of these Strike Industries grips is that they are a little bit large for some people's taste. They aren't low profile grips that hug the gun. They are a little bit larger and are shapelier than slim-profiled grips. So if you have smaller hands or prefer smaller grips, these may not be for you. However, some people aren't fans of slim profile grips, so if that's you, this may not be an issue at all.
Another thing to keep in mind when you are dealing with polymer grips as opposed to rubber is that these won't absorb any of the recoil. Rubber grips offer a little bit of cushion where your polymer grips don't. This isn't necessarily a downside, but it is something to keep in mind when you're purchasing.
---
My Recommendation
As I said above, these grips are great if you're looking to change the feel of your gun at an affordable price. They may not be as high-end as some shooters might like, but they can make your stock firearm look a little more expensive than it is and they are pretty decent grips too. They are durable and can withstand just about anything you throw at them. And if for whatever reason you don't like them, you won't be out too much money either way.