Best Holsters For Women: Conceal Carry Holsters for Women Reviews
Men are quite often known for love of guns and other masculine things. In fact, when you think of guns, it is usually men that come to mind as their primary users. Men are also seen in a sort of protective role over women and in that case, are more likely to carry guns. However, what about the women who might not have a man in their life? No father, brother or significant other can leave a woman vulnerable to a great deal of situations that are not particularly a reality for women who have these male models in their life.
On the other hand, some women find joy and expression in being able to take care of themselves regardless of the presence of these figures and gladly and willingly stand on their own when it comes to personal protection.
---
Best Holsters for Women
There are a great many women who not only carry guns for protection, but they also enjoy the sport of shooting and many of them even have concealed carry permits. Therefore, the need for a holster that caters to them specifically is certainly a valid niche in the gun world.
That is why today we will be reviewing five of the top concealed gun holsters for women. We hope that you will find these reviews helpful in narrowing the field for what might be best in your own personal situation.
---
Concealed Carry Women's Universal Handbag Insert Review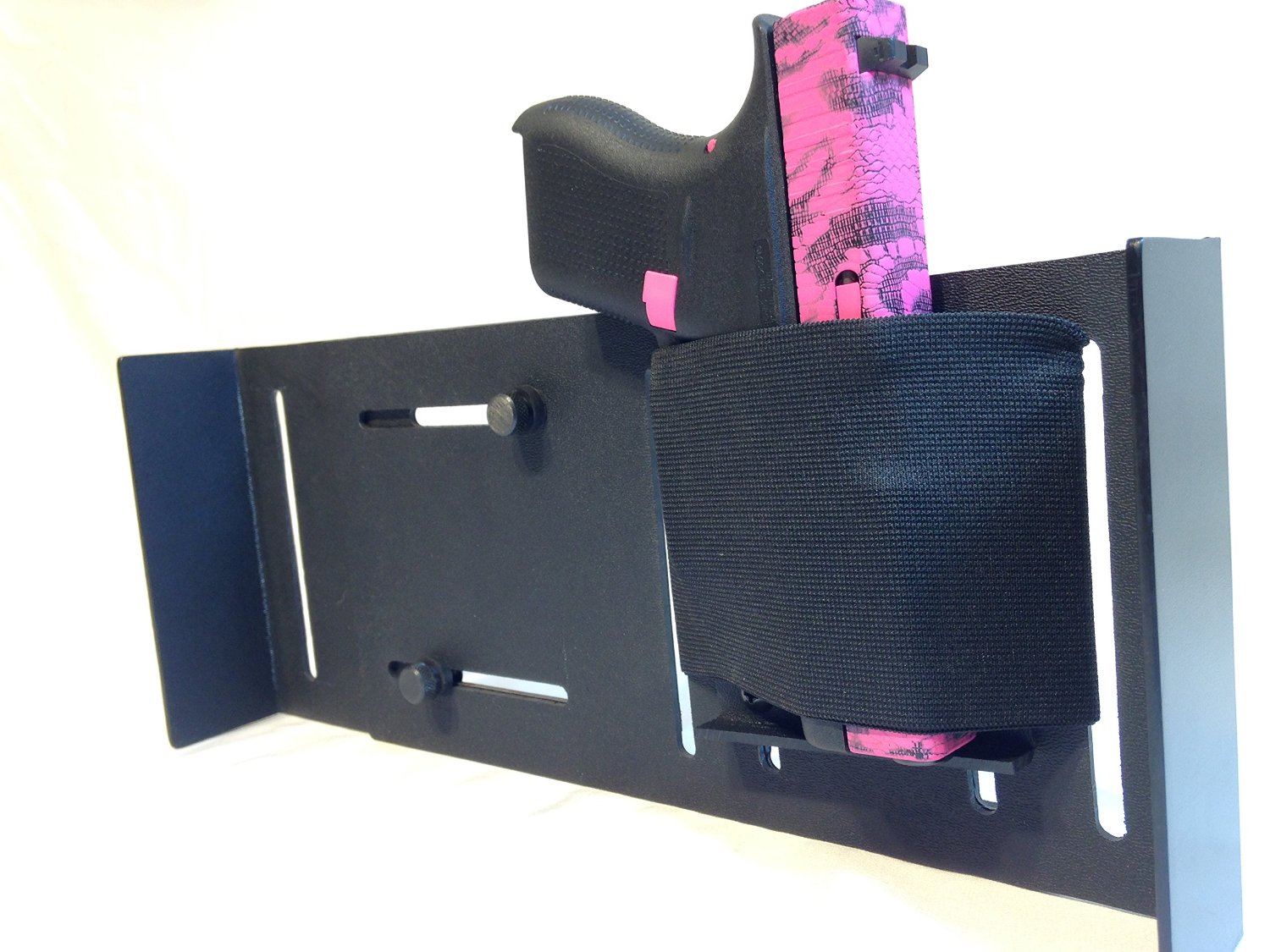 First, we take a look at the Concealed Carry Women's Universal Handbag Insert. With this handy item, you can convert any existing purse into a concealed carry handbag for about one third of the price. This piece will fit in any size handbag, from 10 to 16 inches in length with patented length adjustment. It also fits any size handgun, whether subcompact, compact or revolver thanks to an adjustable heavy-duty hook and strong loop elastic holster.
This holster for women erases the worry of a handgun being discharged while in your purse while allowing you to draw quickly and easily if you ever need to protect yourself. You will be able to carry your purse on your dominant shoulder for an upward draw, or on your non-dominant shoulder for a cross-draw.
The way this holster fits in your purse allows the firearm to sit horizontally with the barrel facing downward while many other concealed carry purses position them in such a way that they point outward. Should you purchase this handbag insert and find, for any reason, that it is less than what you had hoped for, there is a no hassle return policy that allows you to simply return it for a full refund of the product price.

---
Flashbang Women's Holster Review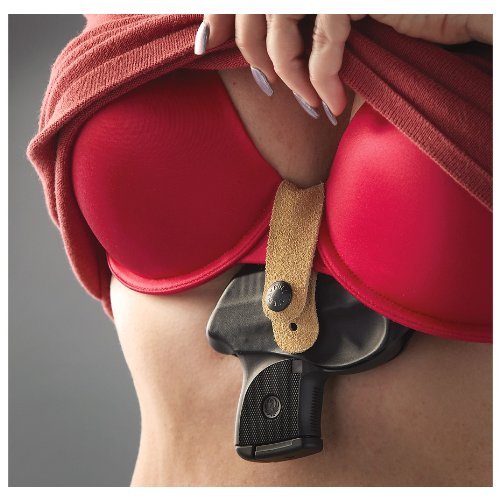 The second item up for review is the Flashbang Women's Holster. This holster attaches to the front of the bra in such a way that the gun can be tucked up underneath the front of the bra for concealment and fits the Smith and Wesson Bodyguard .380.
Most suited for right hand drawing, this Pin-up Collection original revolutionizes the way women conceal their firearms. It sits horizontally tucked underneath the bra band and the gun is drawn by pulling straight down on the grip. Combining concealability with comfort, the Flashbang lets a woman carry a gun on her person without needing to change the way she dresses.
Any stylish woman will tell you that having to dress like a man in order to carry a gun should not have to be a necessity. It should be noted that the Flashbang is not designed for situations that require running or other highly physical activities. In these situations, the gun can become dislodged and would have to be readjusted far too often. This gun holster is best suited for something a little more docile, recreational and laid back.

---
Hip Hugger Classic Can Can Women's Concealed Carry Holster Review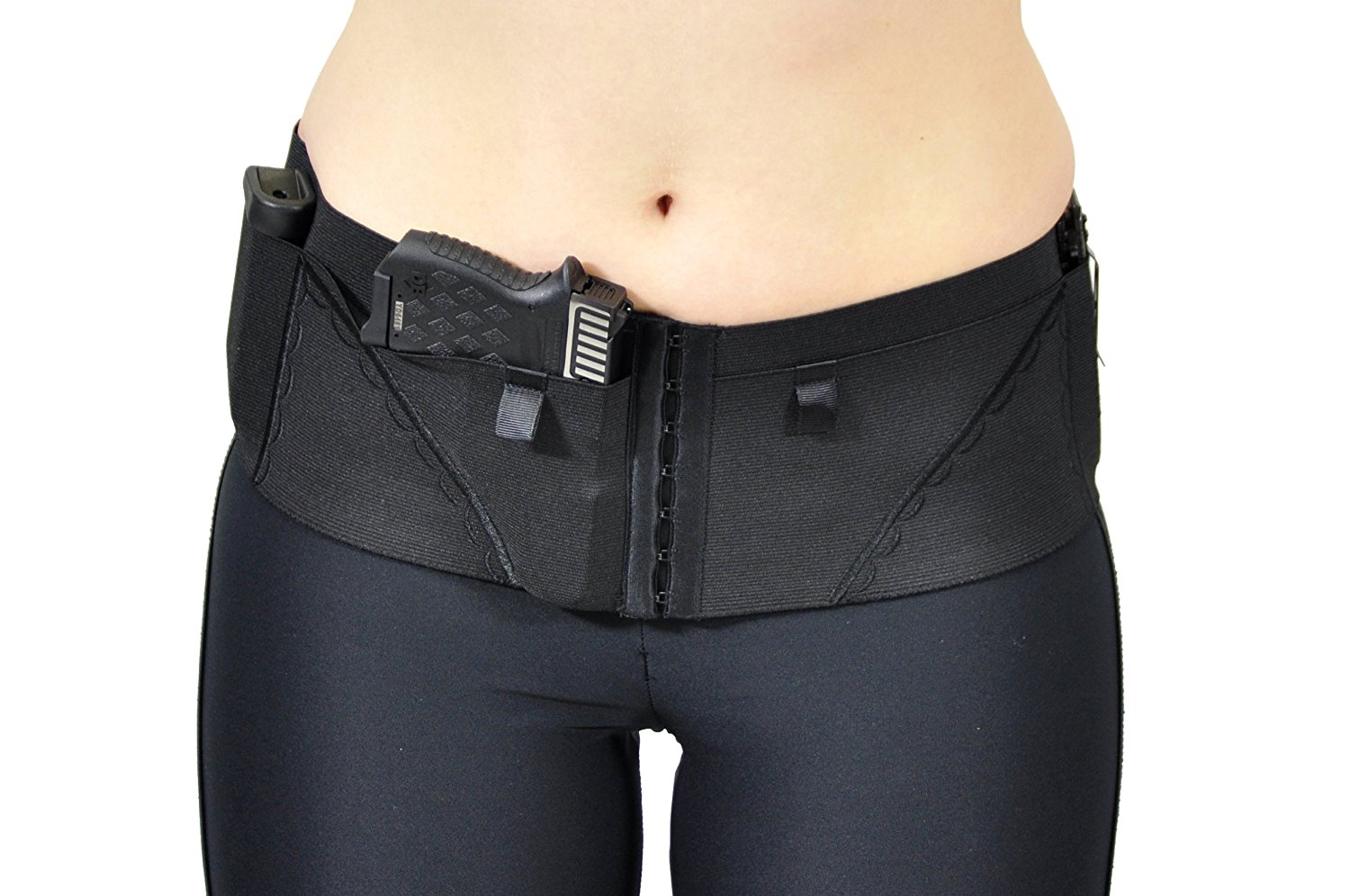 Next up is the Hip Hugger Classic Can Can Women's Concealed Carry Holster. Fitted like a thick waistband, the Hip Hugger is designed to replicate the tucking of a gun into the waistband of your pants, but offering so much more as well.
The five-inch military grade elastic holster holds up to three weapons as well as extra magazines for a nice secure inside-the-waistband concealed carry. Three rows of metal hook eyes make for an adjustable fit and allows for four holstering positions: two appendix carry and two kidney carry.
If you only have one gun to carry, the other concealed pockets are perfect for carrying extra magazines, a cell phone, knife, taser, pepper spray or even a tube of lipstick. There is enough room here to hold everything you might otherwise need a purse for. There are also two rows of hypoallergenic no slip Tacti-Grips that will keep this holder in place all day long.
Unlike many other hip holsters, the Hip Hugger is designed with a woman's curves in mind, with a tapered design to contour to a woman's figure and work with her ever-changing wardrobe. This holster is proudly made by women, for women and made completely in the United States.

---
Ultimate Belly Band Holster for Concealed Carry Review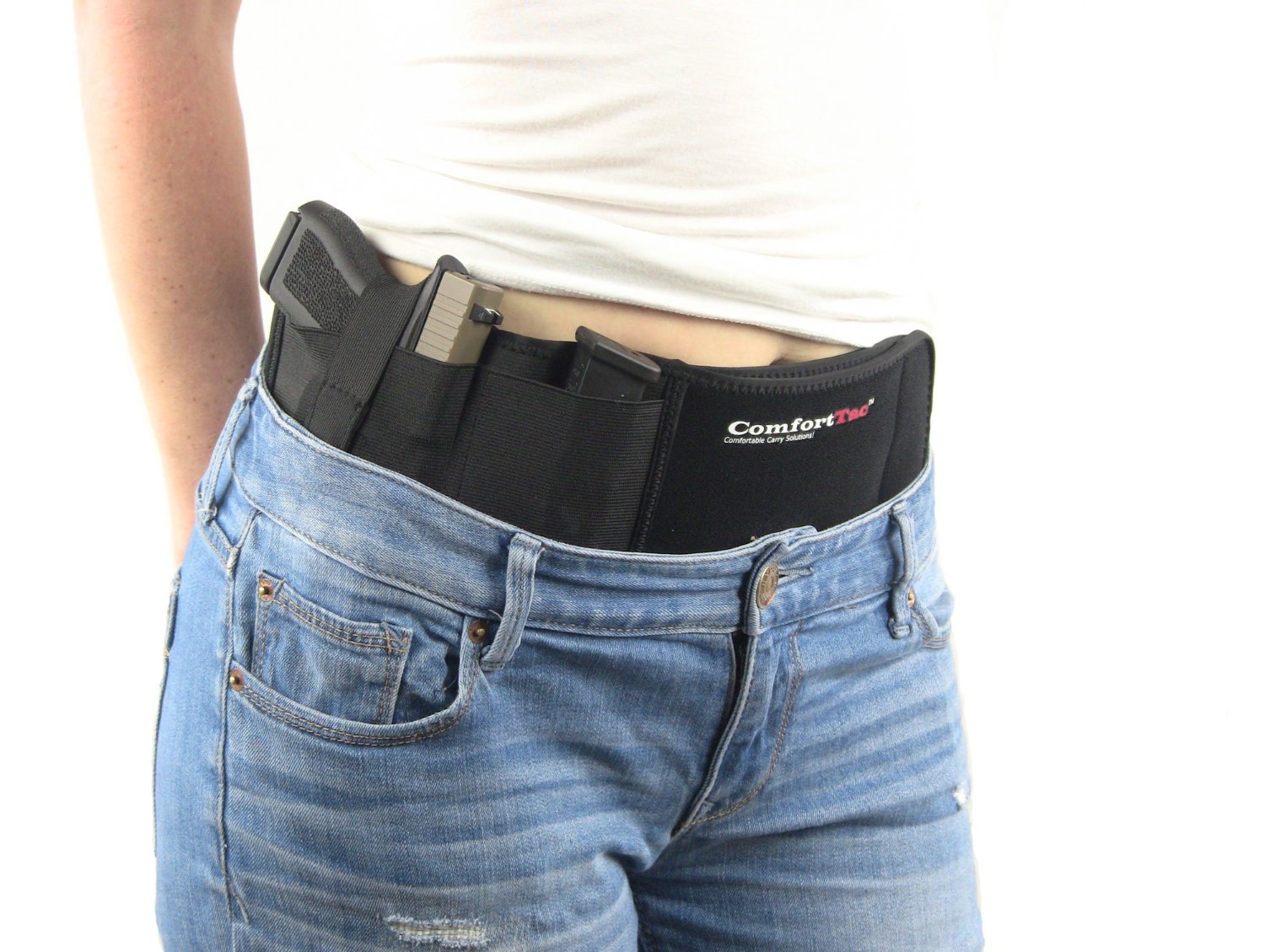 The Ultimate Belly Band Holster for Concealed Carry is particularly suited to fit a Smith and Wesson Bodyguard, a Glock 17, 19, 42, 43 or P238, a Ruger LCP or other similarly sized gun.
The Belly Band Holster is the most versatile holster on the market today and is made with ComfortTac, because carrying a concealed weapon should never have to be uncomfortable. With this holster, you can wear your weapon near the appendix, on the hip, behind the hip or even use it as a shoulder rig when you wear it much higher on the torso.
Each of these holstering positions allows for a variety of drawing options. Fitting up to 44 inches in diameter, the neoprene fabric stretches for a comfortable and secure fit, easily fitting even the smallest waist thanks to the secure Velcro fastener.
In addition to being a great concealed carry holster for women, this item also gives you the option of carrying a spare magazine, knife, cell phone, money or an ID all within easy reach and in a safe, secure place.

---
UnderTech Undercover Women's Midriff Half Tank Review
Next, we will take a look at the UnderTech Undercover Women's Midriff Half Tank made for concealed carry. This female gun holster is a type of tank and holster combo with two specially designed pockets – one on each side – in which to carry your weapon in a concealed manner. With a sleek and comfortable design, this item will hold any handgun of any size.
Keep in mind, however, that the larger the handgun, the harder it will be to conceal, especially if your over shirt is not loose fitting. Since there are two pockets, this is the perfect item for ambidextrous use.

---
My Vote for Best Women's Holster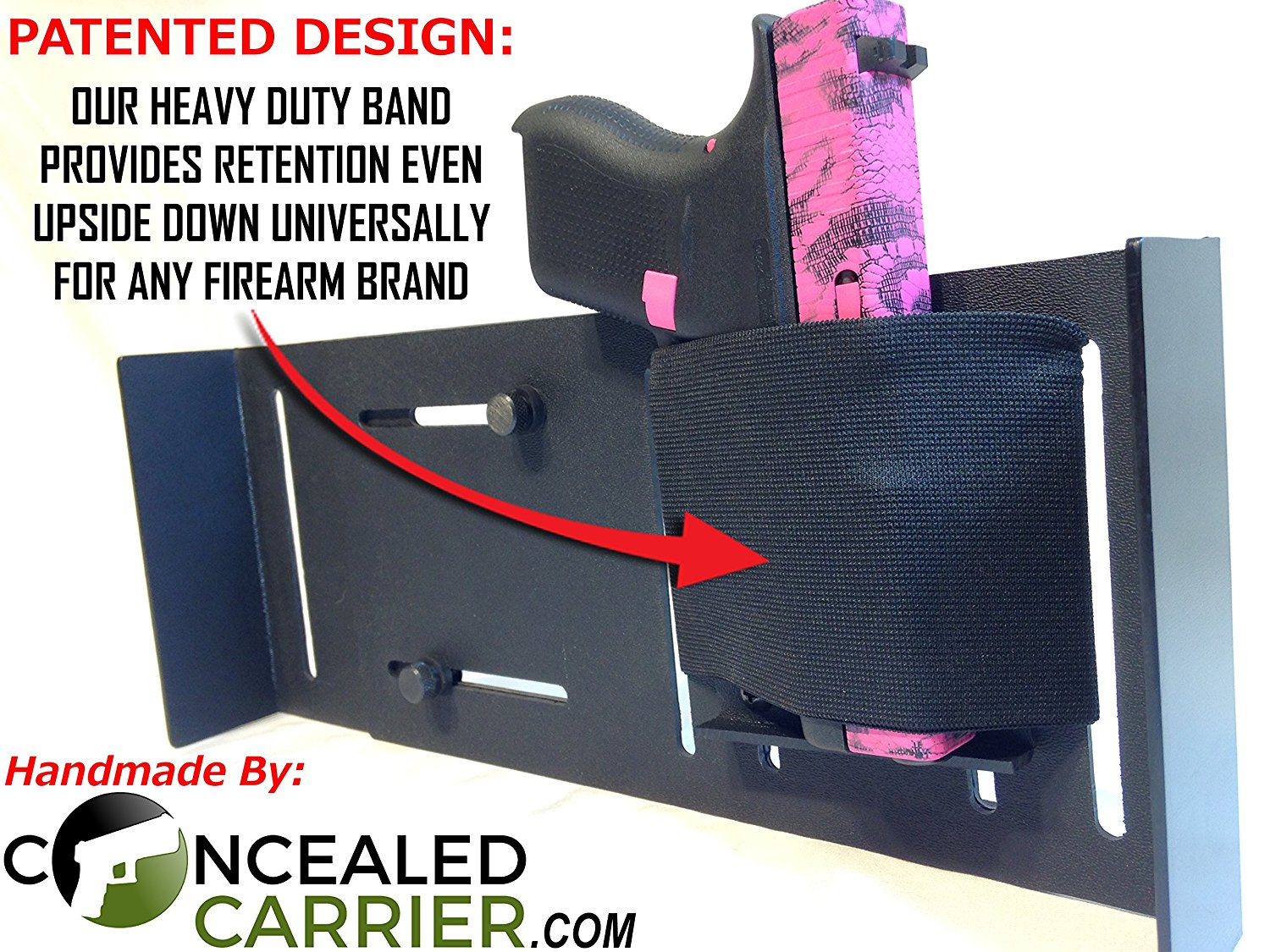 My personal top pick of these five ladies holsters is going to be the Concealed Carry Universal Women's Handbag Insert. This item makes carrying a concealed handgun in a purse an easy feat. The fact that it points the handgun downward and away from any possible "target" in front of or behind the purse, which makes it as safe as any other holster you would carry on your person.
Another plus for this insert type holster is the fact that it is incredibly sturdy, will hold its shape from ten to sixteen inches across and has a very firm, secure elastic band, which actually holds the handgun in place. This holster eliminates a lot of the fear that goes along with carrying a handgun in a regular handbag, as it keeps it from bouncing around. It also keeps you from having to dig around for your handgun in the event that you need to protect yourself, making it much safer to actually handle and draw your weapon.