Best Biometric Gun Safes: Fingerprint Gun Safe Reviews
Biometric gun safes have really given traditional gun safes a shove into the future with a supreme upgrade in security. Biometric authentication is authentication by means of fingerprints, DNA, face, hand, ear, odor and retina recognition. While most biometric safes only act as a fingerprint gun safe, the fact that we have arrived at this point only points the way for bigger and better security measures in the future.
One of the greatest assets of having a biometric safe is the ease of access and how quickly you can get a safe open as opposed to the safes that have keyed or keypad entry. Using a key or key pad not only takes time, but the keypad itself forces you to remember a numeric code for secure entry. If you are under a great deal of duress, such as during a home invasion or when your family's health and safety are being threatened, you are much more likely to have that number slip your mind at the time.
---
Best Biometric Gun Safe Review
With all that in mind, we are now taking a look at the top five best biometric safes on the market today. These are the best biometric handgun safe and long gun safes.
I want to go over all of the details I have on each one so that you will then be better able to make a decision about getting your own biometric safe for your own home.
---
Barska Biometric Safe Review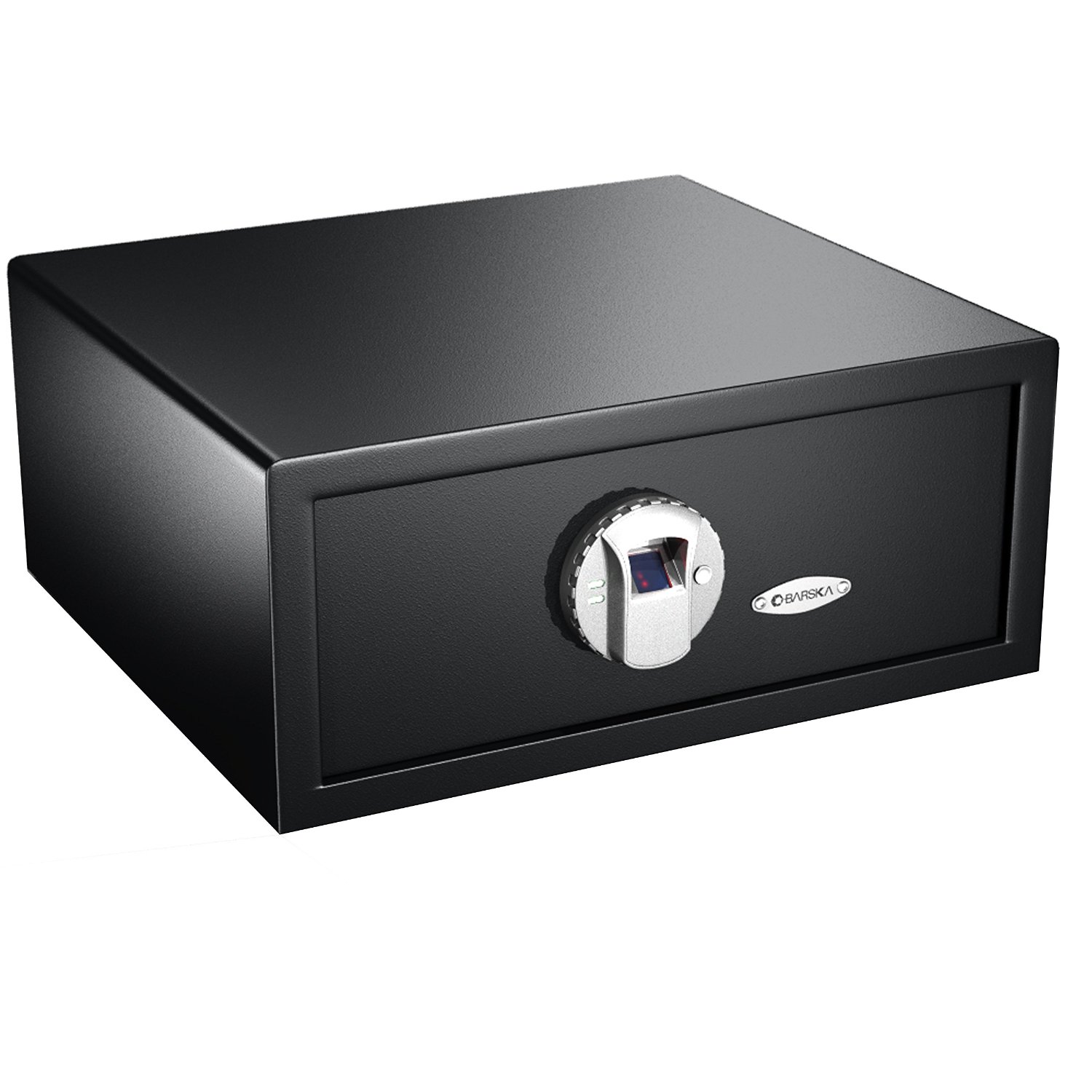 We will start the reviews off today with the Barska Biometric Safe, which is a compact safe with a unique fingerprint pad for easy and secure access.
This fingerprint safe box opens, quite simply, with the touch of a single finger and stores up to thirty total fingerprints. Barska is a tried and true ideal choice for the storage of compact valuables and sensitive items. Whether it is electronics, important documents, jewelry or small firearms that you are storing, you can rest easy knowing that they are safe.
Because of the practical dimensions of this safe, it can be hidden away in any location preferred by the owner. Thanks to the biometric technology, you have the ability to quickly and effortlessly access everything you have inside during a time of emergency. And thanks to this technology, there will be no more need to memorize the complex numerical combinations, which can easily be forgotten during a time of extreme emergency circumstance.
This safe measures 16.5 x 7.75 x 14.5 inches, weighs 31 pounds, and includes all the hardware necessary for mounting, as well as two emergency backup keys.

---
Barska Quick Access Biometric Safe Review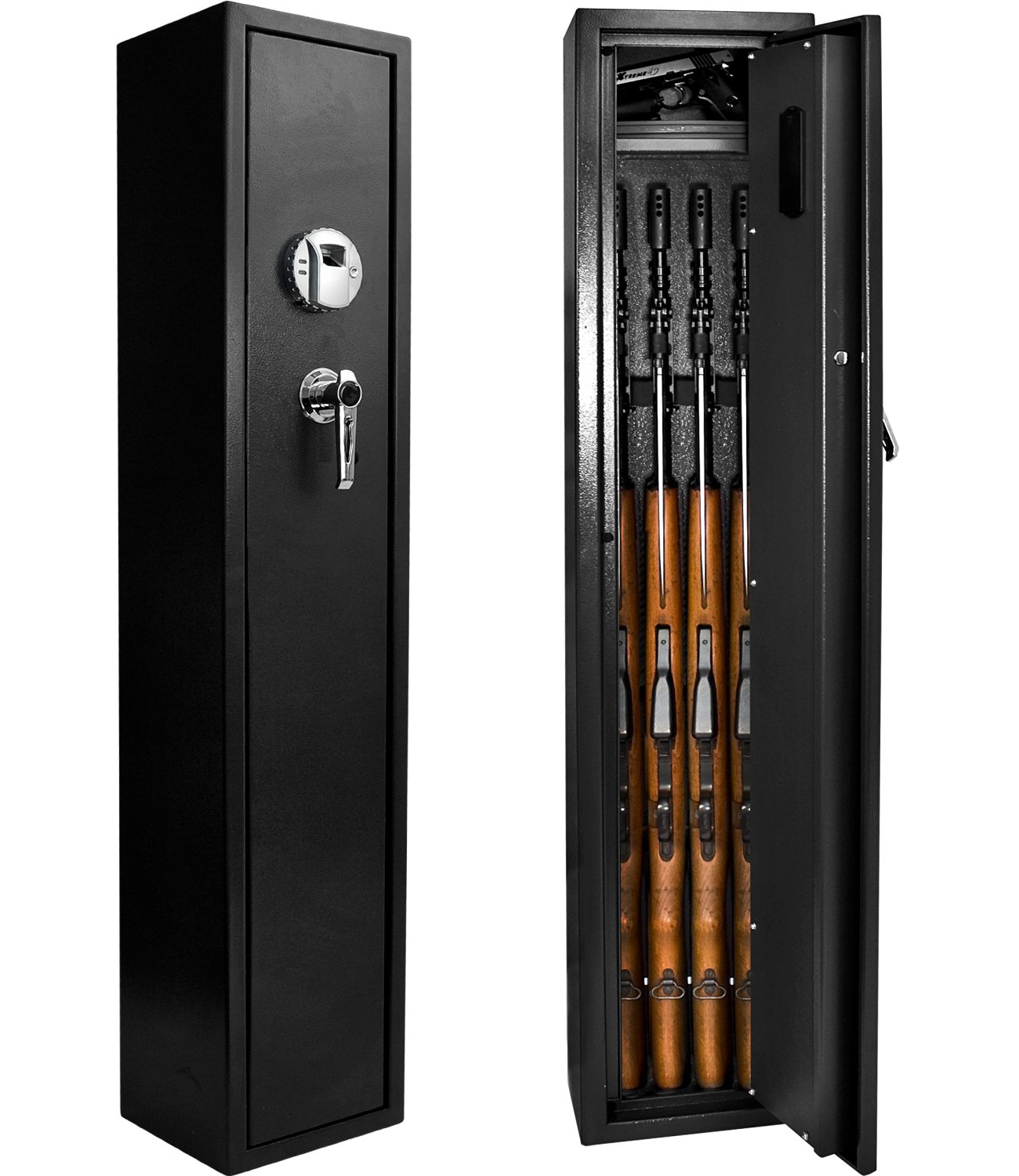 Next, we review the Barska Quick Access Biometric Safe, which is ideal for storing rifles, shotguns, an other valuables and important documents and much more. It also offers a manual three point solid dead bolt locking system that can be quickly accessed and opened with one hand turn motion.
This safe is sized such that you will be able to store up to three rifles and features biometric technology that allows up to 120 identities to be programmed in. It also includes two backup keys for emergency entry in the event that you are unable to get into your safe any other way.
If you are looking for a biometric shotgun safe, this is a great choice. Predrilled anchor points make it possible to anchor the safe to the floor or the wall at your convenience. With the purchase of this Barska Quick Access Safe, you will also receive a set of emergency back up keys, an external battery pack, and enough mounting hardware to mount this safe to either the wall or the floor.
The factory pre-drilled anchor points allow you to permanently secure the safe to the floor or wall with the included mounting hardware. It is powered by four AA batteries, which are included, which can last for up to two years. In order to make sure that the Barska safe continues to be secure and performs as it is suppose to, keep the fingerprint scanner clean.
After each use, use a dry cloth to remove all smudges and prints from the fingerprint scanner. Make sure to test registered fingerprints at least once every six months and know that if three repetitive beeps are heard when the door is closed and the indicator lights flash red, it means that the batteries are low and need to be changed.

---
Sentry Biometric Quick Access Pistol Safe Review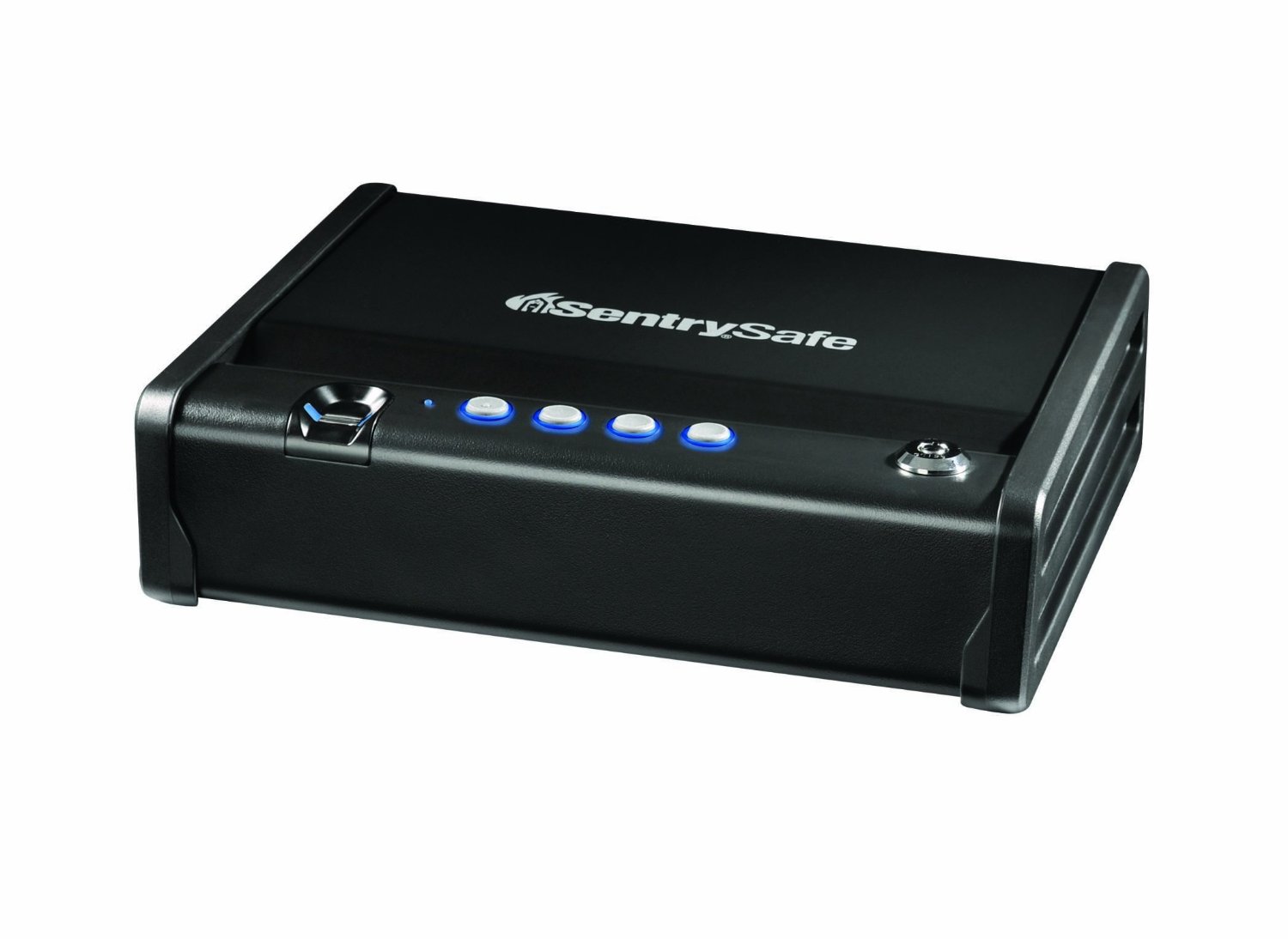 Next is the Sentry Biometric Gun Safe with an internal storage space that is capable of holding one J & K sized revolver or a full size semi-automatic hand gun. With whisper quiet hardware and pry resistant top lid design, this biometric handgun safe features single-handed access.
The Sentry features a compression gas strut that opens the door silently and holds it open for single-handed access even in small and confined spaces. In addition to the biometric entry possibilities, there is also a combination input for quick entry as well.
With multiple ways to enter the safe, you can feel completely confident that in the event of an emergency, you will have quick access to your firearm. The Sentry biometric safe reinforced with heavy-duty 12 gauge solid steel construction.

---
Gunvault SpeedVault SVB500 Gun Safe Review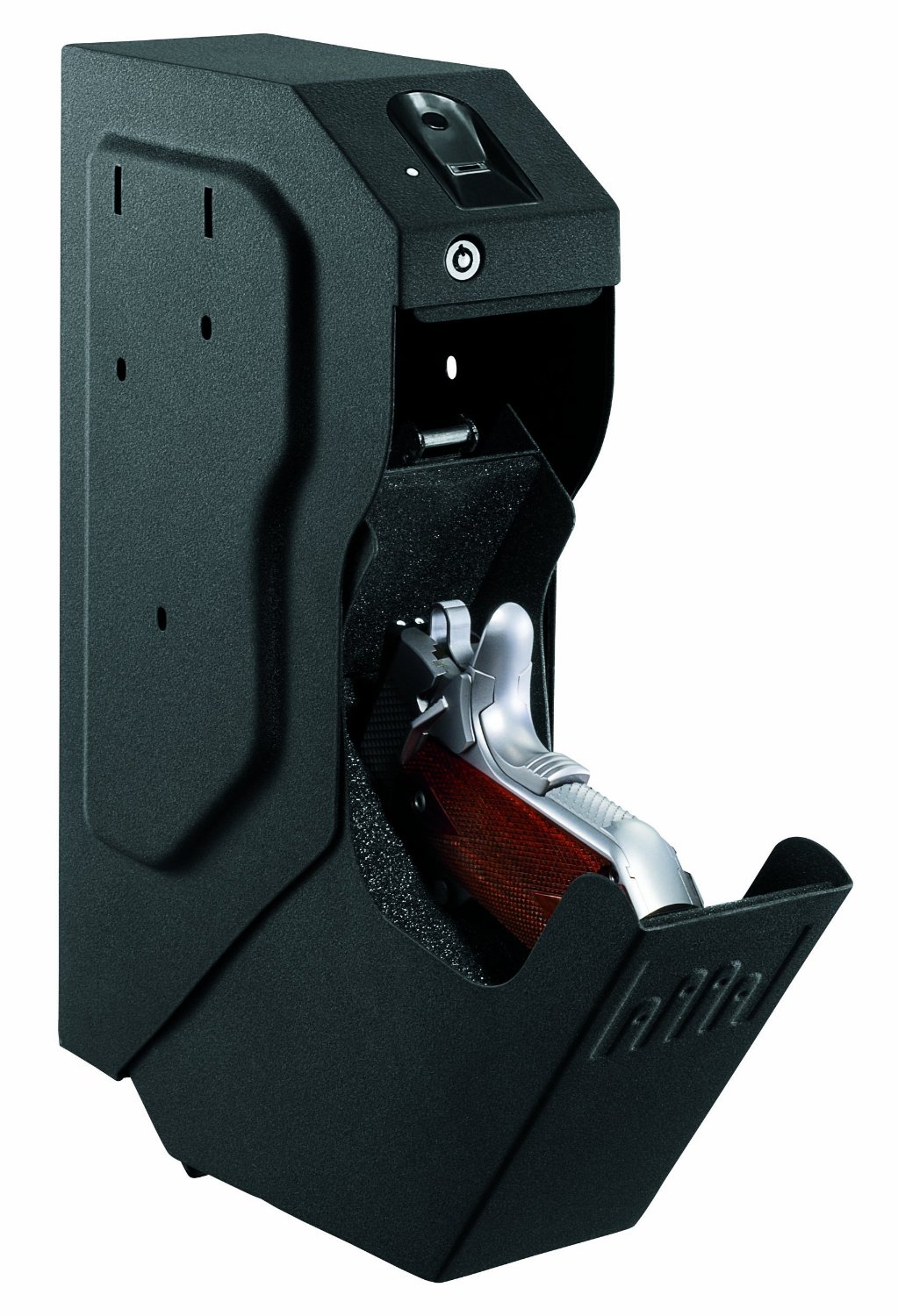 The next biometric gun safe we are looking at is the Gunvault SpeedVault SVB500 Gun Safe. With a biometric fingerprint scanner and activation button, the Gunvault holds up to 120 individual fingerprints.
This safe also has a fast activation drop down drawer for quick access. It is constructed of 18-gauge steel with a protective foam lined interior with precise fittings that are virtually impossible to pry open with hand tools.
You can mount the Gunvault SpeedVault will mount almost anywhere, with various mounting options for which the hardware is included. There is also a backup override key that is included so that you can get into this safe under any circumstance.
The Gunvault Company actually has over twenty years of experience with biometric gun vaults, making them the most reliable vault on the market today. They have the lowest false reject rate and the highest acceptance rate to give you quick and secure access at all times. The high strength locking mechanism performs reliably over and over to ensure that whatever you have inside is going to remain safe and sound inside your Gunvault.

---
Gunvault GV2000S Multi Vault Standard Gun Safe Review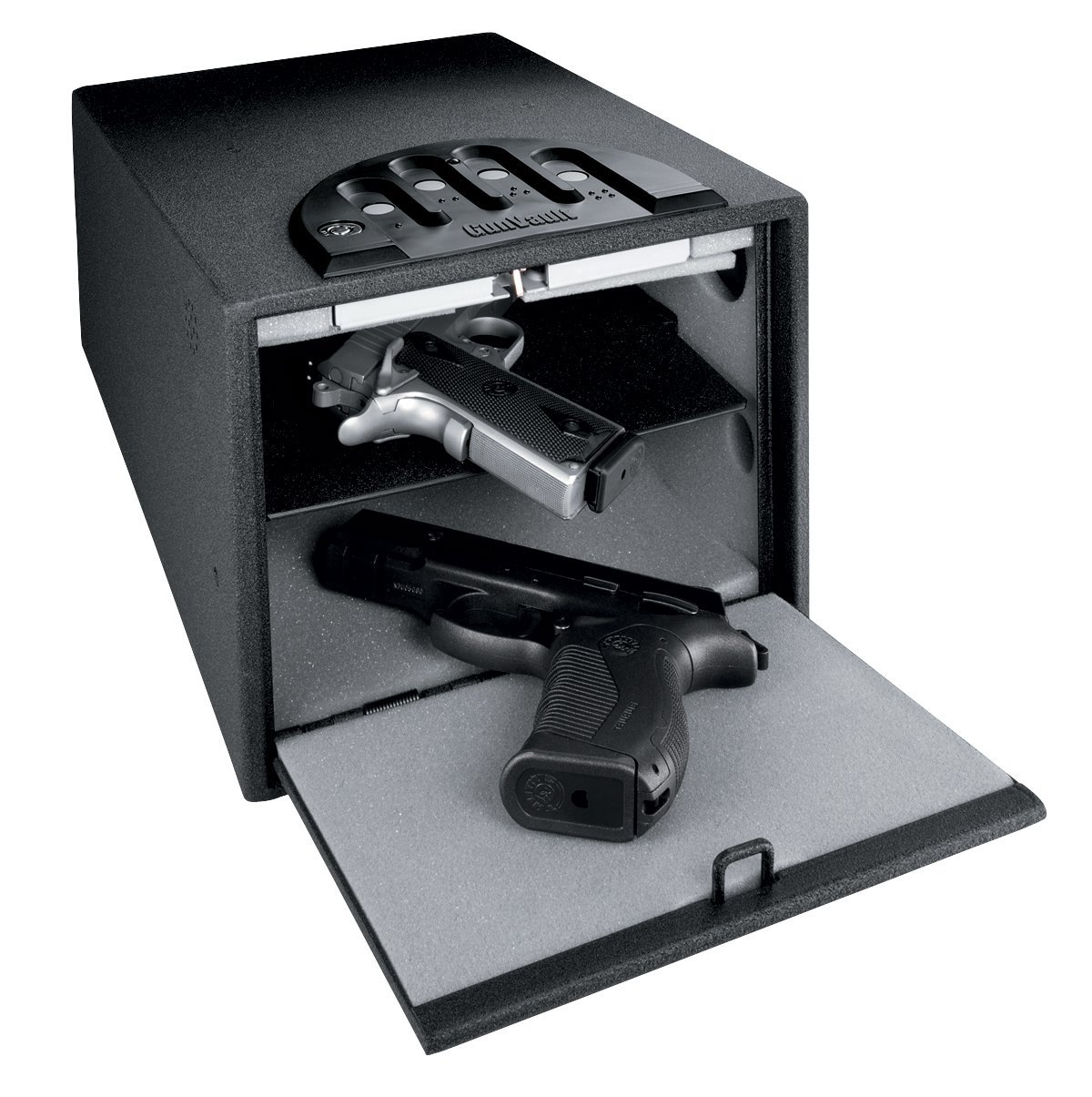 The Gunvault GV2000S Multi Vault Standard Gun Safe is another biometric pistol safe from Gunvault. This safe features "learn buttons" that make it easy to program over twelve million user-selectable access codes. The built in computer blocks any access after repeated invalid keypad entries.
Gunvault's patented no-eyes keypad provides lightening quick access, even in the dark. Choose the micro, mini, multi or bio vault when you need quick access storage for your handgun. Security and reliability are prevailing priorities when you need these products to work and this is one safe that certainly has all the features that you need.
With improved high strength locking mechanisms and precise fittings that are virtually impossible to get into, there is also an audio "stealth" mode operation as well that disables audio.

---
My Vote for Best Fingerprint Gun Safe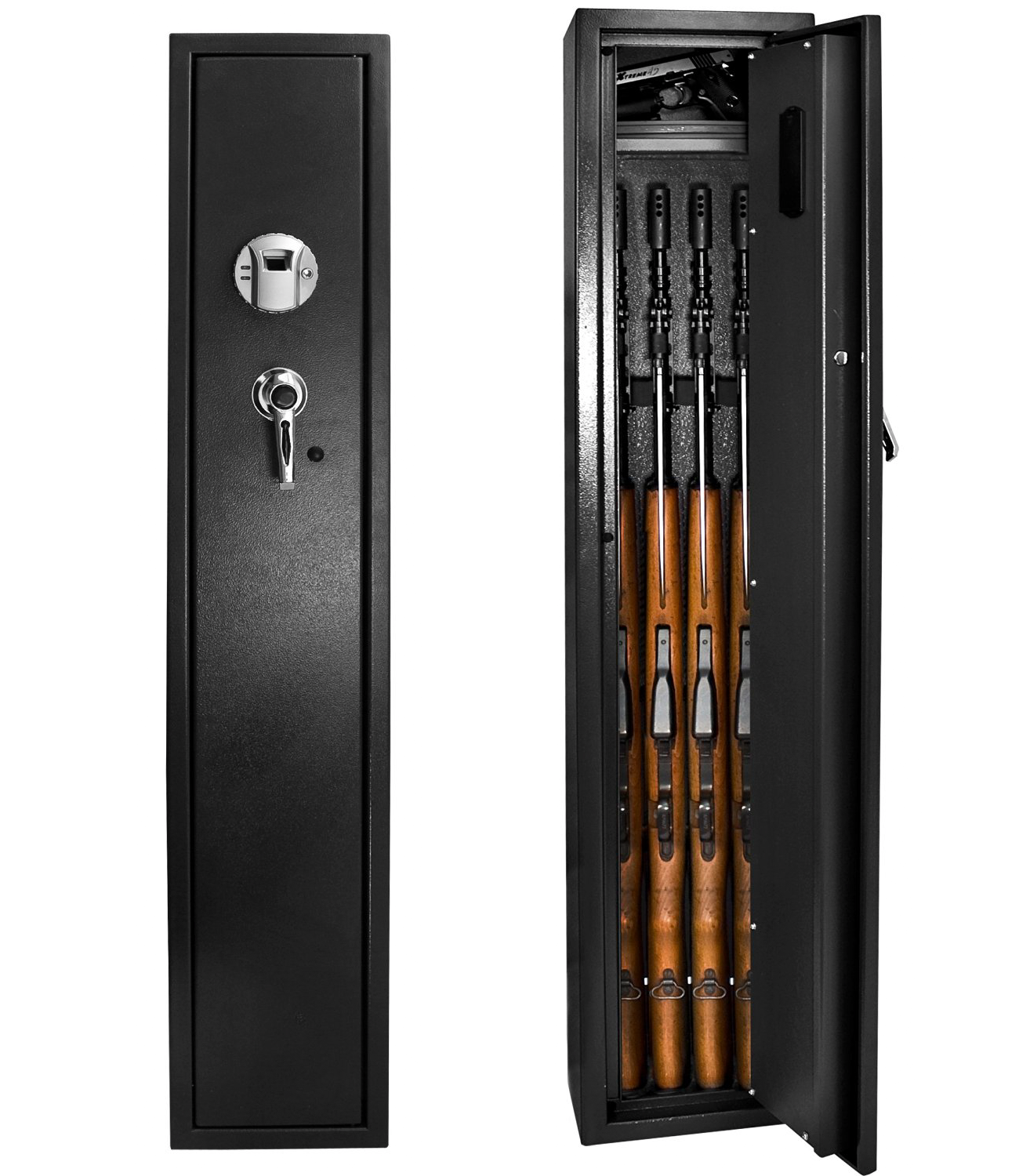 Of these five biometric pistol safe that we have reviewed today, my top pick for personal favorite is going to be the Barska Quick Access Biometric Safe.
First, the size is perfect for storing a few guns with some extra magazines or extra ammunition and you then still have room to add a few more valuables to the safe before you lock it up for safekeeping.
Not only is the biometric technology great for allowing very quick access to the safe in times of emergency, but the backup keys give you added security in knowing that even if that biometric technology fails, you still have a way to get to your guns and your valuables. Having the ability to anchor the safe is also added protection in that you can rest easy knowing that no one will be able to take the safe from your home while you are away.