Top 5 Best In Wall Gun Safes 2018: Hidden Wall Safe Reviews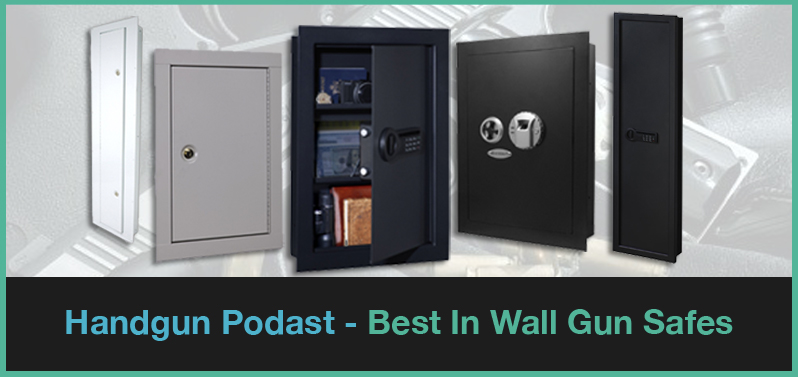 Sometimes the regular old traditional gun safe does not cut it. Maybe you have tried the large upright models, the under the bed models and perhaps one of the "hidden safe" types that you can leave out in the open and people do not even realize it is there. And for whatever reason, you may not have been happy with that.
It might be that an in wall gun cabinet or safe is more along the lines of what will fit your personal firearm style. Several different kinds with a few different features each offer something different with each one.
---
In Wall Gun Safe Reviews
Today, we are going to take a look at five of the best and more popular in wall gun safes available.
Take a look at what we have picked out to see if you can find something that suits your own personal style, interests and feature needs.
---
Stack-On PWS-1555 Long Gun Wall Safe With Electronic Lock Review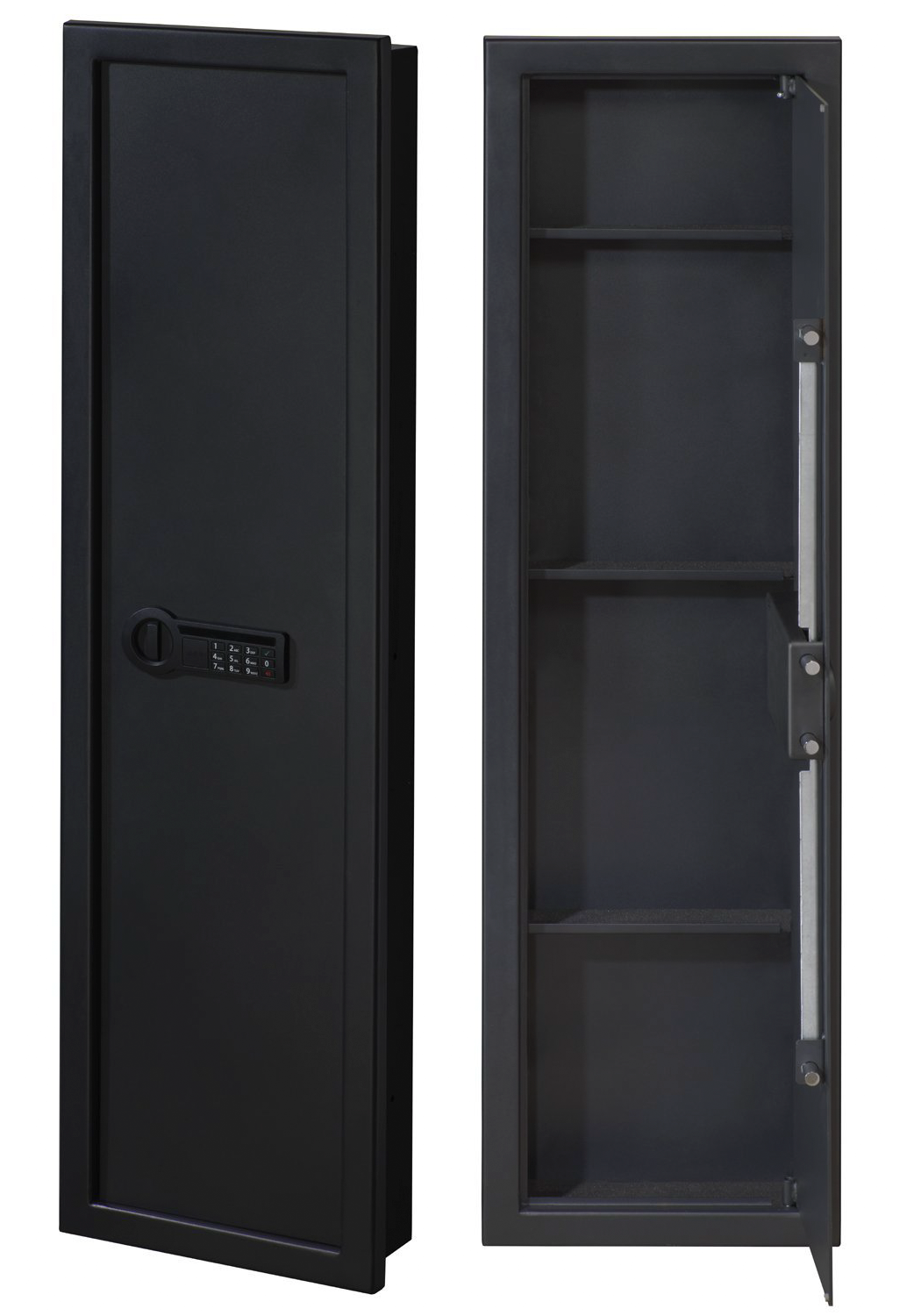 First of all, we have the Stack-On PWS-1555 Long Gun Wall Safe With Electronic Lock. This in wall rifle safe is the safest way to store all your guns. It is designed for the usability and comfort of all gun enthusiasts and does not sacrifice quality for cost.
This Stack-On cabinet is approved by the California department of Justice and meets their standards for safely storing firearms. There are areas inside the cabinet that can be converted to shelving for the storage of ammo, pistols and lots of other items you might want to keep locked away for safekeeping.
This in wall safe features a three point locking system with a key coded cylinder lock and includes adjustable barrel rests that are extendable in order to accommodate the added depth you will need to store tactical weapons. The PES-1555 offers a stealthy and convenient way for you to secure a total of two long guns up to 52 inches long each, as well as valuables, by making use of the space inside your walls.
With dimensions of 57.9 x 16.5 x 6.3 inches, this cabinet weighs 71 pounds and includes four AA batteries. It should be noted that this cabinet is not fire resistant, but made of all metal.

---
Homak WS00018002 Security Between The Studs Long Wall Safe Review

Next on the review agenda is the Homak WS00018002 Security Between The Studs Long Wall Safe.
Measuring 17.2 x 4.2 x 60.2 inches and weighing 53 pounds, the Homak safely secures firearms, ammunition and other valuables while making use of otherwise wasted space in the walls.
Its storage capacity is 1.32 cubic feet with interior measurements of 14 inches wide, by 2 7/8 inches deep and 56 7/8 inches high. It utilizes a full length piano hinge on the door. Constructed of heavy 1.5mm cold hard steel, this cabinet features the industry's toughest finish: powder coated epoxy.
The Homak also includes the HMC high security tubular locking system and constructed to fit between 16 center wall and floor studs. One of the best features about this long wall safe is that it can easily be concealed inside a closet or even behind a mirror, meaning that you will be the only one who even knows it is there.

---
Stack-On Wall Safe with Electronic Lock Review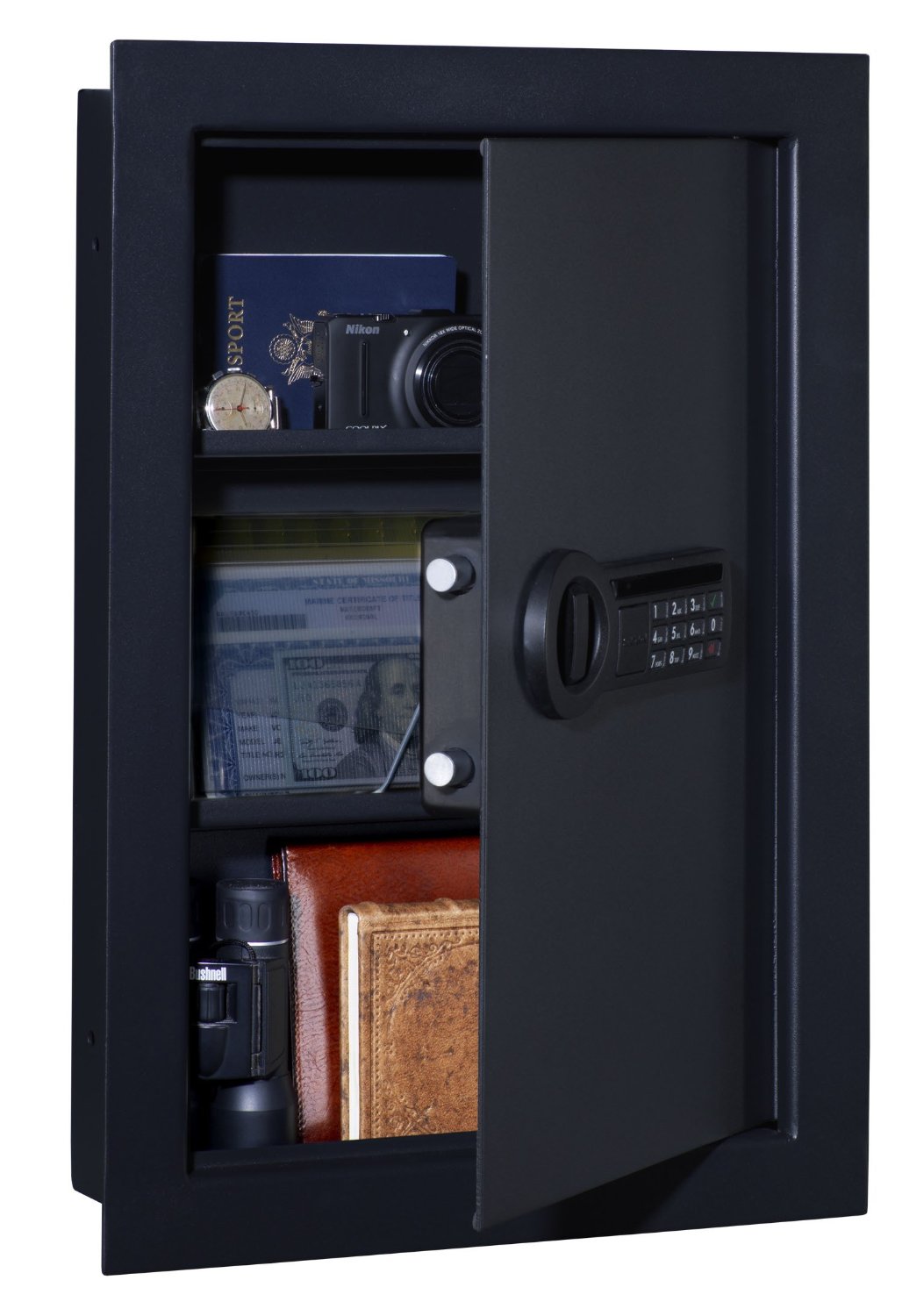 Next is the Stack-On Wall Safe with Electronic Lock. The Stack-On PWS-15522 wall safe provides incredible security at a great value. It features solid plate steel, a pry resistant door with an extra thick steel locking plate for extra security.
The user can program the electronic lock and the beep can be either kept on or turned off to silent mode so that there is no noise when the keypad is pressed. The key override feature gives you immediate access in the case of emergencies.

---
Barska Biometric Wall Gun Safe Review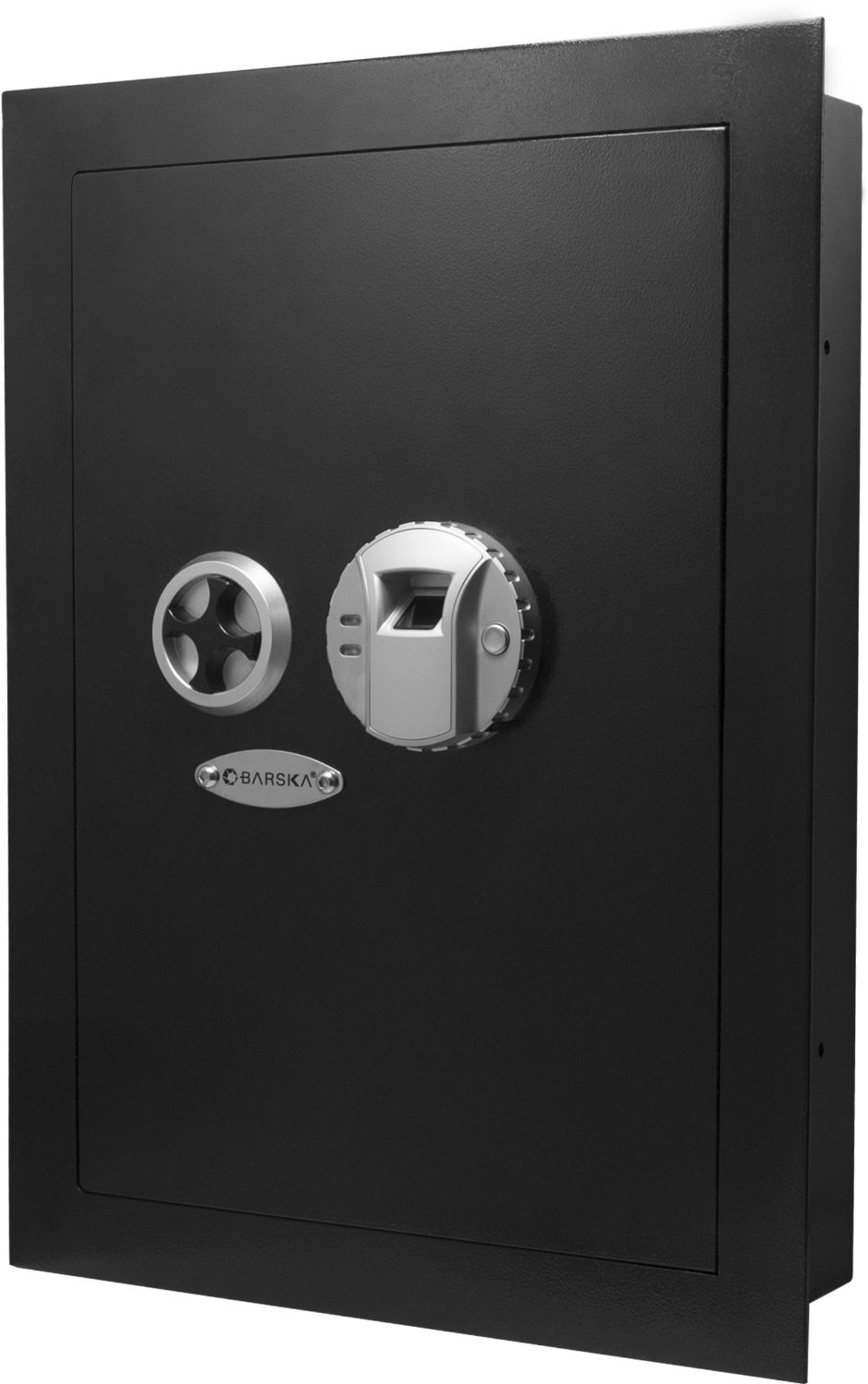 Now we have the Barska Biometric Wall Safe. With exterior measurements of 15.5 x 3.73 x 20.75 inches, and weighing just shy of thirty pounds, this safe can be hidden behind picture frames, mirrors, furniture and more. With a revolutionary biometric fingerprint technology, the Barska is capable of storing and recognizing up to 120 different users.
Featuring a two point deadbolt system, there is override protection available for secondary access in the event the batteries fail. Everyone knows that the hardest safe to break in to is one that no one knows is there. This safe, which works equally well for both home and office, can be hidden in a variety of different places.
With the main body of the safe inside the wall, the door allows it to sit flush against the wall, providing the ultimate concealment. An emergency override key enables you to open the safe even without entering the combination so as long as you have the key, you can never be locked out.
Barska also has a similar safe to this that is full sized for rifles. Take a look at that if you are interested in a biometric in wall gun safe.

---
Stack-On IWC-22 In-Wall Cabinet Review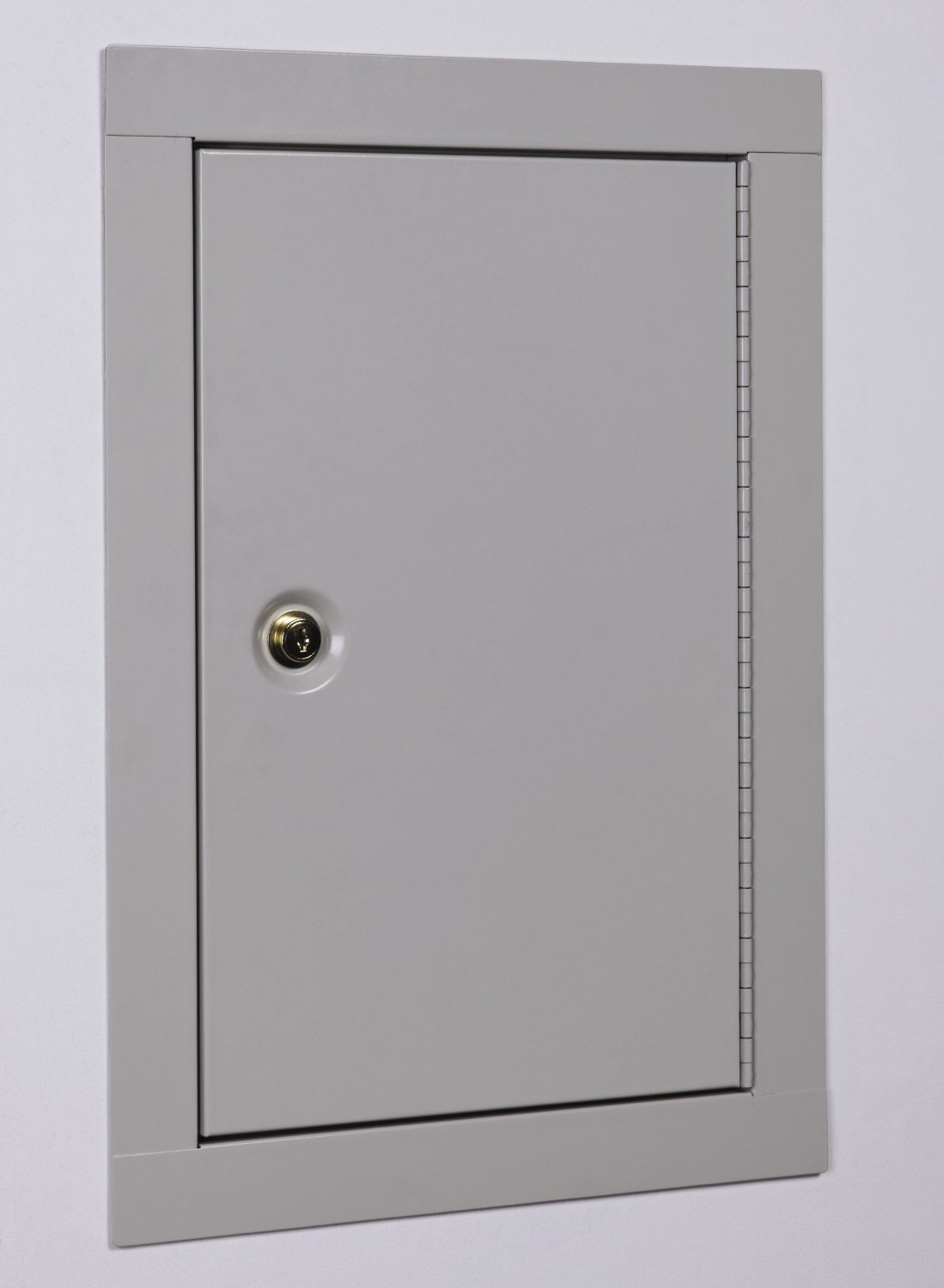 Finally, we have the Stack-On IWC-22 In-Wall Cabinet, which has the external dimensions of 15 3/8 x 3 7/8 x 22 ¼ inches, weighs fifteen pounds and is an in wall pistol safe.
You will be able to store pistols, jewelry, important documents and much more in this cabinet, which features two removable steel shelves. The bottom of the cabinet and the shelves have foam padding to protect your valuables and the steel door has a three point locking system that secures the door at the top and bottom as well as the opening side of the door.
The hinges on this cabinet are enclosed and protected and the quality is just what you would expect from Stack-On.
However, do keep in mind that the cabinet is not fire resistant but rather made entirely of metal. This cabinet is large enough to fit two to three medium sized guns as well as several extra magazines and extra ammunition. When hidden and out of the way, no one will ever know that it is even in your house.

---
My Vote for Best Hidden Wall Safe
Just in order to get on this list, a safe has to be a quality hidden wall gun safe. You can't go wrong with any of these, but some are better than others.
Depending on whether you want an in wall rifle cabinet or an in wall pistol cabinet will obviously determine which safe you prefer.
Of the two rifle safes, my top pick for personal favorite is going to be the Stack-On PWS-1555. It is quality, good looking safe that gets hidden perfectly in a wall. It has a bunch of shelves that be configured to store ammo, pistols, etc., which is really nice. I, personally, like the electronic aspect to the safe too. If you want a more classic feel, however, the Homak might be for you.
As far as the handgun safes go, it is really a tossup between the Electric Stack-On and the Barska. They are both quality safes. If you are looking for a simple electronic safe, the Stack-On will work for you, but if you want the added security of a biometric safe, you cannot beat the Barska.