Top 5 Best Belly Band Holsters: Belly Band Concealment Holster Reviews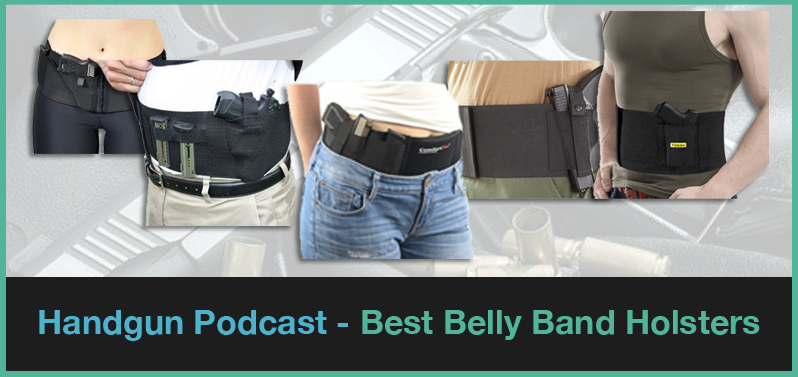 There are many different kinds of holsters available on today's market, as more and more people are opting to carry a weapon on their person. Whether the desire to carry concealed or open, the holster needs to suit your own personal needs, and no matter what that need is, you can certainly find a holster that will fit the bill.
The placement of the holster is a pretty big deal. You might be a person who likes to have their weapon close to the body, or you might be someone who just needs to know it is there, somewhere, and easily accessible should the need arise to use it.
But today, we are going to focus on the bellyband holsters. All gun holsters started out being worn on the hip, as far back as the old West, and many people like the familiarity of that. That is the concept with these bellyband holsters, but with the added incentive of being able to be worn in a concealed manner.
---
Best Belly Band Holster Review
Today, I want to look at five of the best belly band holsters, sometimes called belly belt holsters, available to you. We are sure you will find something that suits your own needs as you take a look at them with us.
---
Ultimate Belly Band Holster for Concealed Carry Review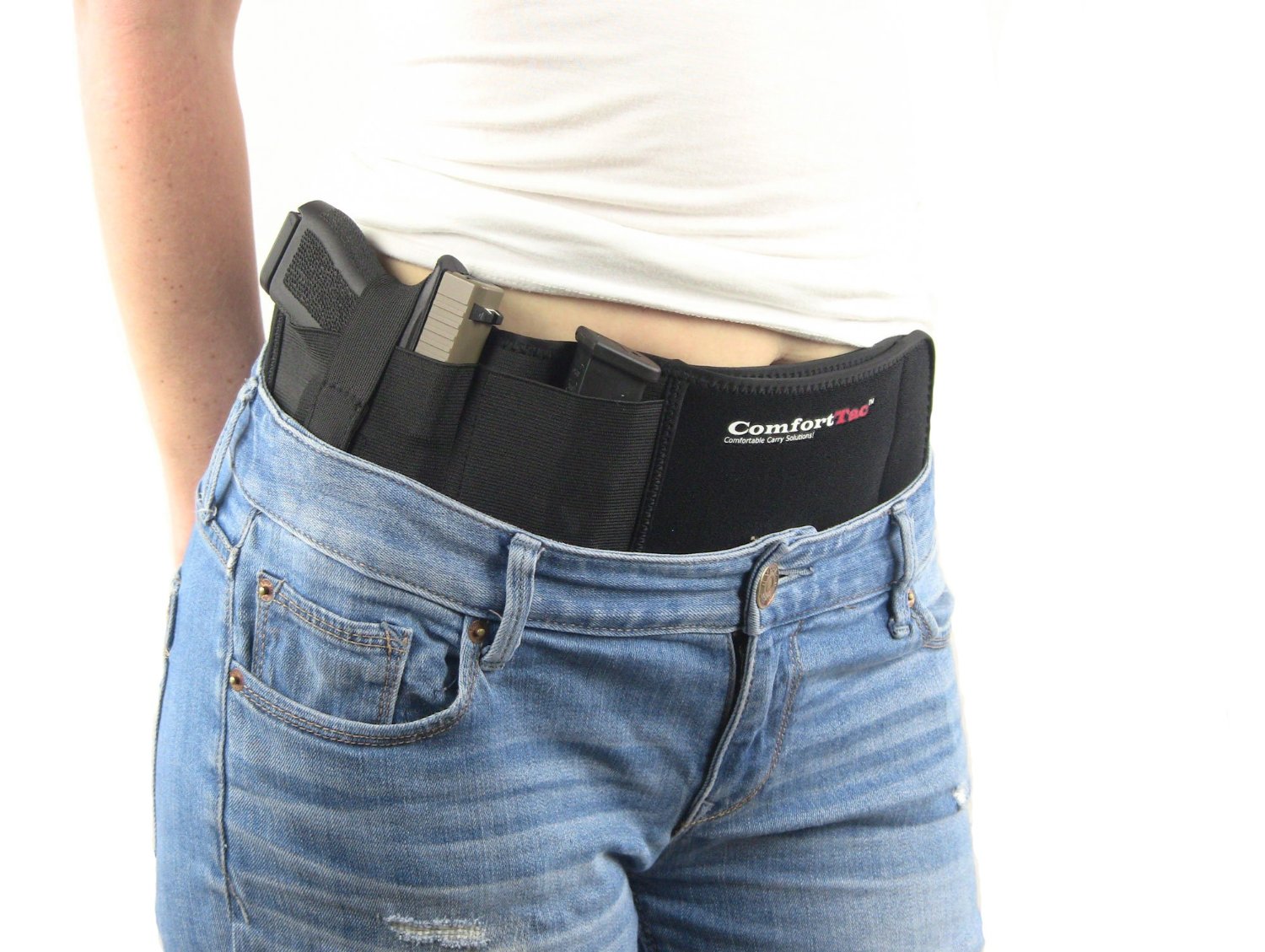 Finally, we have the Ultimate Belly Band Holster for Concealed Carry. This elastic belly band holster comes in black and fits an array of guns such as the Smith and Wesson Bodyguard, the Glock 17, 19 42, 43, P238, the Ruger LCP and other comparably sized handguns.
Both men and women alike can make use of this holster, which can be ordered for right hand or left hand draw and is sized so that one size fits all. The neoprene construction of this holster will stretch to fit up to a 46 inch circumference and is made of surgical grade elastic that can be worn inside or outside the waistband or in a variety of other positions that you might find more comfortable.
Keep in mind that neoprene is the material of choice for making knee and back braces, for their extra comfortable fit. There is even an extra pocket where you can store an extra magazine and a retention strap for extra support. However, if you prefer speed over support, the retention strap can easily be cut off and discarded. If you have more than one firearm, and like to carry different ones on different occasions, then this is definitely the holster you need to have. In addition to all this, it is a concealed carry weapon holster that you can wear under just about anything that does not normally give you the option to carry a weapon: sweat pants, shorts, dresses, skirts and more.

---
AlphaHolster Belly Gun Holster Review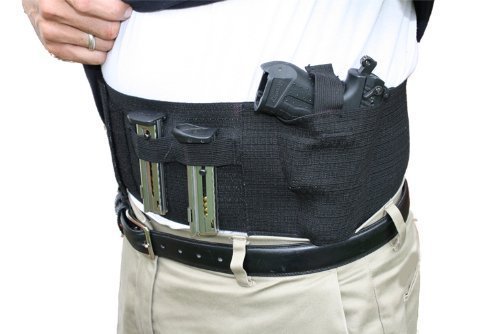 The first item up is the AlphaHolster Belly Gun Holster. The AlphaHolster discreetly holds your weapon in a concealed manner, under the clothes and against the body in a secure manner that will give you the peace of mind that you need. No one will be able to tell that you are carrying a weapon, even with a sheer fabric like a golf shirt or a t-shirt, and it will not even matter if you tuck it in.
Made of ventilated elastic, this belly band gun holster closes up securely in the front with Velcro fittings that your small to medium sized firearm will fit snugly and securely into. A strap fastens over the back of the weapon for added security, which leaves you with complete peace of mind in concealed carry. Two additional pockets mean that you will have room to carry extra magazines, yet it is lightweight, simple and breathable enough for every daywear. Since there is a pocket on both sides, there is no need to worry about right hand or left hand draw, as this holster supports both, making either way an easy, discreet possibility.
Made completely in the United States, this item fits from 28 inches all the way up to 52 inches, just make sure you measure across the abdomen for correct sizing.

---
Adjustable Tactical Belly Band Gun Holster Review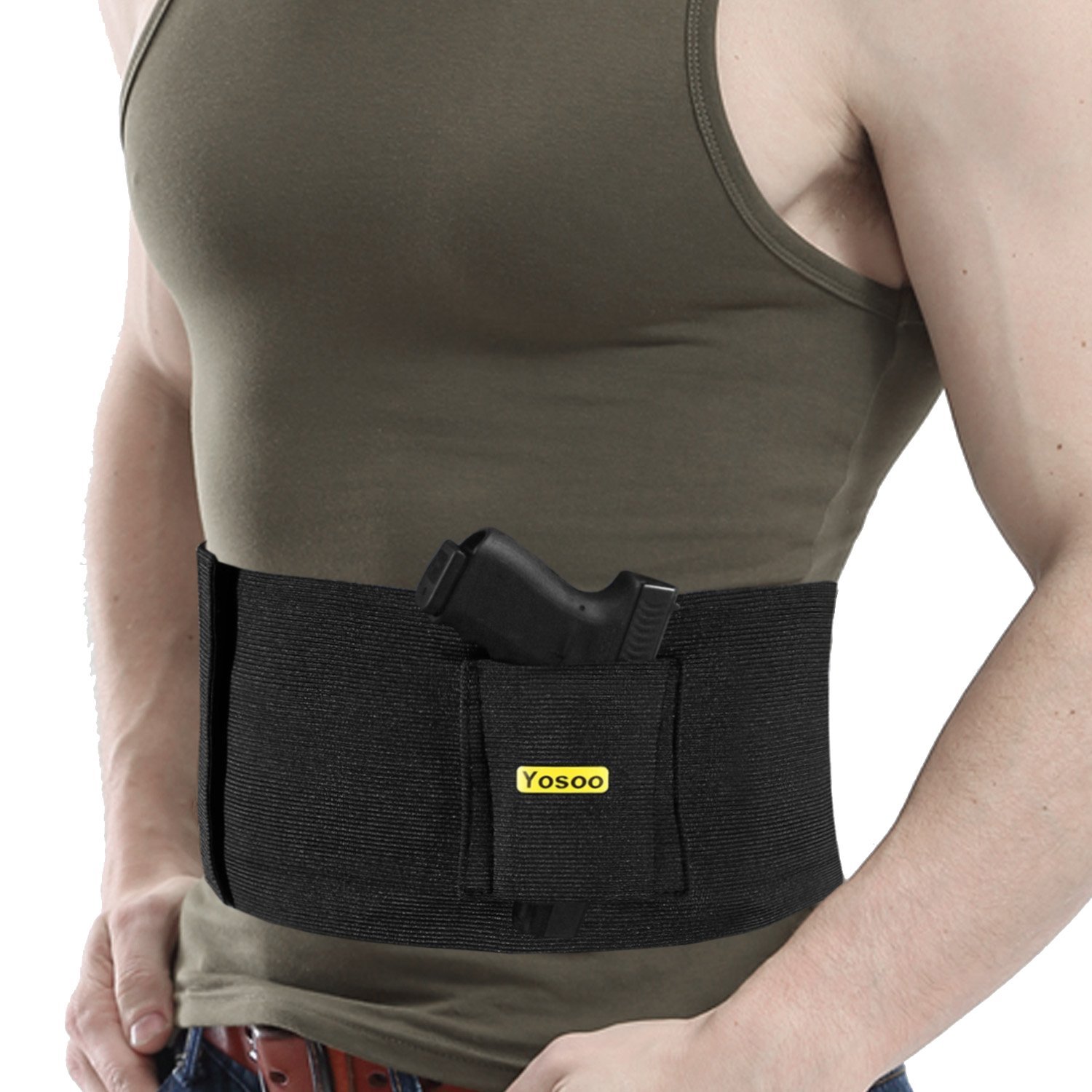 We will next take a look at the Adjustable Tactical Belly Band Gun Holster for carrying a concealed weapon at the waistband. Concealing a weapon in comfort is attainable with this holster, which is constructed of light, breathable elastic that features strong stick straps for closure, giving it the best of both comfort as well as strength.
Since it is so easily placed, comfortable and wearable, accessing your weapon fast with a full grip right from the start is no longer a worry for you. The positioning of this holster, and the way that it fits the body so closely, makes it one of the best for concealing a weapon, even under light clothing any time of the year.
The orientation of this holster means that right hand or left hand draw can be attained simply by positioning it differently against your body. The gun pocket fits most any size gun and there is an additional dual magazine holster that allows you to carry extra ammunition. The six-inch elastic holster fits waist sizes from 30 inches up to 37 inches, so please be sure to measure carefully before placing your order.

---
Hip Hugger Classic Can Can Concealed Carry Holster Review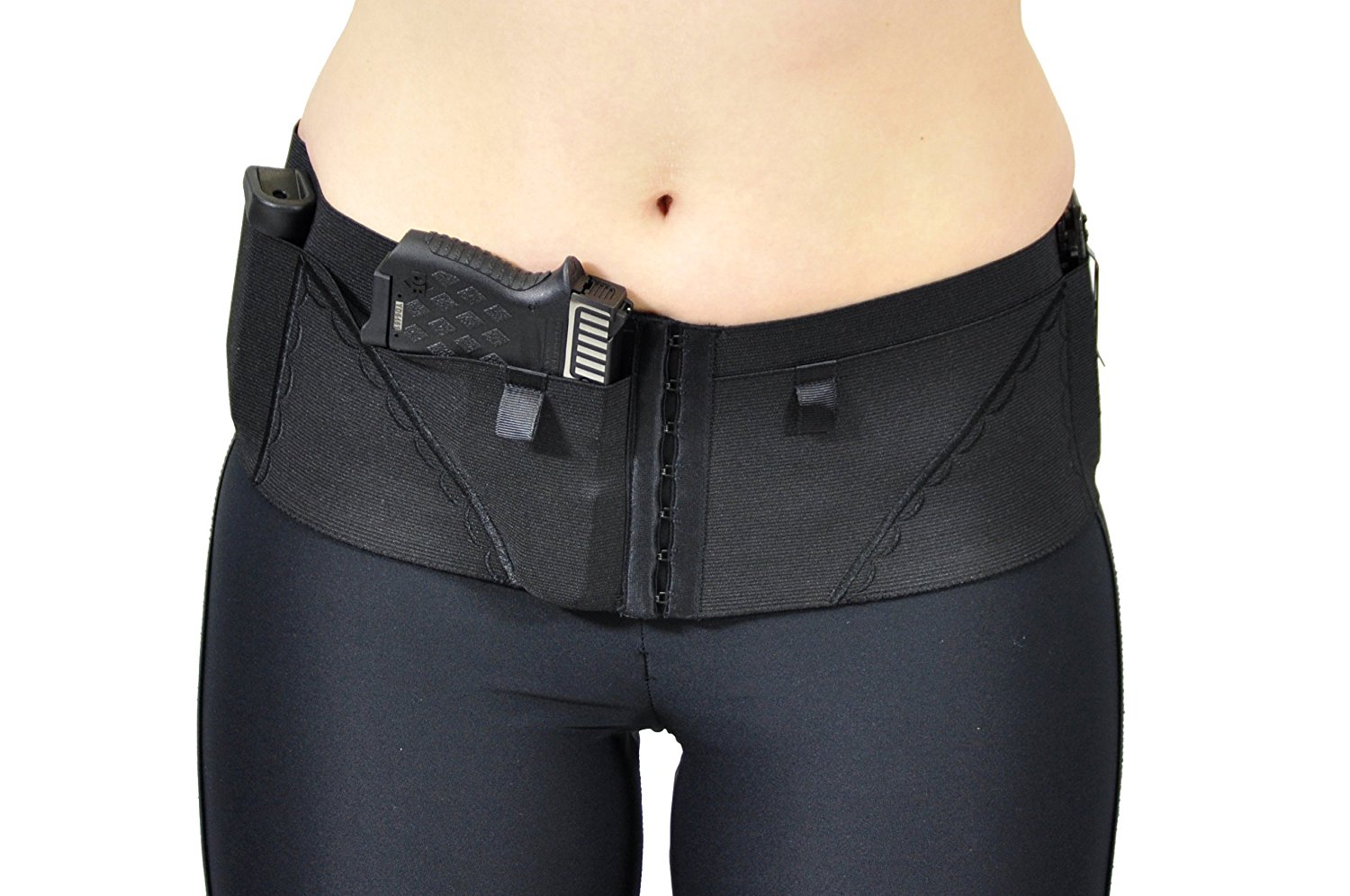 The Hip Hugger Classic Can Can Concealed Carry Holster is the next item, and it is available in three different colorations. This five-inch wide holster featuring a military-grade elastic construction, will hold a total of three weapons and extra ammunition all from an inside-the-waistband concealed carry holster.
This holster is easy to get a good fit with because it features three rows of metal hook eyes for the perfect adjustment. Because of the comfortable elastic fit, you can wear this holster in a variety of positions to fit your needs on any occasion, day in and day out. This holster is designed especially to fit a woman's curves with a tapered design and contouring fit that works with just about any outfit. The pockets for the magazines in this holster are specially lined so there will be no snagging, no scratching and no slipping, giving you the perfect fit for everyday wear.

---
Belly Band With Two Mag Pouches Review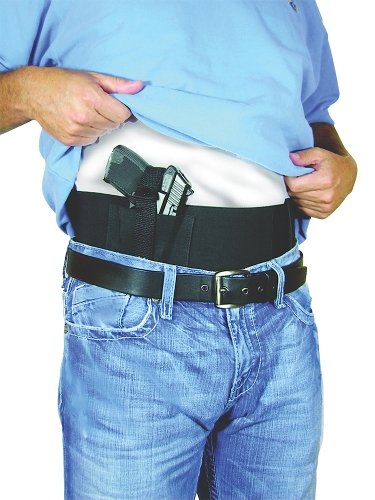 The next item is the Belly Band Holster which is a waist wrapped design constructed of elastic which is heavy duty and features a secure hook and loop closing mechanism or sure fitting.
In addition to holding just about any kind of pistol you would like to carry, the Belly Band Concealment Holster also has two extra pouches in which you can carry two extra magazines of ammunition. The strong, durable elastic makes for a nice secure fit for you weapon and ammo while still being comfortable enough to wear all day long.
The concealment ability of this holster is ranked right up there with some of the more pricey items that you can find. The fit for this holster spans from a 28-inch waist up to a 44-inch waist and the closure mechanism means that no matter what size you need, the fit will be just as comfortable and easy to wear.

---
My Vote for Best Belly Holsters for Concealed Carry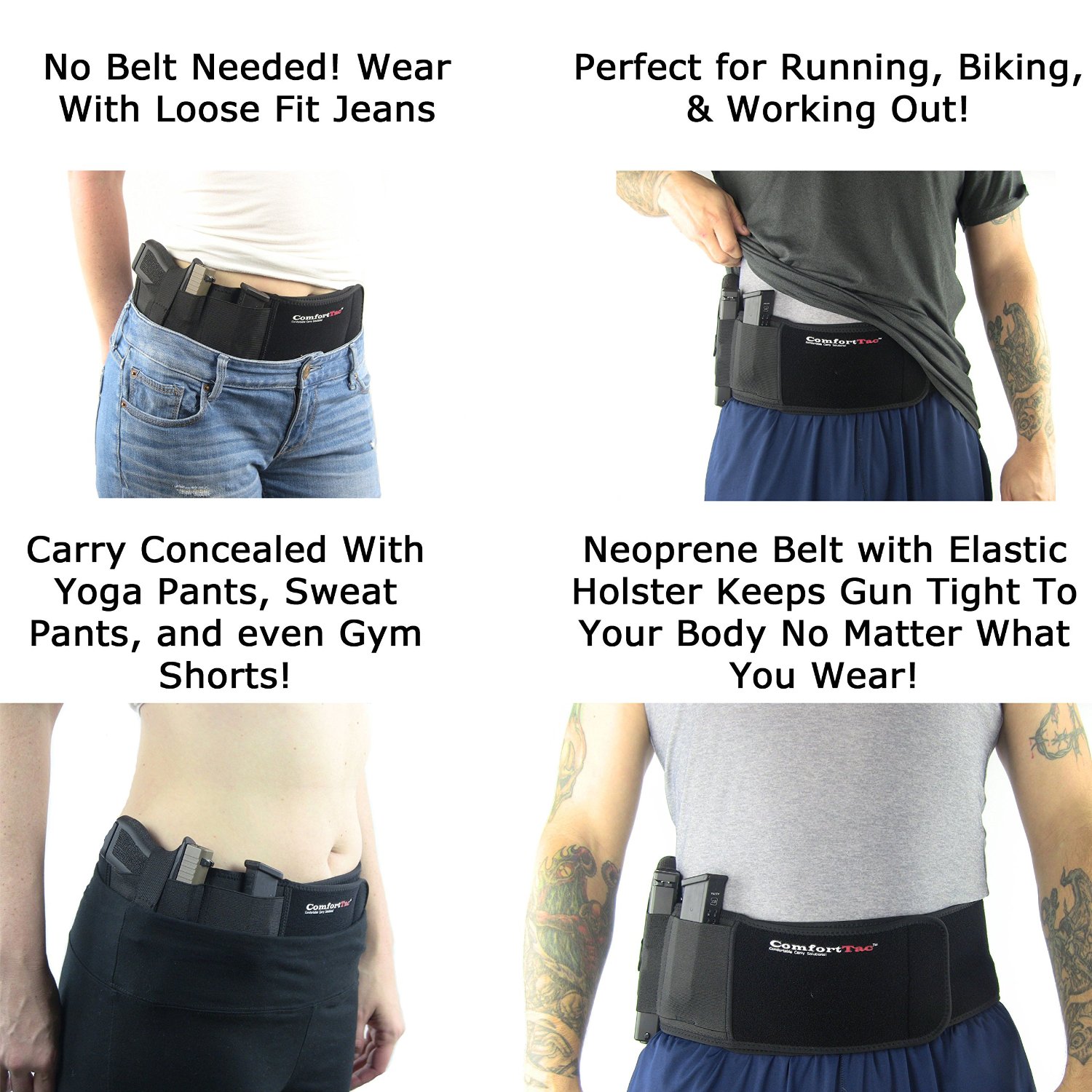 In looking over all five of these fantastic concealed carry bands, my top pick as my personal favorite of these is the Ultimate Belly Band Holster.
Not only is it constructed of the incredibly comfortable yet extremely durable neoprene, it also makes carrying different guns an easy task. You might want to carry one gun on one particular day, yet another gun, small or larger, on a different day.
The versatility of ways in which to wear this holster also makes it a great idea, as different outfits might warrant altering the way that it is worn. In any event, this concealed carry belly band remains a classic to this day.