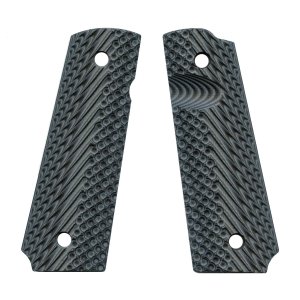 The VZ Operator II grips are a high-end tactical grip made and manufactured in the United States. VZ has been around since 2003 and has an excellent name in the firearms industry. These grips are very durable, have an excellent fit, and look great on a 1911.

---
General Features
Made out of heavy-duty G10.
Very aggressive texture for gripping.
Thumb cutaway for magazine release.
Multiple color selection to fit your gun.
Slim profile design, flush with gun.
The Operator II is a great grip for those who want an absolutely rock-solid grip. These grips are very aggressive and you can be sure while using these that your gun isn't going to twist or slide in your hand. These grips can easily be used by the tournament shooter in competitions or by those in a tactical high-speed environment.
Since they are made from G10, these grips are extremely durable. G10 is some great stuff and is virtually indestructible. It is also able to withstand heavy solvents, so you don't need to worry about your grips dissolving or disintegrating as your clean your gun with these VZ grips. Some grips, especially rubber ones, tend to get tacky when doing a lot of shooting in high heat areas or if you hands start to sweat. This doesn't happen with these VZ grips because of the G10 material and their aggressive texture. It's easy to maintain a nonslip grip with these.
They also offer many different colors, so you can customize your grips with your gun. I am more of a traditionalist when it comes to grips, but I do have a few friends who have green camo VZ grips on their guns and I do have to admit, they look pretty cool.
Unlike bulky grips that make your gun feel huge, these have a slim profile that is flush with the gun's frame. This is good as it allows you to keep your full hand wrapped around the gun. It also features a thumb cut out for magazine release. These are great because they really make switching between magazines easy.

---
Shortfalls
The VZ grips, since they are a higher-end grip, they do carry with them a bit of a price tag compared to your basic Magpulls, but in my opinion they are well worth it. In the world of firearms, you get what you pay for and these are quality American-made, tournament quality grips.
They also can be a bit aggressive for some. They definitely won't chaff up your hand like some grips, but they are pretty tough if you're used to shooting with rubber grips.
---
My Recommendation
If you're looking for a grip that is a cut above the rest, say your typical Hogue or Pachmayr, the VZ grips are the way to go. They have a little bit more a price tag, but they are well worth it.
They look great and function even better. They have all of the usually featured I look for in a set a grips, magazine cutaway, nonslip grip, low profile design, so choosing the VZ was pretty easy for me.