Best Car Gun Safes 2018: Vehicle Gun Safe Reviews
Carrying a firearm in your automobile isn't always as easy a concept as you think it is. Many things could happen if you have it just lying in the console, the glove box or between the seats. Aside from posing a serious danger if you were to be involved in a wreck, there is also the possibility that it could be stolen if you are away from your vehicle while paying for gas or shopping. In certain states and cities, it is also illegal to have a firearm in your vehicle and not secured in a special lockbox, out of the reach of anyone else.
---
Getting a Car Gun Safe
For all of these reasons, a vehicle gun safe is certainly your best choice for storing a firearm in your car, truck or SUV. However, sometimes choosing the right vehicle safe for your car can be a chore.
That is why we are looking at five of the best car gun safes available so that you can compare and choose the one that suits you the best. Each one will have different features that may or may not be comparable with your own specific needs, so read carefully to find yours now.
---
Homak HS10036683 Electronic Access Pistol Box Review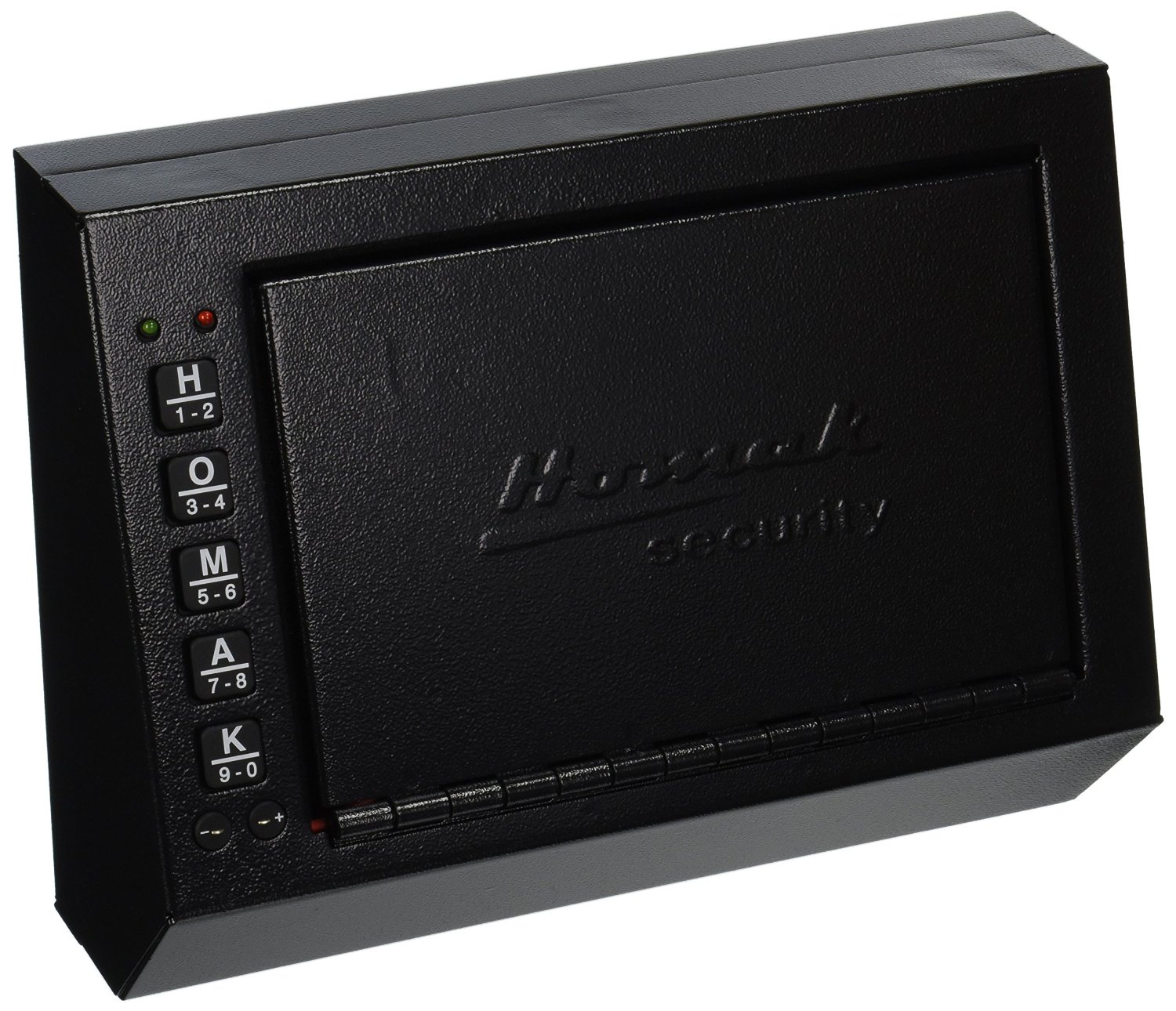 The first item we are going to look at is the Homak HS10036683 Electronic Access Pistol Box. Measuring a simple 10 x 3.5 x 7.5 inches, this is a great little car gun box to keep in your vehicle to keep your gun from children and anyone else likely to stumble across it.
The rugged steel construction means that you don't have to worry about the box being jostled around, and the coded entry means that only you and anyone you give the code to has the ability to open it and gain access to the firearm.
The Homak features a specifically patented design as well that easily resists being pried open to thwart anyone's efforts to steal. The rounded corners of the door cause this unit to close flush and leaves no room for tampering. It can be mounted in a variety of places for concealed storage, safely away from prying eyes and little fingers, including inside a closet, in a large drawer and many places inside a vehicle. Another great feature of this particular safe is that it is battery powered do that you won't have to worry about losing access to your gun during a time of a power outage or in your car or truck.
---
Sentry Safe PP1K Portable Pistol Safe Review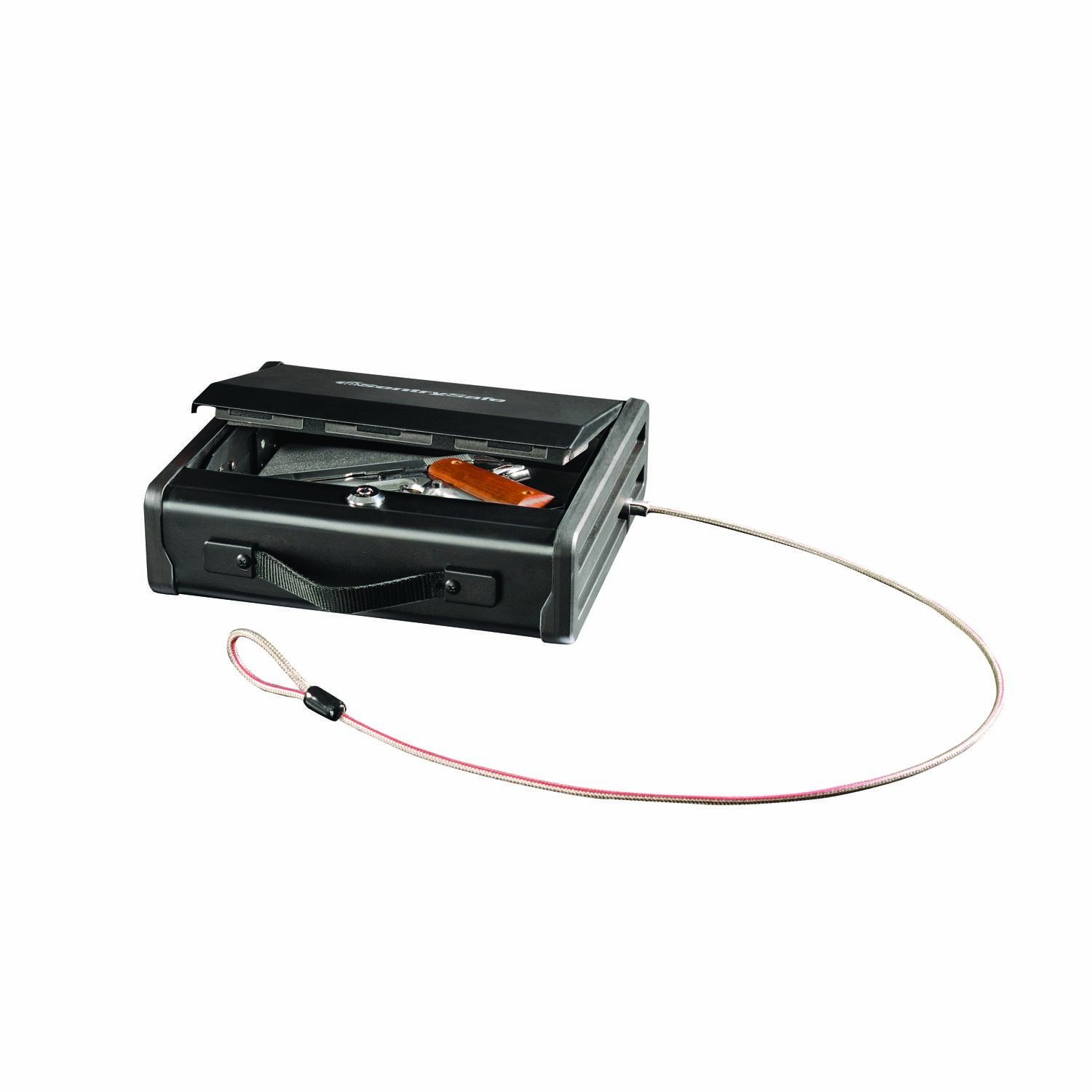 Next is the Sentry Safe PP1K Portable Gun Safe. The Sentry Safe weighs in at about eight pounds and measures 10.1 x 11.3 x 3.4 inches, making it a highly portable device so that you are able to take your firearms with you no matter where you go, while still being safe in keeping them out of the reach of other people.
This automobile gun safe has a quick entry mode, and other designs can also be purchased that offer both combination and biometric opening options. The interior of this box is coated with high compression foam, which means you don't have to worry about your gun and other firearm accessories moving around inside the box. You can use it both in and out of a vehicle, so there is a great deal of versatility with the Sentry.
The solid steel construction of this box gives you peace of mind in knowing that your firearm and whatever else you choose to store inside, is safely stored and out of reach.
Whether you store only a firearm, or also include other gun accessories, extra ammunition, cash, jewelry or important documents, they will still be there when you come back for them. A pry resistant design of the top lid is another security feature that you will enjoy with this unit, as it will close flush, not allowing anything to penetrate the seal.
---
GunVault NV200 NanoVault 200 Review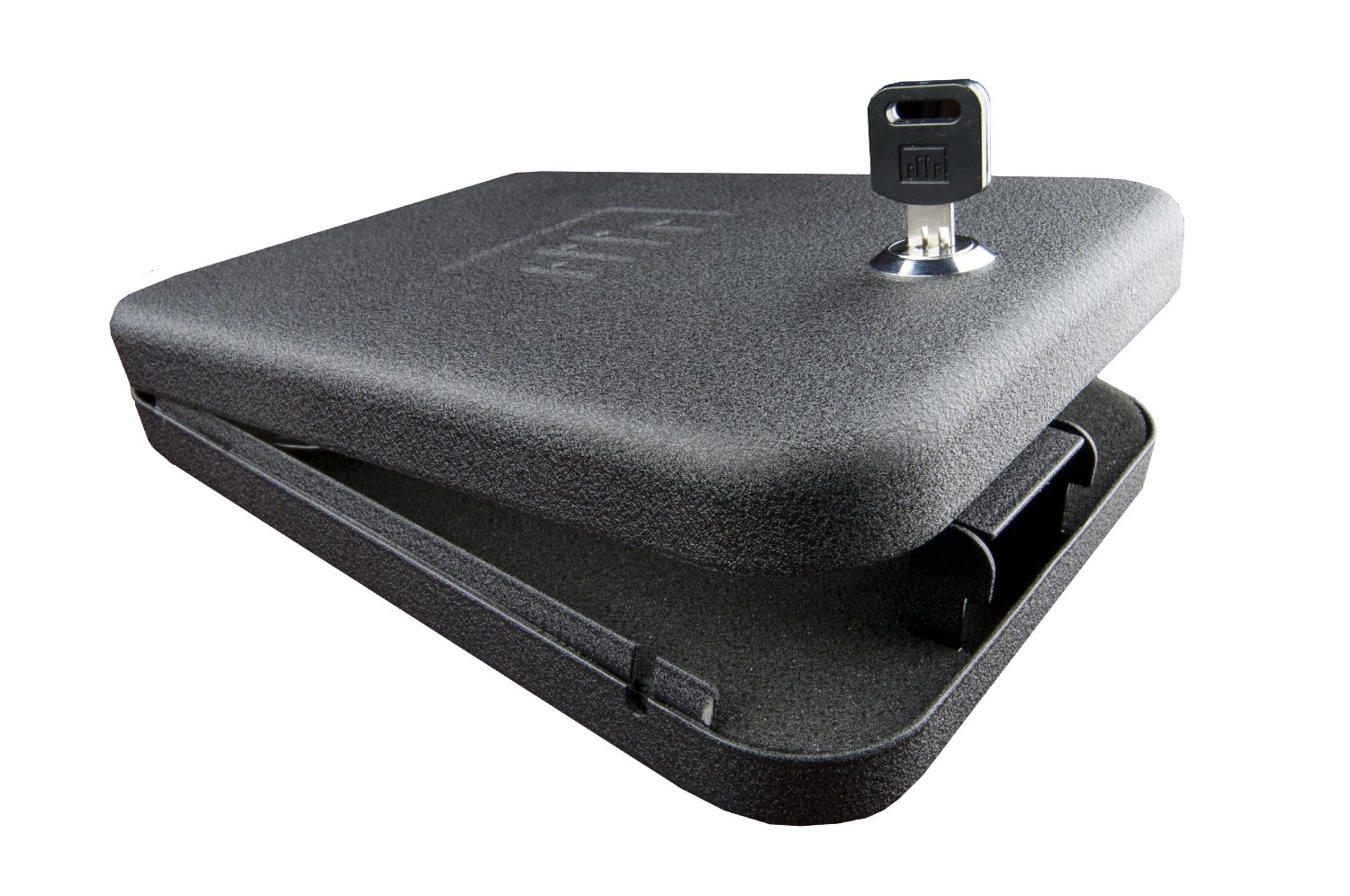 The GunVault NV200 NanoVault 200 features an easy to operate key lock system that easily meets TSA Airline firearm guidelines. The small, compact size of this safe means that you have storage just about anywhere you decide to take it.
Made of 18 gauge steel construction with a 1500-pound test cable included with the box, the contents are safe and secure giving you the peace of mind you need when transporting a gun. Inside, both the top and bottom of this unit are lined with a 1.25-inch thick memory foam so anything inside can't be thrown around and possibly scratched or damaged in any way. This makes it a great place to store fragile items like jewelry and other items that can be damaged when stored in lesser quality safes.
In addition to being a great car pistol safe, you also have the versatility of being able to store it in a briefcase, a desk drawer, a backpack or large bag or right under the driver's seat of your vehicle. This is great protection that carries an affordable price tag.
---
Club LB200 Personal Vault Security Lock Box Review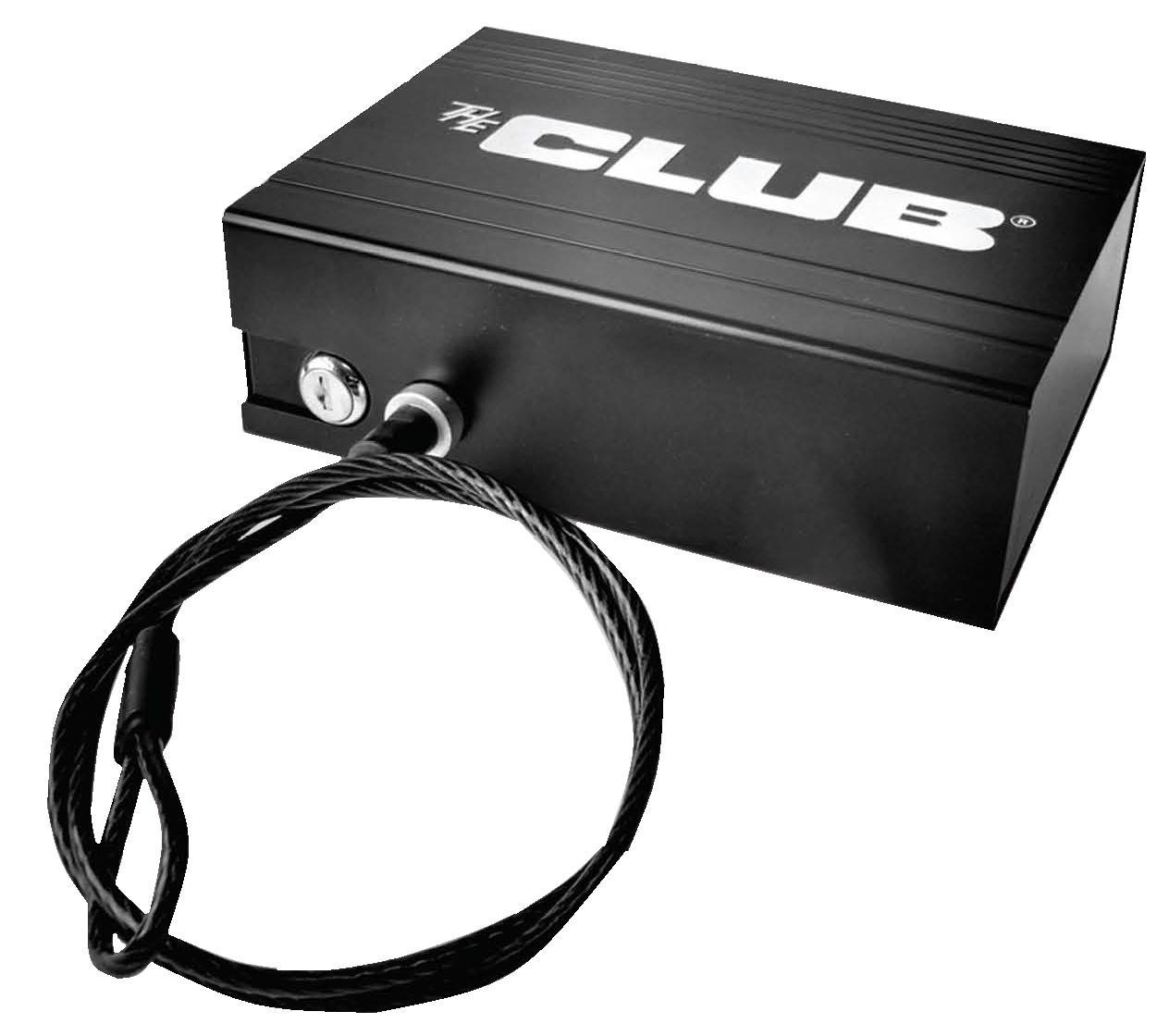 Next, we have the Club LB200 Personal Vault Security Lock Box. This little gem comes to you weighing 3.4 pounds and measures a mere 8.9 x 6.5 x 3 inches.
While this particular box will only hold a small firearm, it is easy to store just about anywhere. You can attach it to the seat mounts in your car or simply slide it under the seats for quick and easy access while still being secured by a braided steel cable that is included with your purchase.
This auto gun safe is a key entry model and comes with two keys so that you will be able to share one with anyone you deem worthy to open the box besides yourself. In addition to storing a small firearm, you can also use this box to store other valuables that you would like to keep safe, including cash, cell phones, cameras, jewelry, keys and important documents.
Manufactured of durable, strong aluminum and steel, purchasing the Club brand means that you are purchasing peace of mind. If you are going on out of state vacations, make sure to check the local gun laws of the cities and states that you will be traveling through.
---
IronClad Quick Draw Gun Magnet Holder Review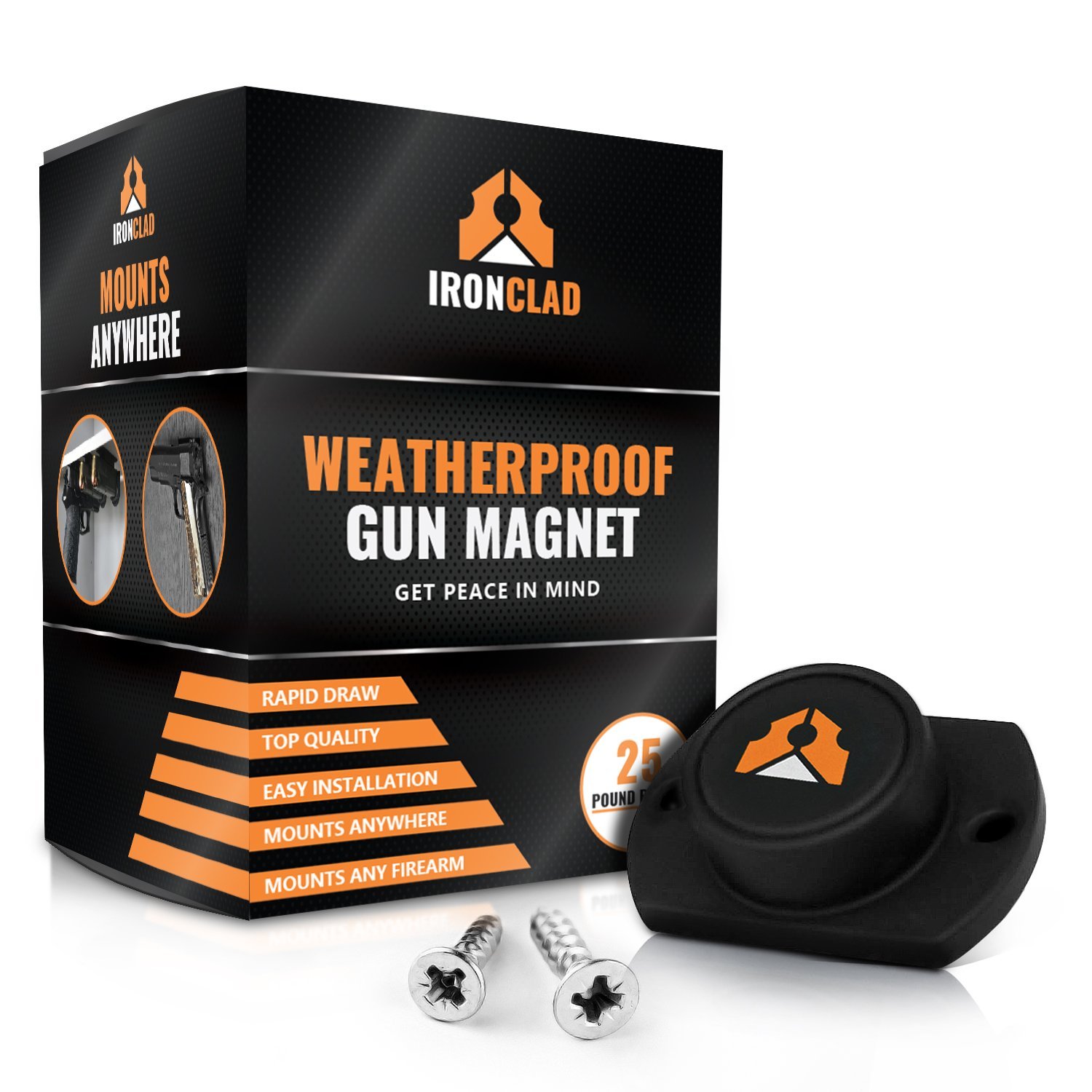 Last, but not least, we have the IronClad Quick Draw Gun Magnet Holder. With IronClad, you have the ability to attach your gun in a variety of different places.
Your car is certainly a first option, as well as beneath a desk, near your bedside, in the office, under a table or in a display case. No matter where you need to safely store your firearm, IronClad can make it happen, even hanging upside down or at any other angle you choose.
Knowing that your firearm is within easy reach in the case of an emergency, you might just want to put one in your vehicle as well as in every room in your house. IronClad holds a gun that weighs up to 25 pounds and will not scratch your firearm.
---
My Vote for Best Gun Safe for Car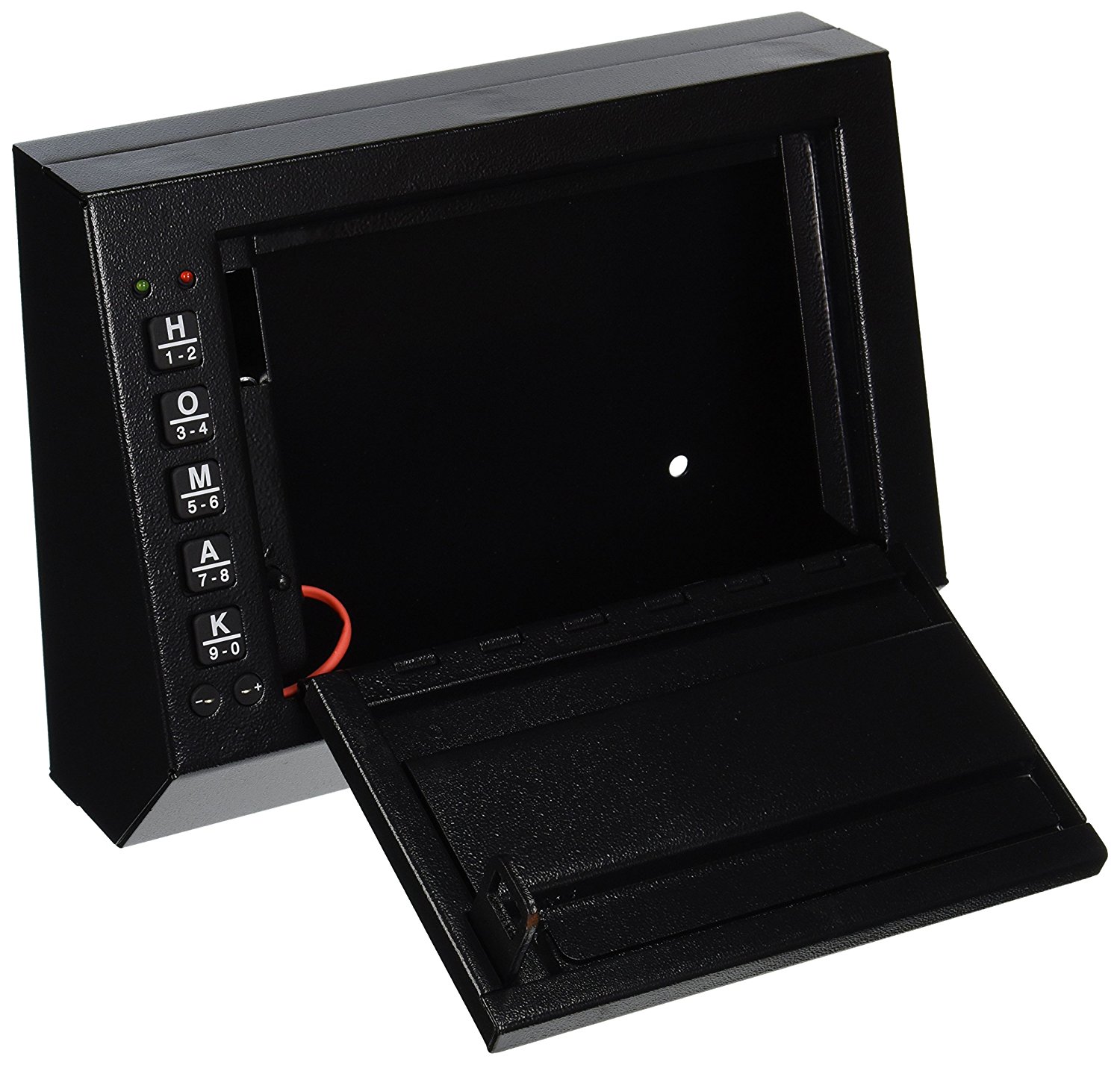 I always like to preface my own vote by saying just to make it on the top five list here, the product is pretty good. If you are looking for a truck gun safe or a general car gun vault, you can't go wrong with any of these.
That said, I do have a personal favorite. My personal choice of these car or truck gun boxes is going to be the Homak Electronic Access Pistol Box.
For starters, the electronic access to the safe seems to be the quickest means of accessing your firearm, and since we know that minutes count especially in emergency situations, this can be a matter of life and death.
The rugged steel construction is much better than some competitor's aluminum manufacturing and gives a lot more peace of mind in that sense. There is a patented design on the Homak that protects against prying, which is a common concern among safes of this size.
Finally, the ability to mount this unit instead of just securing it with a cable or sliding it under a seat gives this safe a notch above the rest in security features.