Top 5 Best Drop Leg Holsters 2018: Thigh Gun Holster Reviews
Thigh holsters work in much the same way that an ankle holster or an under the shirt holster works. They keep the firearm close at hand and angled in such a way that your firearm is easy to get to and easy to draw. The difference is that a thigh holster is not made to conceal any type of weapon. These are open carry thigh rig holsters and are very easy to see when worn.
Thigh holsters come in handy in a variety of different situations. Of course, you can carry them anywhere open carry is allowed, they are great tactical pieces that are very useful and they are excellent for backpackers, hikers and hunters alike who always want to be prepared for any unforeseen circumstances that might arise. "Better safe than sorry" is an old adage that still rings true today and more so in some situations than others.
---
Best Drop Leg Holster Reviews
With that in mind, we are going to be taking a look at five of the most popular drop leg holsters on the market. As we compare different features, sizes and capabilities, it is our hope that you will find one that you may have always been looking for, even if you never knew it was available.
---
Condor Tornado Tactical Leg Holster Review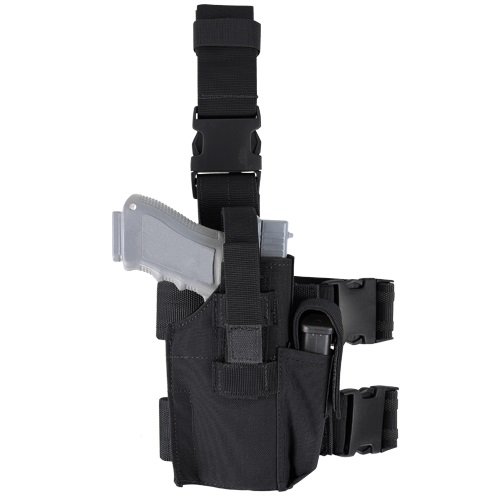 Next up is the Condor Tornado Tactical Leg Holster, which features a wrap around design that is meant to fit pistols that have laser or flashlight mounts attached to them. It should be noted that this holster only accommodates a right-handed draw. No other configurations can be made to this item.
The fully adjustable leg strap with a non-slip rubber lining has a quick release buckle for when you need it, one magazine pouch with an adjustable Velcro strap and will fit most medium to large sized handguns and pistols. Condor Outdoor products specializes in tactical gear.
With over twenty years of experience in the tactical and outdoor gear industry, they offer all the essentials for any mission while saving you money at the same time. The Condor is a great tactical holster for hiking and backpacking, as you can carry your firearm, extra ammunition and never have to worry about it moving around or coming out of place.

---
UTG Extreme Ops 188 Tactical Drop Leg Holster Review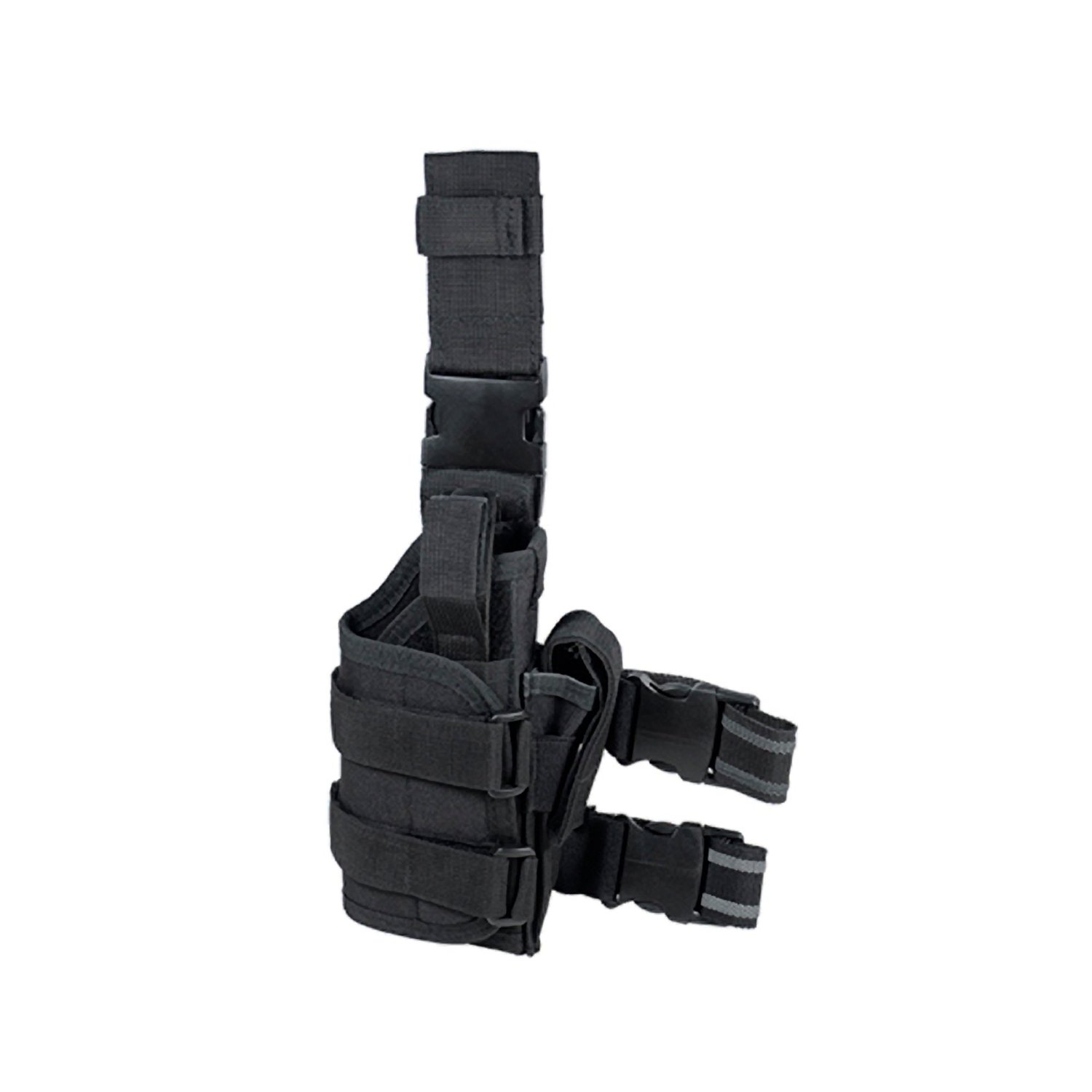 We will first take a look at the UTG Extreme Ops 188 Tactical Leg Holster. This tactical leg holster features a strap with Velcro to adjust the width as well as a removable and adjustable belt hanger with non-slip buckle for leg length adjustment.
Holster your pistol, flashlight, laser or other accessories and always have them at the ready with this leg holster that is fully adjustable for height as well as tension. The high quality Velcro straps and quick release buckle system round out the features with a tactical design, an extra magazine attaché and a frame that fits most medium and large frame automatics, Glocks, Berettas, Taurus', Rugers, Sigs, M-1911's and other comparably sized handguns.
Made of polyester with composite padding, this leg holster only weighs about a half a pound, so it is lightweight enough to make maneuverability easy. The tactical design keeps your firearm in a ready position for just when you need it and it is fully adjustable for height as well as tension.

---
Cisno Drop Leg Adjustable Right Handed Tactical Thigh Holster Review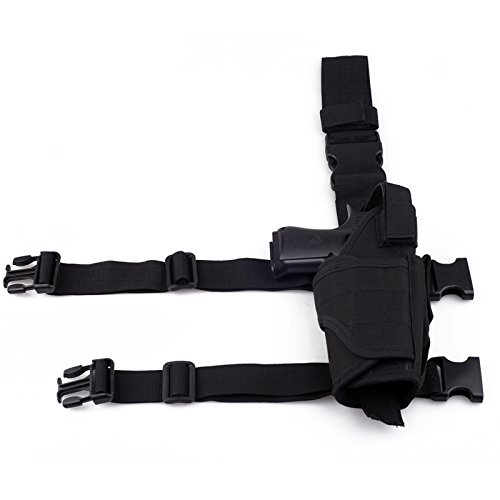 Next, we have the Cisno Drop Leg Adjustable Right Handed Tactical Thigh Holster. The Cisno is a tactical leg holster that is made of lightweight and durable polyester with a versatile design and adjustable straps for a perfect fit.
It will hold nearly any handgun, pistol or revolver, so long as the barrel isn't excessively long. The fully adjustable wrap-around design provides additional fit and security and the adjustable non-slip leg straps minimize movement and give you the most amount of comfort of any thigh holster.
Unless your legs are incredibly small, you will definitely find the fit you need after a moment of adjusting the straps to your own personal size. The Cisno also features a quick release buckle and Velcro straps which make this holster completely adjustable.
This is the ideal leg gun holster for military, law enforcement, hunters, home defense and much more. Made of nylon, the Cisno measures 200 x 100 x 50mm and weighs 267g. It is available in several different colors and designs and made in the United States of America.

---
UTG Elite Tactical Right Handed Leg Holster Review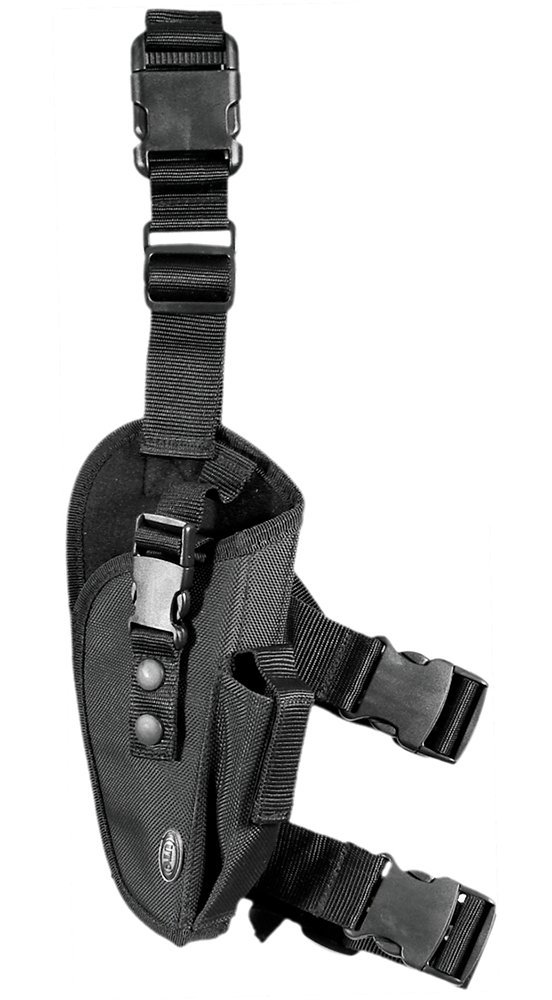 The UTG Elite Tactical Right Handed Leg Holster features a universal design that will be a perfect fit for most medium to large frame pistols and handguns. This thigh gun holster has a fully adjustable belt hanger that is also removable and comes with an extra magazine pouch.
The closure is also adjustable, which makes it easy to get a nice tight pistol barrel fit and it has a high quality quick release buckle system as well. You can be sure this is lightweight, as it only weighs a mere twelve ounces. You can put this holster on either leg, depending on whether you are right or left handed, and there is an additional belt that can be bought separately that will hold them both together nicely.
Even when put under rigorous circumstances, if the straps are all adjusted correctly, this holster will not lose its grip or slide up and down or around your leg. You should be able to maneuver in many different situations with this holster on, in place and holding your gun, all with the comfort and reliability you had hoped for. If your gun is a little on the small side, it may be necessary to close off the bottom portion of the holster where the gun barrel is suppose to stick out.
Some people find that smaller guns do not sit well in this holster, so if that is your case, you might want to look for something a little more suited to the type of gun you have.

---
Gals with Guns Women's Non-Slip Thigh Holster Review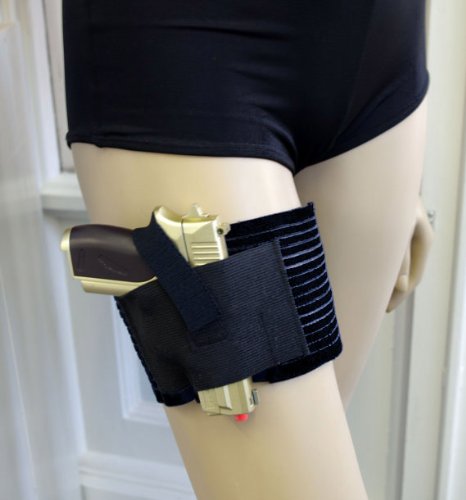 Finally, we have the Gals with Guns Women's Non-Slip Thigh Holster for small guns. This holster is made of breathable four-inch elastic with two half-inch silicone drips featuring a Velcro hook and loop closure system.
Available in three thigh sizes and two styles, this holster is made completely in the United States of America. The Gals with Guns holster can be worn on either leg for right or left hand draw. This holster can be used to brandish your firearm even in the skimpiest of outfits, especially when you are not able to carry a purse. Since there are no two thighs alike, you can use the Velcro to get a nice snug fit around your curves and achieve the most comfort possible.
Since this holster is best suited for smaller guns, you do not want to try to put anything larger than fifteen ounces in it. Of course, if you are unsure, you can certainly message the company who is proud to provide customer service any way that they can.

---
My Vote for Best Leg Holster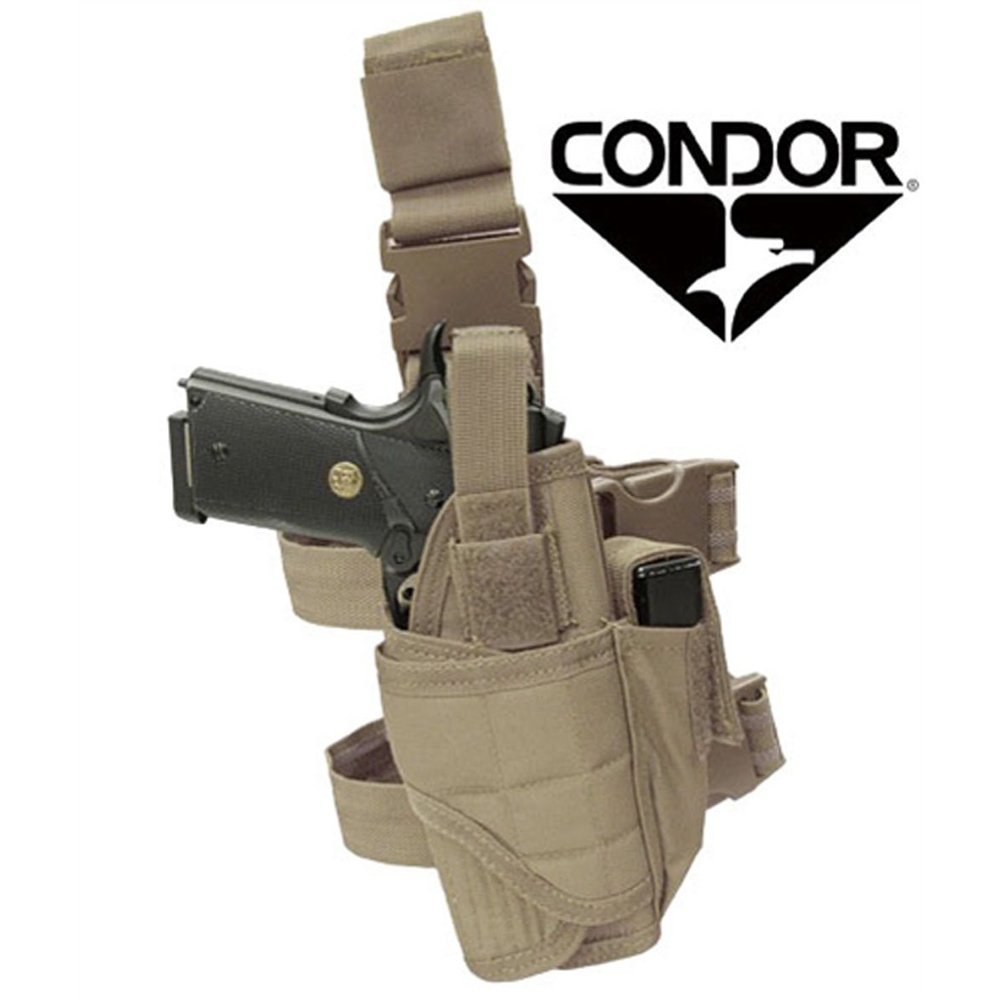 Of these five reviewed thigh holsters, my top personal pick for favorite for best leg holster would have to be the Cisno Drop Leg Adjustable thigh holster.
While it might seem that there is such an abundance of Velcro and straps that it could be viewed as cumbersome to get on and be fitted with, I see that as a great opportunity to achieve the perfect personal fit.
And it should only take one time of getting the fit just the way you want it. Unless you plan to be wearing it over a variety of differently sized pants or if you plan to use different gun sizes in the holster, one time should achieve just the fit you need. The adjustable non-slip leg straps are also nice for backpacking and hiking when you want a fit that isn't going to keep sliding around and getting uncomfortable or hard to reach.