Best Nightstand Gun Safes: Bedside Gun Safe Reviews
Everyone has a particular place they like to keep their firearms and weapons for quick access as well as safekeeping. For some, it's an under bed gun safe, while others prefer to keep them in the closet on the top shelf. Still others enjoy the gun rack over the bed that houses the guns as well as the ammunition and other firearms accessories, all at arm's reach at any time they happen to be needed.
Some people may not even know that there is another option: the nightstand gun safe. A gun safe nightstand looks just like a regular nightstand, or is made to work with one, so that anyone who does not know exactly what it is will have no idea what is inside. While each one is different, they all have similar aspects as well. The determining factor will be how much protection you are wanting, what kind of entry mechanism you choose and what types of cosmetic features you will take an interest in.
---
Best Nightstand Safe Reviews
It is my hope that within these nightstand bedside gun safe reviews, you will find something that helps you make a choice about what you need for your own personal situation.
---
Home Defense Night Stand with Hidden Firearm Safe Review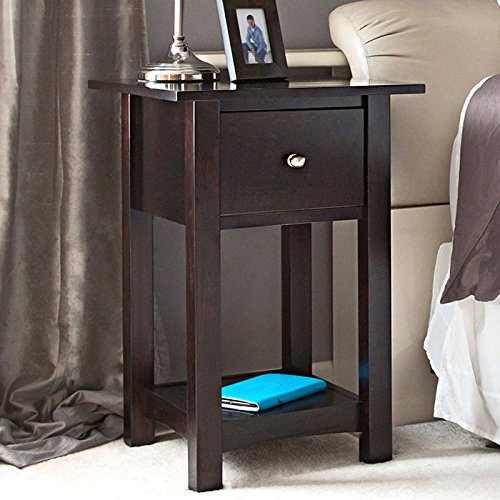 The first item up for review is the Home Defense Night Stand with Hidden Firearm Safe is a quick access, concealed safe that will keep you within arm's reach of your weapons and valuables. In less than a second, this safe springs into action giving you access to a concealed compartment where you have your weapon stored.
This bedroom gun safe is also big enough to contain a large frame pistol, stun gun or mace. The safe runs on one 9-volt battery, which is included. Stained to order, the nightstand is available in solid rock, maple or metal, with a right side or left side door, depending on which side of the bed you would like it to be. The stand measures 20 x 21 x 30.5 inches and weighs 42 pounds.

---
Wolverine Under the Desk Holster Review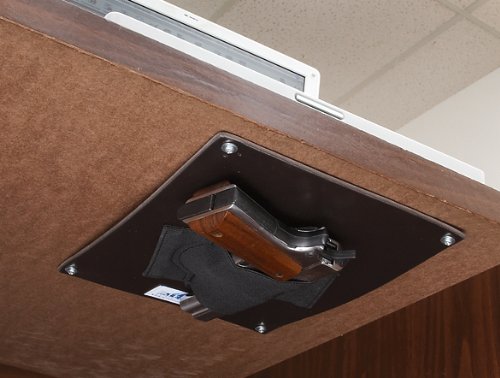 The next product is the Wolverine Under the Desk Holster. While this is not a nightstand in and of itself, it can be fitted underneath one, or underneath any desk, leaving you with a "stealth stash" for just about anywhere and making it good as a bedside safe.
While most will make use of this in their homes, you can also put one in your place of business, if applicable, in your car, truck, RV or even in your big rig if you are an over the road driver. This holster is made to safely hold any size handgun and keep it within easy, secret reach. Under the desk, in a cabinet, along a closet wall, wherever you decide to put it, your handgun will be as close by as you want it. The Wolverine features a tough synthetic panel with an elastic gun holder, metal grommets and a complete set of four screws for fast, stable installation.

---
Stack-On PDS 1500-B Personal Drawer Safe Review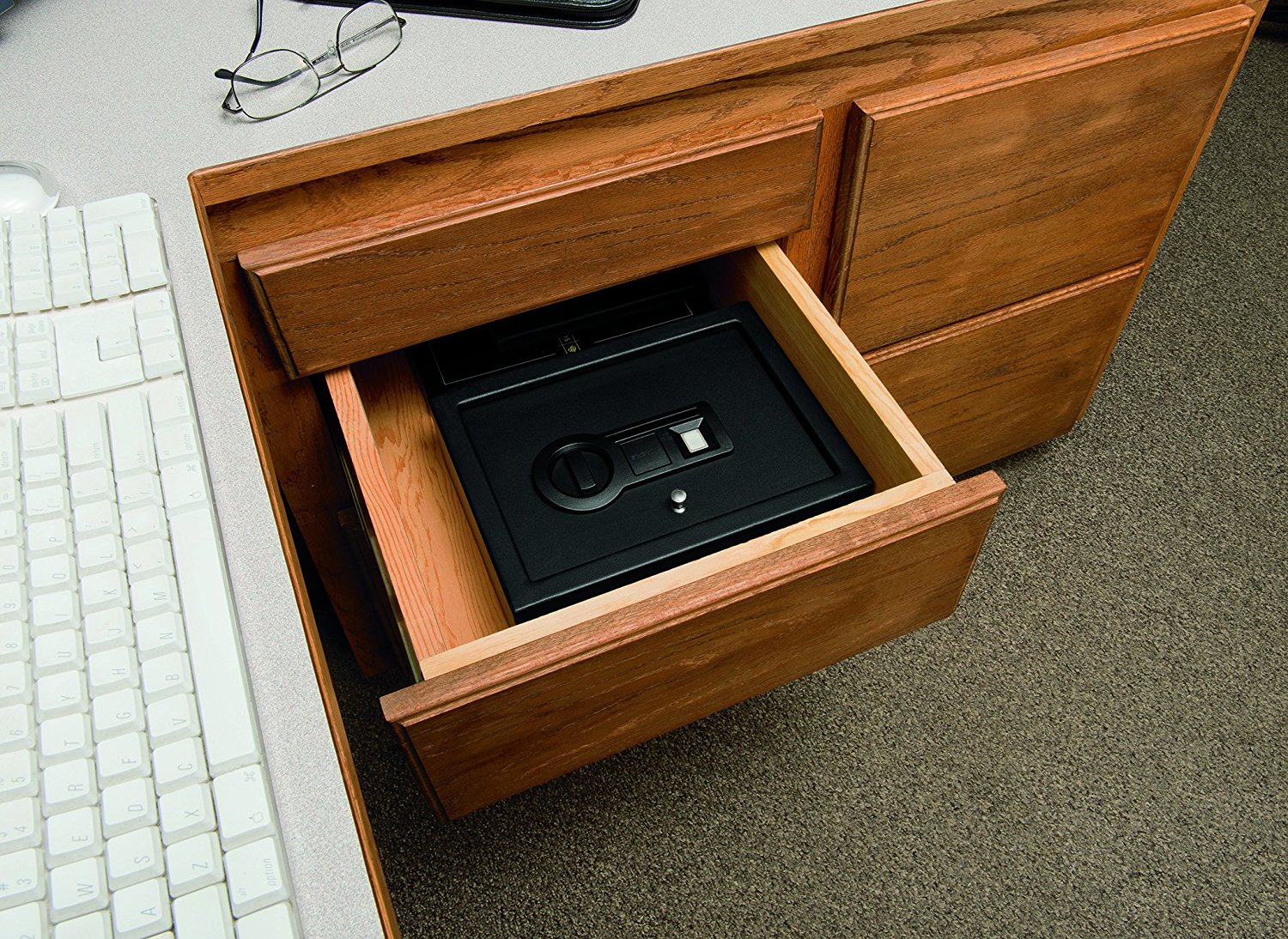 The Stack-On PDS 1500-B Personal Drawer Safe will fit nicely in just about any nightstand and features a biometric locking system. This drawer gun safe provides security for a handgun, personal documents, jewelry, medications or any of an array of other items that you want to keep safe and out of reach of anyone other than yourself.
Even on the road, this is one of the best methods for safekeeping, with just the perfect size. The one-touch biometric lock makes accessing your secured items fast and easy. The lock can be programmed to accept up to twenty different fingerprints. This is a California approved firearm safety device that meets the requirements of penal code section 23655 and the regulations issued in such. The solid steel pry resistant door has concealed hinges and two steel live action locking bolts and features a silent entry mode as well.
In addition, this nightstand safe features a low battery warning system, two backup emergency keys as well as all the hardware necessary for mounting the safe somewhere more permanent.

---
Artemis Biometric Handgun Safe Review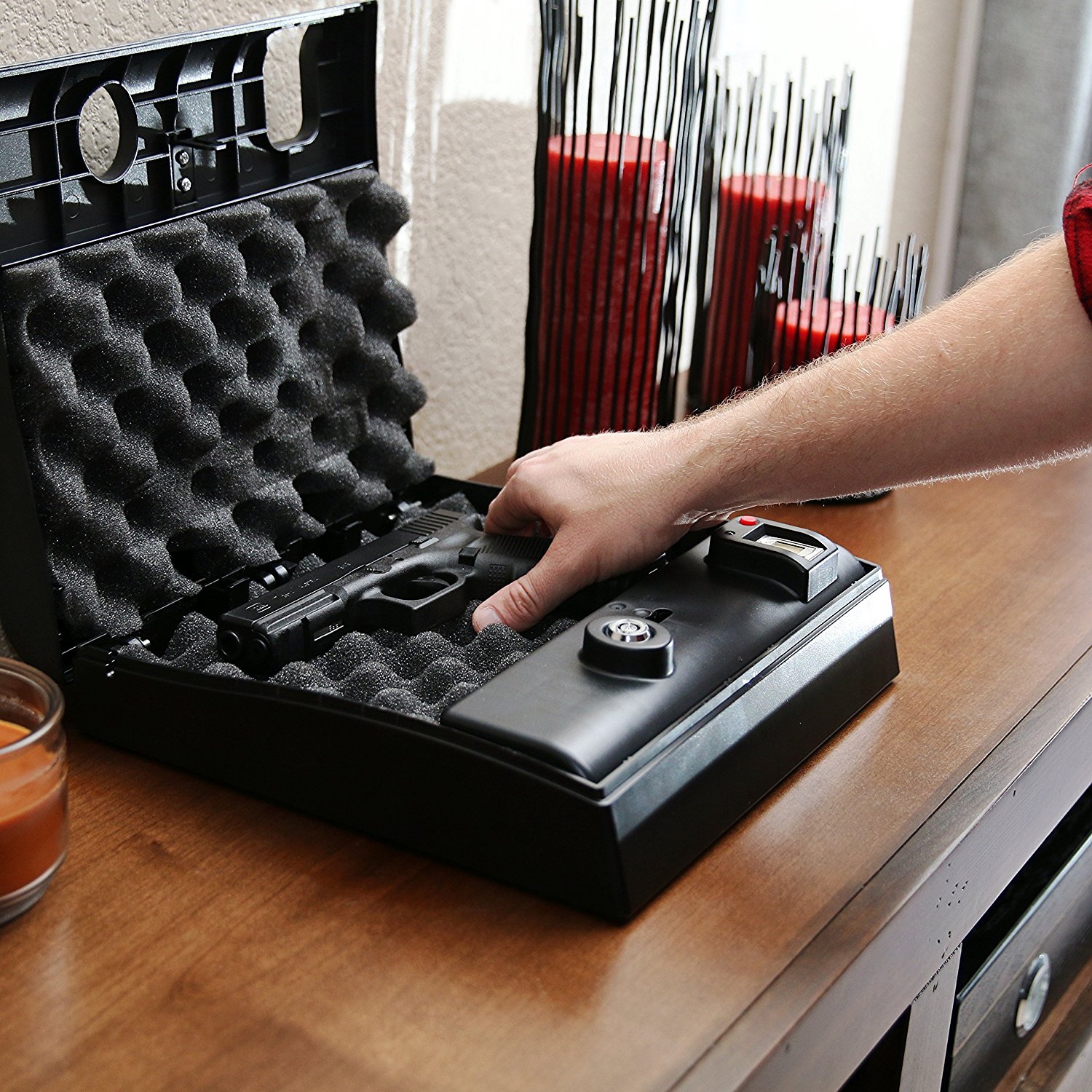 Next is the Artemis Biometric Handgun Safe. With the Artemis Safe, you can breathe easier knowing your firearm is secure. Discreet and child resistant, the Artemis Gun safe was originally designed to reduce accidental firearm handling and associated accidents. However, this gun safe also works perfectly for who might only be looking for a secure place for their guns and valuables.
This Artemis is a biometric nightstand safe and features a one touch biometric fingerprint scanner, called a Second Touch. It is a high quality scanner that is very similar to the fingerprint scanner on a smart phone. It is easy to program, use and can accept up to 200 unique fingerprints. Second touch makes Artemis quick and easy to use and secure enough to prevent unauthorized for accidental handling of firearms. Small and discreet enough to fit under a bed, yet large enough to easy accept 1911 model handguns and ammo, Artemis is one touch case.
This safe is constructed of a weapons grade polycarbonate polymer that is the same as is used in bulletproof glass. For added security and peace of mind, a loud tamper alarm is in place and will sound is anyone who does not have a code tries to gain entry. Four AA batteries will provide up to 4,000 scanner operations or approximately one year of use. For your convenience, a low battery alarm will sound when batteries need to be replaced.

---
GunVault SV500 SpeedVault Handgun Safe Review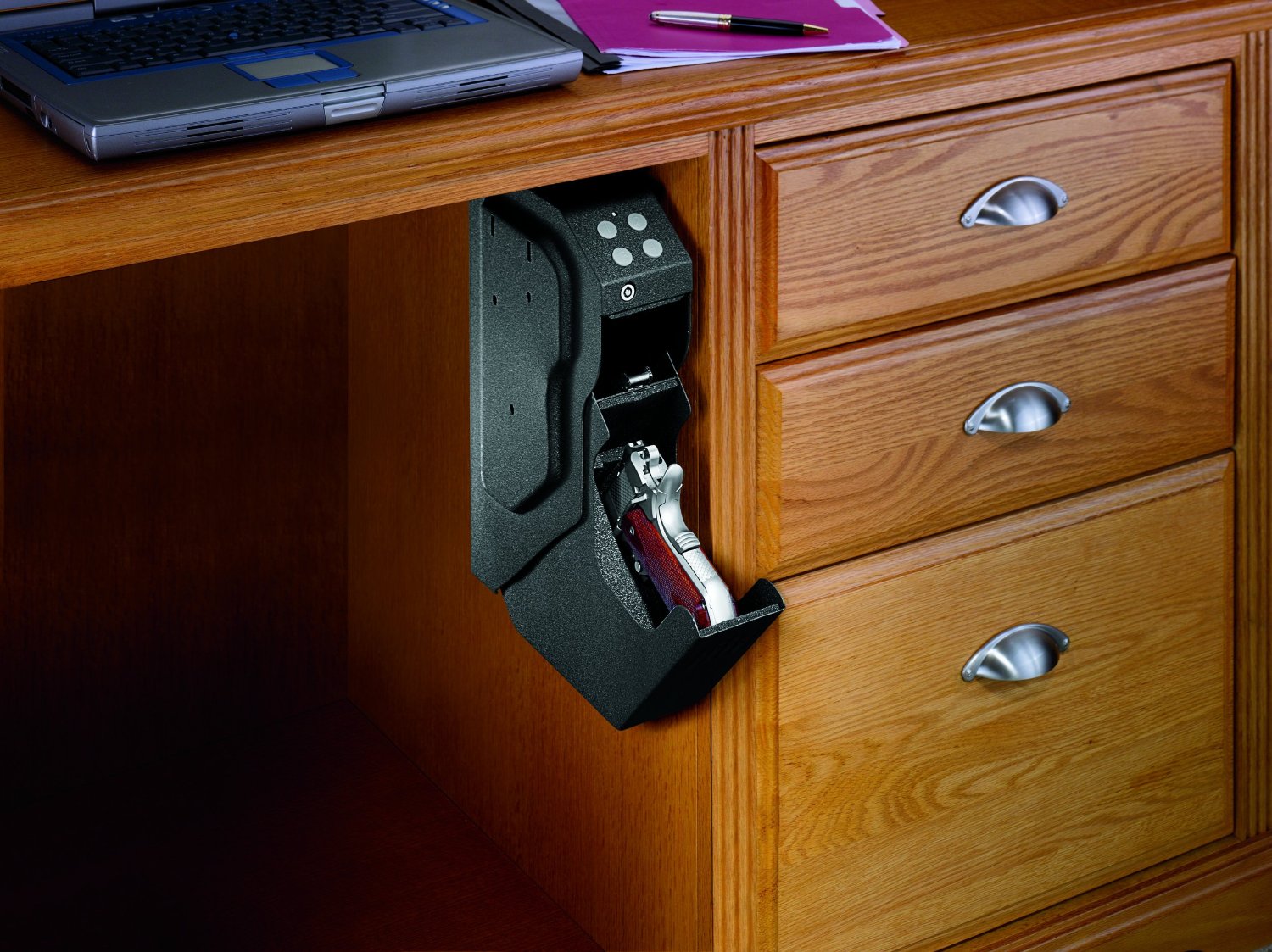 Finally, there is the GunVault SV500 SpeedVault Handgun Safe. With a quick access digital keypad and a fast activation drop down drawer for quick access, this safe is constructed of 18-gauge steel with a protected foam lined interior. It comes complete with a backup override key as well as hardware for multiple different mounting options, all at your best discretion.
When the GunVault is opened, there is a courtesy light that will come on, illuminating the inside of the safe during low light situations. The interior of the safe is lined with soft foam material that will protect whatever you happen to be keeping inside.
Keeping your handgun safe and secure, away from prying eyes and hands has never been easier than with the GunVault Safe. With its revolutionary design, stability and ease of access, your handguns are safe and it is immensely discreet, as well as easy to get into. Measuring 6.5 x 3.5 x 13 inches, this safe weighs in at about ten pounds.

---
My Vote for Best Nightstand Safe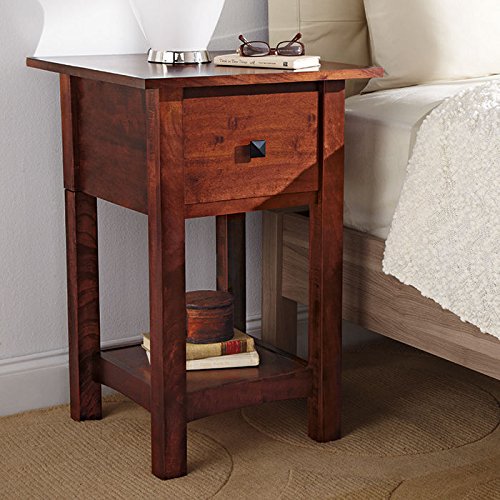 My personal choice for top pick of these five items is going to be the Home Defense Night Stand with Hidden Firearm Safe. The first thing that makes this particular safe more appealing than the rest is that it is, for all intents and purposes, a fully functioning nightstand.
The fact that the firearm safe portion is a hidden safe, makes it even better, in that your firearm will then not be easily uncovered should anyone decide to do any prying. Knowing that the compartment is also available in less than a second is a great selling feature, knowing that if there is an intruder who breaks into your home in the middle of the night, even in a half asleep stupor, you should be able to quickly reach for the nightstand and grab your weapon.
There are also the cosmetic features of this table, allowing you to have a firearm safely and discreetly within reach while still being able to decorate to match surrounding accessories within the room is a great idea for such a thing. Most gun safes are incredibly practical, sturdy and serve their purpose well, but it is not often that you get the added bonus of them being stylish as well.