Top 5 Best Bra Holsters for Guns 2018: Conceal Carry Bra for Women
Men are not the only ones who might like to conceal a firearm for everyday carry. There are literally hundreds of reasons why a woman might be on her own and need her own form of protection. And it is for any of these reasons that women's holsters are available today.
Women also have the unique ability to be able to carry a concealed firearm in places that men usually do not, and some of the items in today's top five are for just such an occasion.
While some women don't mind getting geared up in camouflage, jeans and boots, some of the more delicately featured women still enjoy their fashion and don't wish to be put through the rigors of dressing like a man simply to carry a weapon.
Well, with a bra gun holster, ladies, you won't have to.
---
Best Bra Holsters for Concealed Carry
These special concealed carry bra holsters are some of the best, so why don't we take a look at the particulars and help you find the one that you simply have to have.
---
Flashbang Holster Review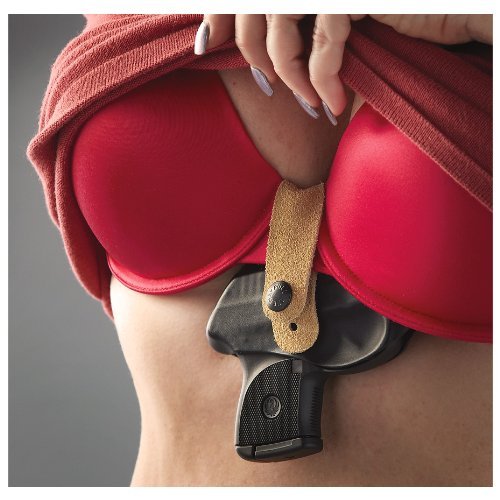 The first item to be reviewed is the Flashbang Bra Holster. The Flashbang is the original holster in the Pin-up Collection and revolutionizes the way women conceal their firearms. It sits horizontally tucked underneath the bra band and the gun is drawn by pulling straight down on the grip.
The ultimate in concealed carry bra holster, carry and comfort, the Flashbang lets a woman carry a gun on her person without needing to change the way she dresses. Any stylish gal will tell you that having to dress like a man to carry a gun is an unacceptable option.
The flash bang holster is primarily fitted to carry a Smith and Wesson Bodyguard and may fit some other models of similar shape and size. While the Flashbang is great for everyday wear, it is not suited for running. Reaching up and bending down will necessitate the need for readjusting the holster, so keep that in mind.
In addition, if the butt of the gun slips down, it will stand out against the front of your shirt and be very obvious. There are three different strap lengths, so finding and ideal fit is easy to do. It might be important to note, however, that there is a tab in the snap that makes fitting easier as well, but it can be hard to find.

---
UnderTech Undercover Concealment Women's Midriff Half Tank Review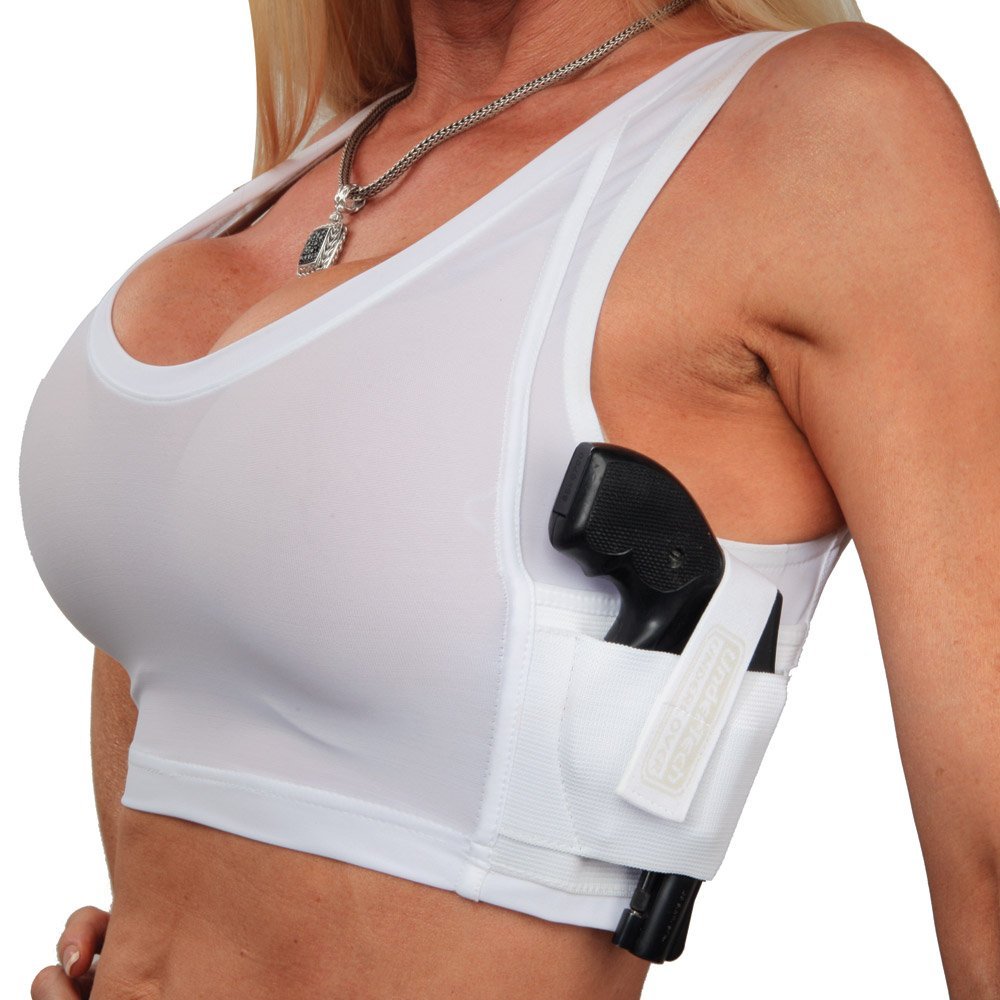 Next, we will take a look at the UnderTech Undercover Concealment Women's Midriff Half Tank. This holster-garment could be a considered a sports bra holster and is incredibly comfortable to wear.
It is made for an ambidextrous situation and will work equally well for both right handed as well as left handed shooters.
This bra concealed carry holster allows for immediate access when wearing button down shirts, t-shirts, pullovers and is even easily accessible while sitting.
The UnderTech is worn by the Secret Service, FBI, DEA, TSA and many other agencies and police departments nationwide. It also features two identical holsters, one of each side, and will conceal handguns, spare magazines, documents and more.
If you need to hide it, this is definitely the piece to have. The UnderTech is made micropoly/Lycra 4-way stretch fabric and has an extremely comfortable design that enables you to carry and conceal your handgun with ease and confidence. It is lightweight and very breathable.
Made in the USA, it is completely machine washable. While most of the aspects of this holster make it a desirable item to have, it should be noted that there is no elastic at the bottom of the garment and therefore it has a tendency to ride up, requiring you to move it back into position.

---
UnderTech Undercover Women's Concealment Tank Top Single Shirt Review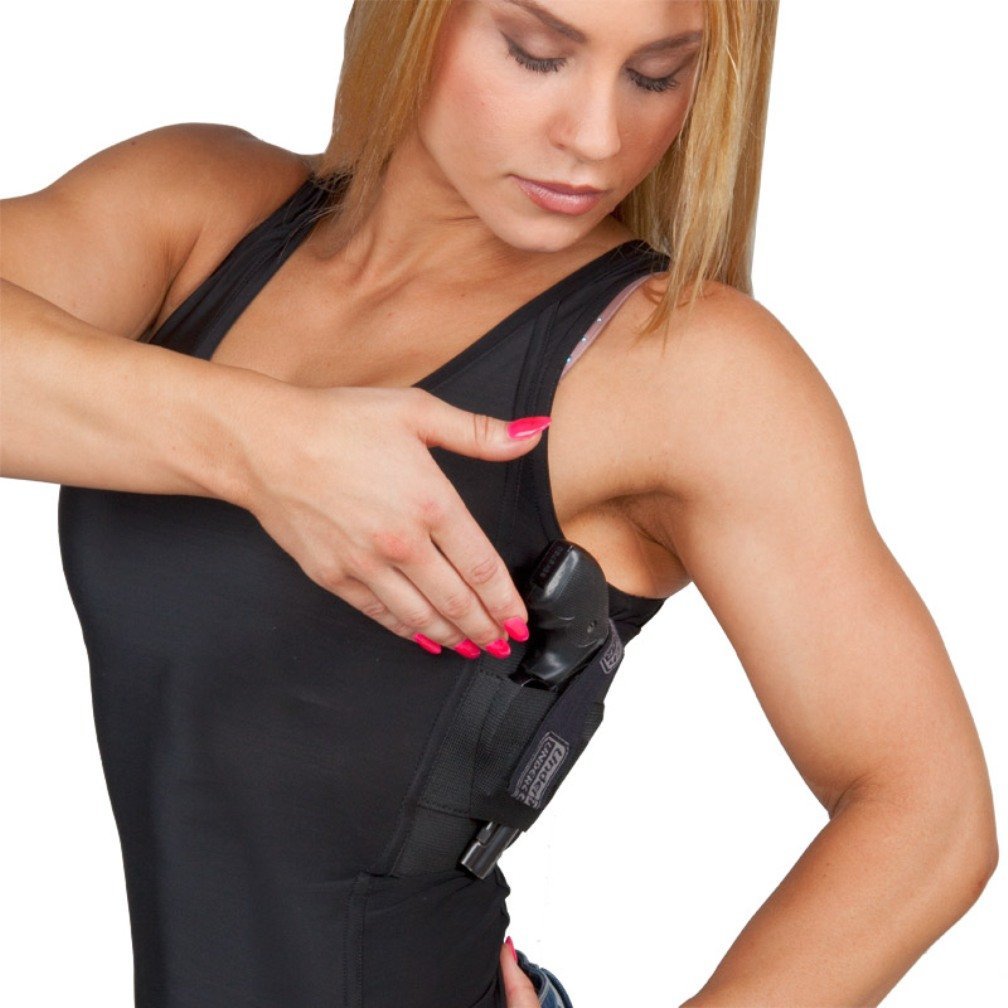 The UnderTech Undercover Women's Concealment Tank Top Single Shirt is the next item up for review. Much like our previous item, this holster is an all in one shirt that also holds a weapon.
The new tank top design works great for summer time and warmer weather. This UnderTech Undercover all-weather compression concealment power shirt fits you like a second skin. The fit has been improved, as has the function, for greater retention and more comfort.
It features two identical easy-access holsters to carry and conceal two handguns at the same time. Or you can choose to carry spare magazines, handcuffs, cell phone or even an iPod on the opposite side of your handgun. Works equally well for either left or right-handed shooters. It is also worth noting that the size of the gun does not seem to matter.
Any size gun fits in this holster snugly and securely and gives you the confidence of being able to carry it without worrying that it will fall out or accidentally be discharged.
This item has been worn by many different various police department personnel and other agencies as well have made use of this garment. Made in the USA, it is 79% polyester and 21% spandex.

---
Bulldog Cases Small Concealed Lace Thigh Holster Review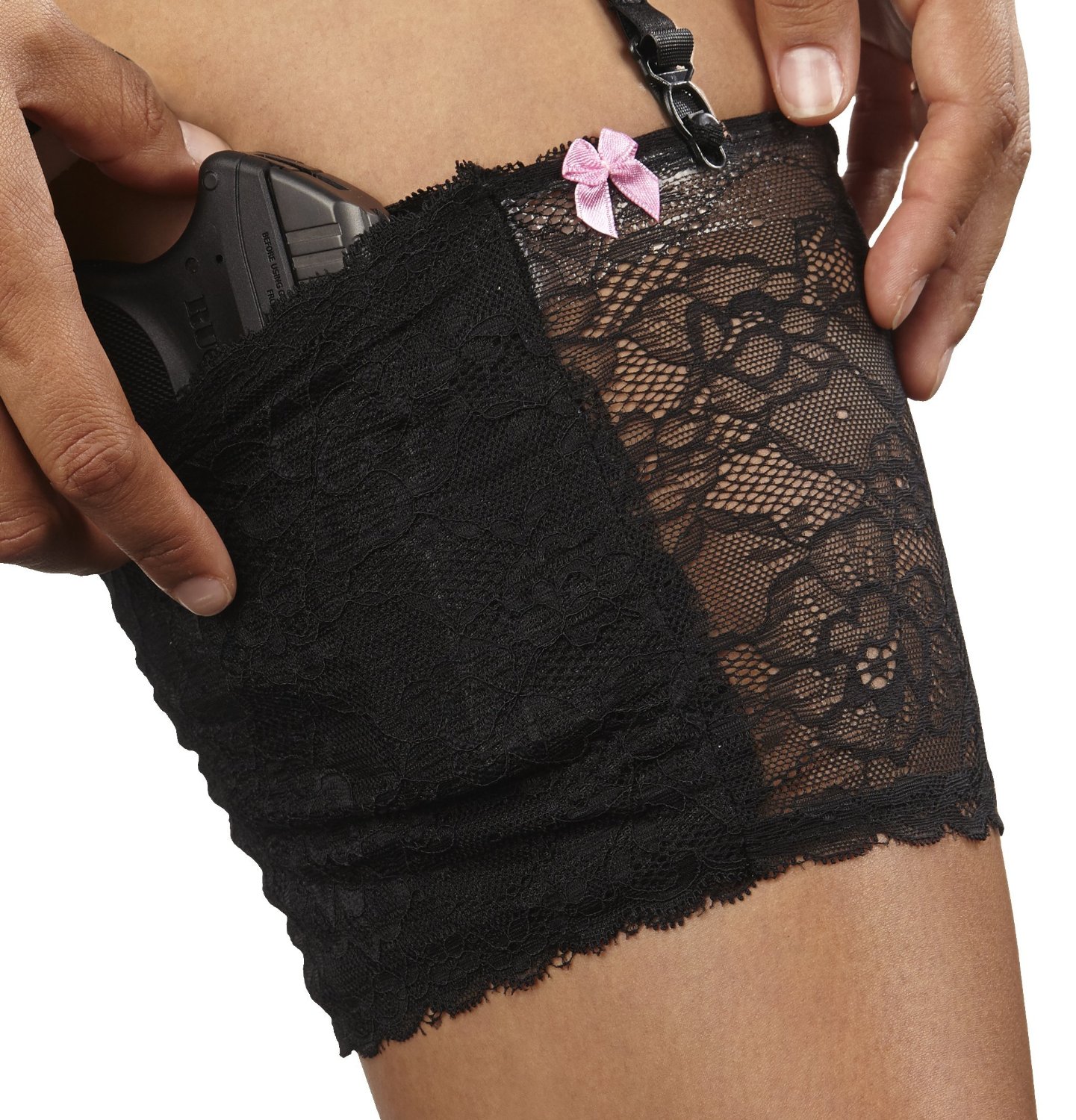 The Bulldog Cases Small Concealed Lace Thigh Holster with Garter Straps is the next up for review. This black lacy thigh holster is frilly and girly enough to be worn with your nicest formalwear and discreet enough to hide mini automatic weapons up to one pound in weight. It includes four matching garters, however the garter belt is not included.
The thigh holster is made from a nice stretch lace material with a silicone "grip top" to prevent the garment from slipping down as you move. Even if you happen to be going somewhere to which you cannot carry your firearm, this little garment can still come in handy.
You can also use it to carry a cell phone, credit cards, cash or even pepper spray or a small knife, all without a purse. Sizes work such that a small will fit a thigh of 22-23 inches.

---
Hip Hugger Classic Can Can Concealment Women's Concealed Carry Holster Review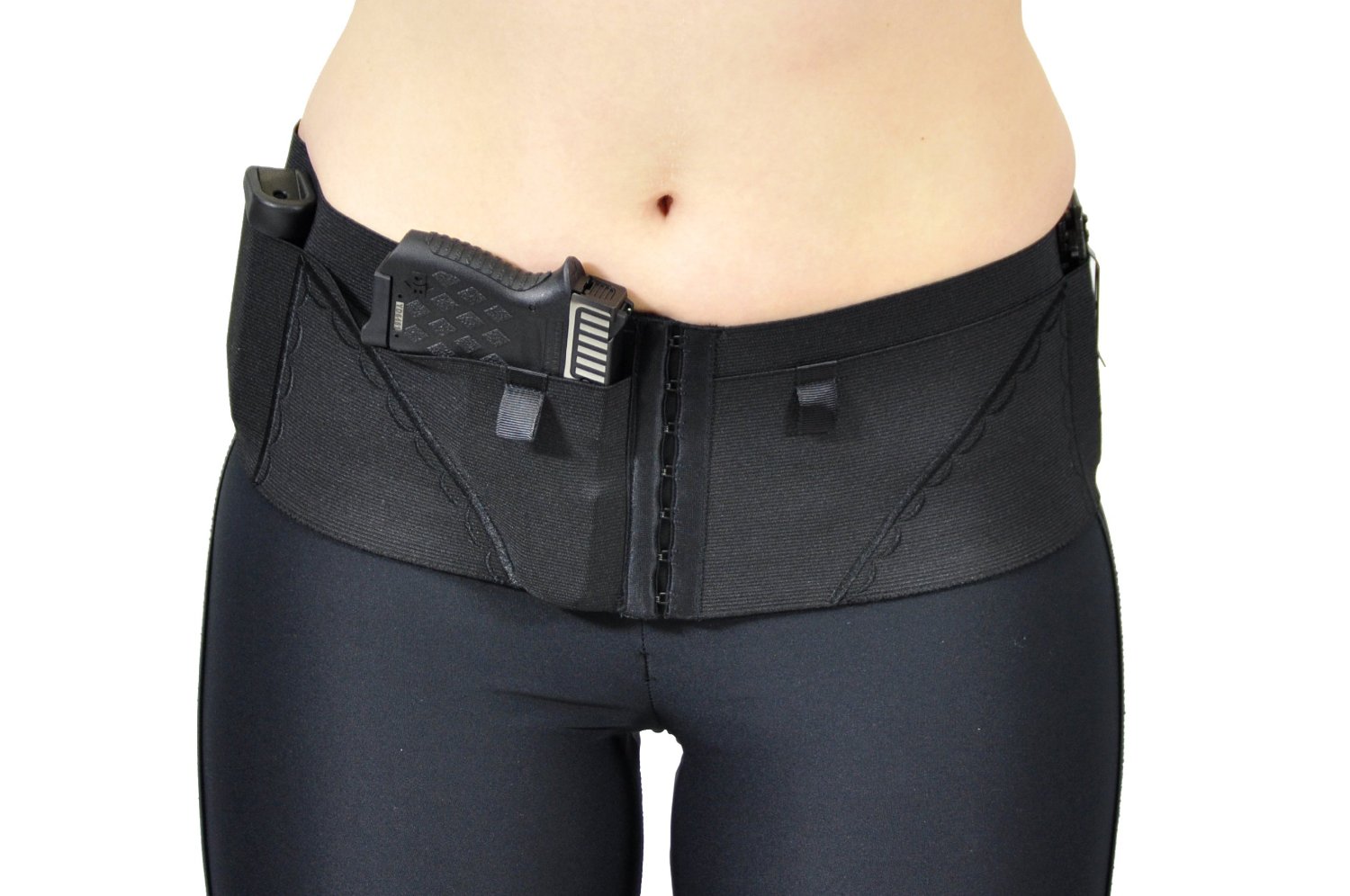 Finally, we have the Hip Hugger Classic Can Can Concealment Women's Concealed Carry Holster. The Hip Hugger Classic is designed for a woman's curves as well as her weapon. The Classic is the perfect choice for most concealed carry handguns. The five-inch military-grade elastic holds weapons and magazines securely in place for secure inside the waistband concealment. Two rows of hypoallergenic nonslip Tacti-Grip keeps your holster securely in place, all day long. Three rows of metal hook and eyes make for a secure, low profile closure. Positioning includes four holsters, two appendix, and two kidney with three additional pockets for magazines, smart phones, lipstick, knife, taser and more. For added versatility, there are regular sizes as well as extender sizes, so you can find the fit that is just right for you.

---
My Vote for Best Bra Holster for Gun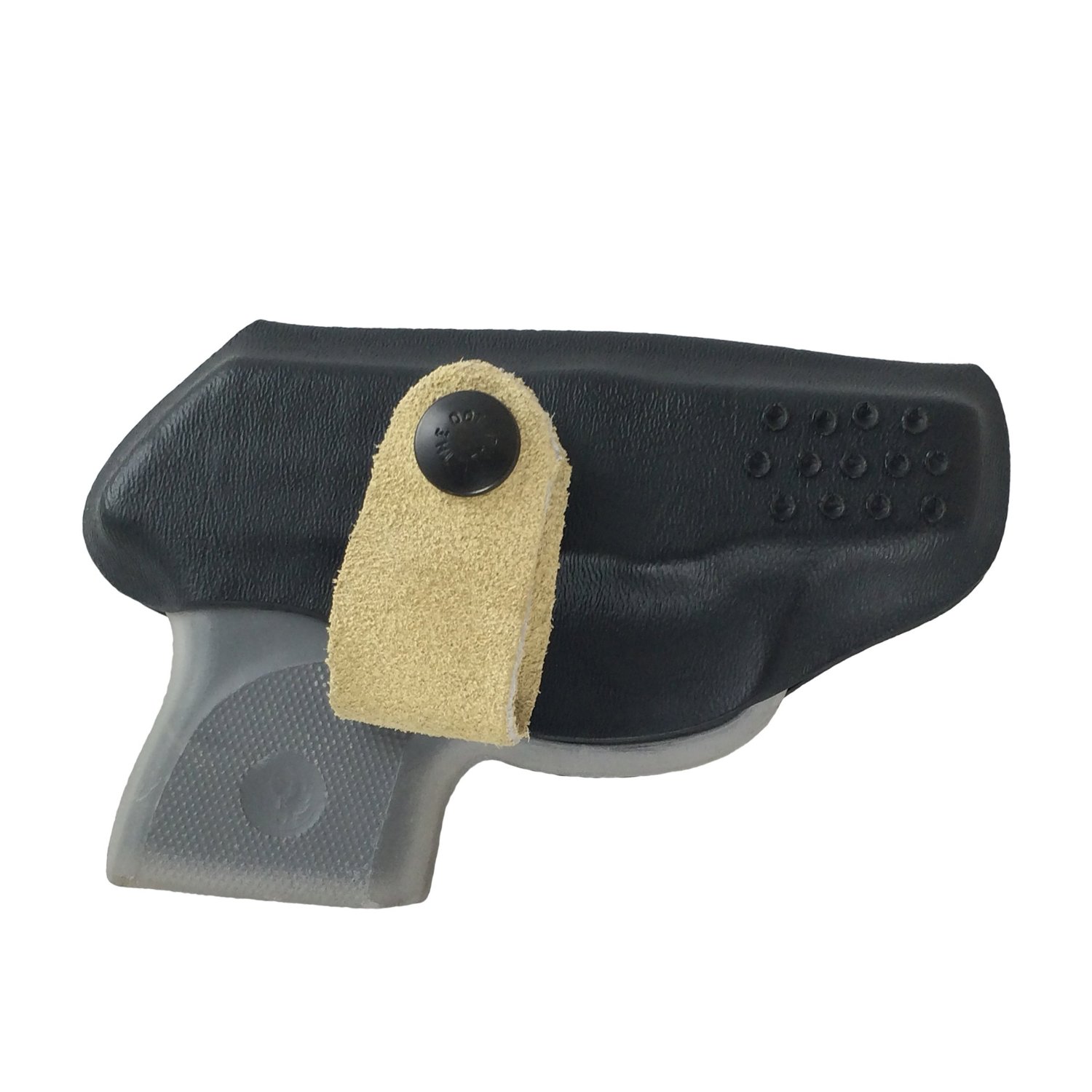 While not all of these are concealed carry bra holsters, I tried to keep them all in the women's category.
If your are looking for a gun holster bra, you cannot beat the quality of the Flashbang concealed carry bra gun holster. Flash bang holsters have basically become the industry standard in all bra holsters. Of course, as we mentioned above, it won't be your best bet for running. If you want one good for running, you will want to the Undertech sports bra holster.
If, however, you are a woman looking for something else besides a bra holster, I would also recommend the Hip Hugger Classic. Its size, the material it is made from as well as the amount of holstering options and extra pockets makes it the absolute top of the line and everything is well within reach.
With the Hip Hugger Classic, you do not have to decide whether you need to conceal your weapon or hide your cash or phone, you can conceal everything, leaving you with no need to carry a purse or wallet that could easily be stolen.
Those are my two favorite picks.