Best Bedside Gun Safes: Quick Access Safe Reviews
Traditional gun safes are certainly not low quality safes. They are made of high quality materials, have plenty of room for firearms and other valuables and are not easy to remove from a home for later break in.
However, these days, more and more people are demanding a quicker access to their firearms and valuables. Quick access safes, also called beside gun safes give you more peace of mind in knowing you will be able to have your weapon in your hand much more quickly than you would from a traditional safe.
And the few seconds you save in actually getting to your weapon could mean the difference between life and death, in some situations.
---
Best Bedside Gun Safe for Quick Access

With that in mind, we are going to review five of the best quick access safes to see what some of their specifics features are and how they might be relevant to you.
While some may have similar features, each one is different with certain aspects stronger than others. Hopefully, you will find one that fits your personal situation perfectly.
---
GunVault SV500 SpeedVault Handgun Safe Review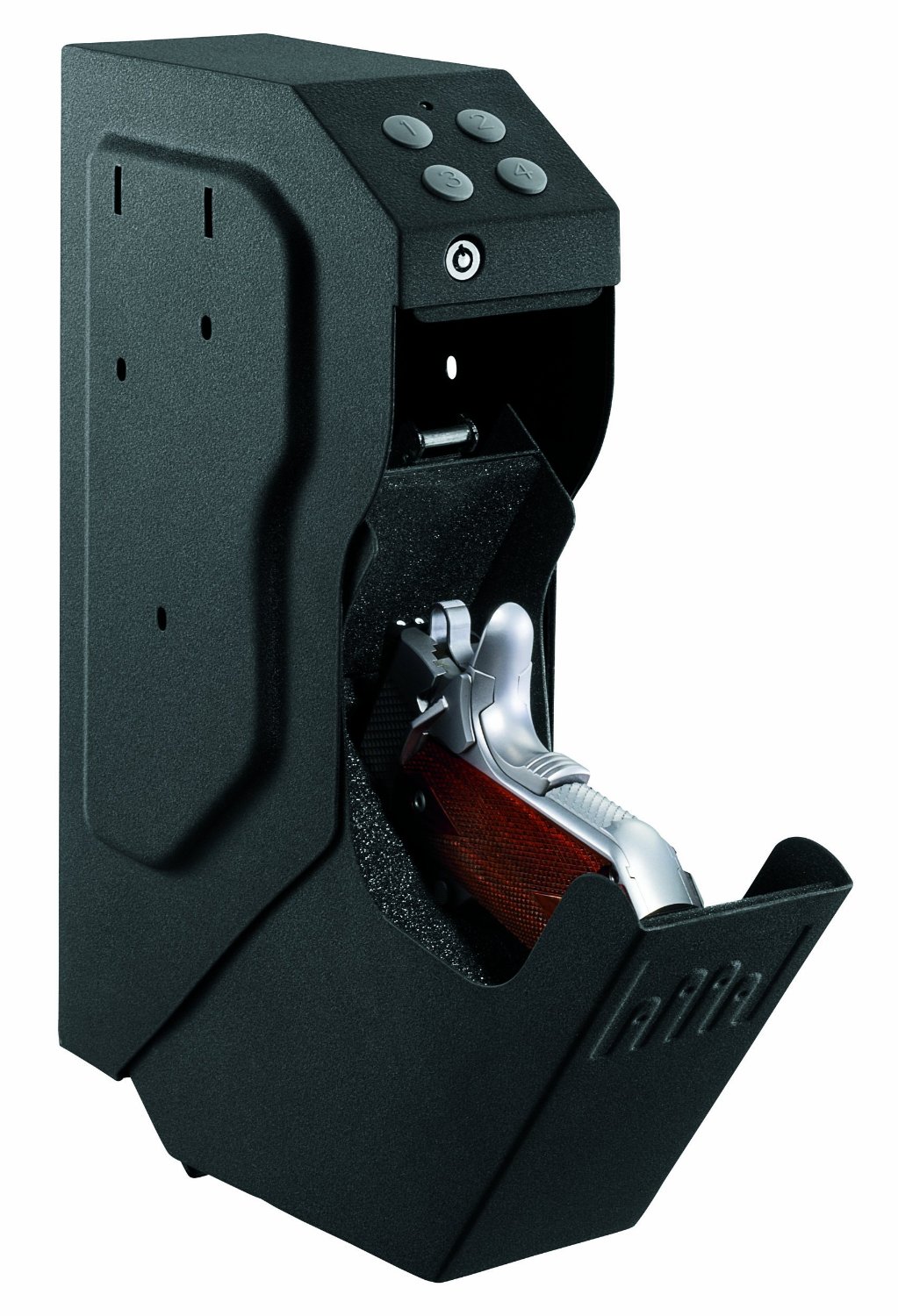 The first one we will review is the GunVault SV500 SpeedVault Handgun Safe. The GunVault safe is made of 18 gauge steel construction with protective foam lined interior and features a quick access digital keypad with a backup override key included.
There is a fast activation drop down drawer for quick access of the valuables inside as well as multiple mounting options with the hardware to do so included.
Offering a revolutionary design, this quick access pistol safe is equally as fast as it is discreet, making it an ideal choice for a home or business that is looking for added security. It measures 6.5 x 3.5 x 13 inches and weighs only 8.2 pounds.
The high strength locking mechanism is reliable time and again to ensure that your valuables are safe and secure. With two backup override keys, your access to the safe will be insured in any event. When you open the safe, a courtesy light is activated to illuminate your handgun or valuables in darker situations while the soft, padded foam interior keeps the contents safe and secure.

---
First Alert 5200DF Portable Handgun or Pistol Safe Review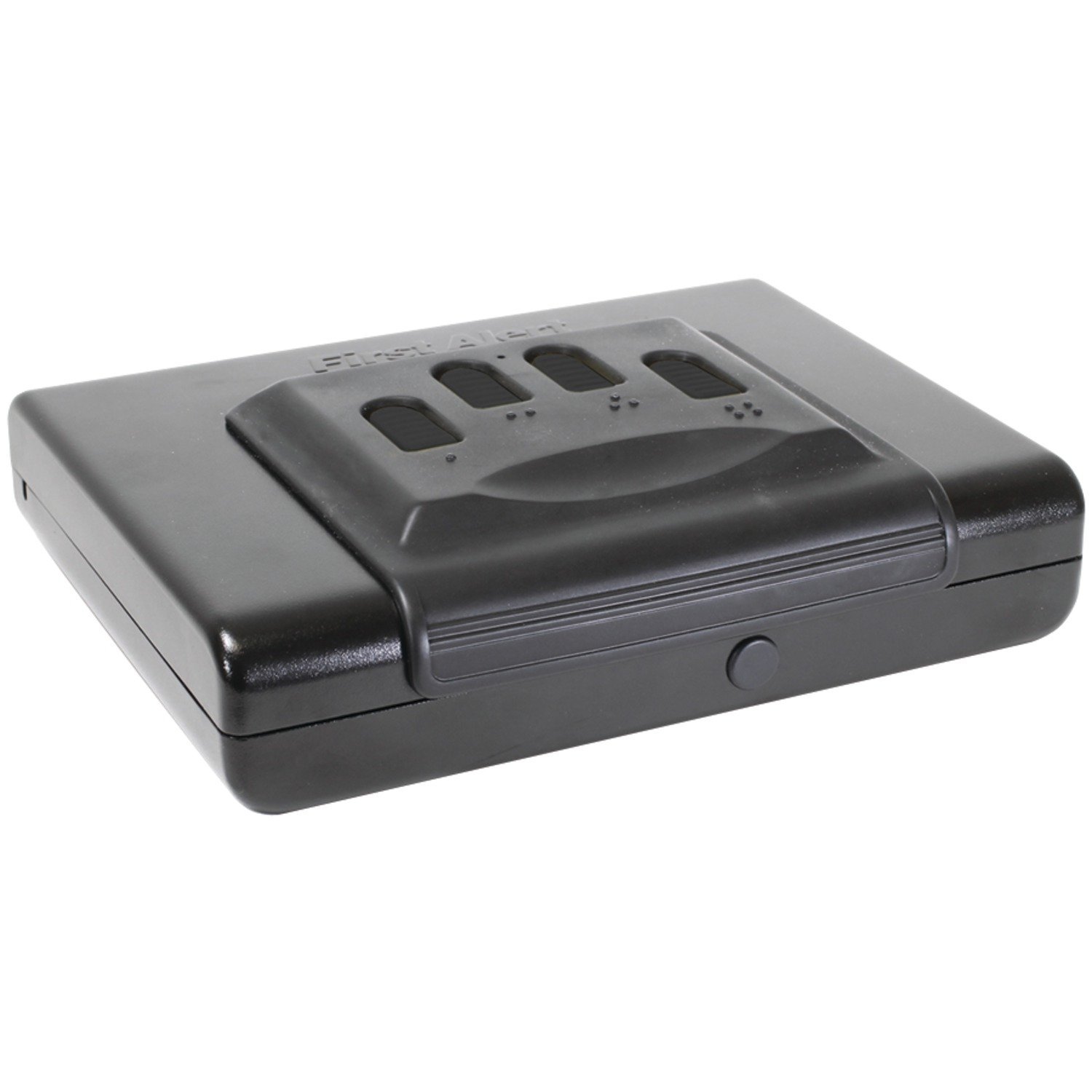 Next up is the First Alert 5200DF Portable Handgun or Pistol Safe. This quick entry handgun safe is the ideal portable solution to safeguard your pistol and ammunition. Constructed of 18 gauge steel with a black powder coated finish and electronic keypad, there is a programmable 3-8 digit "no see" pass code that provides secure theft protection.
The spring loaded door locking mechanism opens quickly once the pass code is entered and allows fast access to the contents in the event on an emergency. The interior is padded with a soft foam that protects the contents of the safe during storage.
This quick pistol safe also includes a 1500-pound test steel cable to lock down in a car trunk as well as pre-drilled mounting holes to secure to the floor or to a shelf for even more security. Measuring 10 x 12 x 3 inches, this safe weighs a slight four pounds.

---
Fortress Alarming Quick Access Pistol Safe Review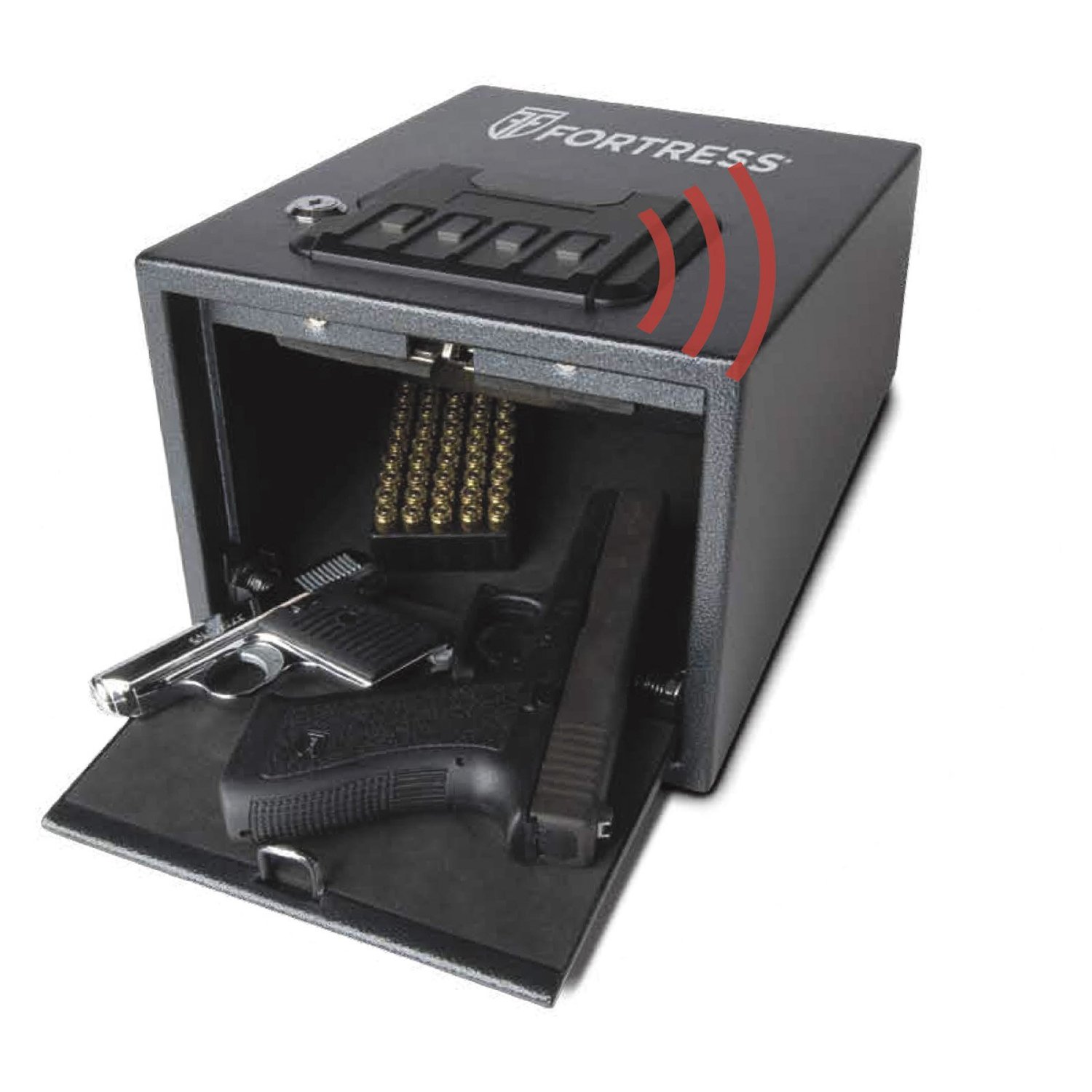 Next, we have the Fortress Alarming Quick Access Gun Safe. The P2EA pistol safe features Alarm-U, the tamper and motion sensitive alarm that deters theft and keep your family safe. The whisper quiet, yet quick button key pad provides easy access to the safe's contents. With a programmable four-digit lock and a spring-loaded drop down door, this bedside gun safe is easy to use as well as being very secure.
This safe is made of heavy steel and will hold two pistols as well as being DOJ approved. In addition to these already mentioned features, the Fortress Pistol Safe carries a ten-year product warranty and lifetime attack warranty.
This unit measures 9.1 x 7.3 x 12 inches and weighs in at ten pounds. While the steel is not as thick as some other safes that we have mentioned, the alarm acts as an extra deterrent, as it is incredibly loud and will certainly alert you if it is tampered with. It runs on eight AA batteries that last in the neighborhood of about 2 years, depending on the batteries used and the amount of daily opening of the safe.

---
V-Line Quick Access Keyless Long Gun Safe Review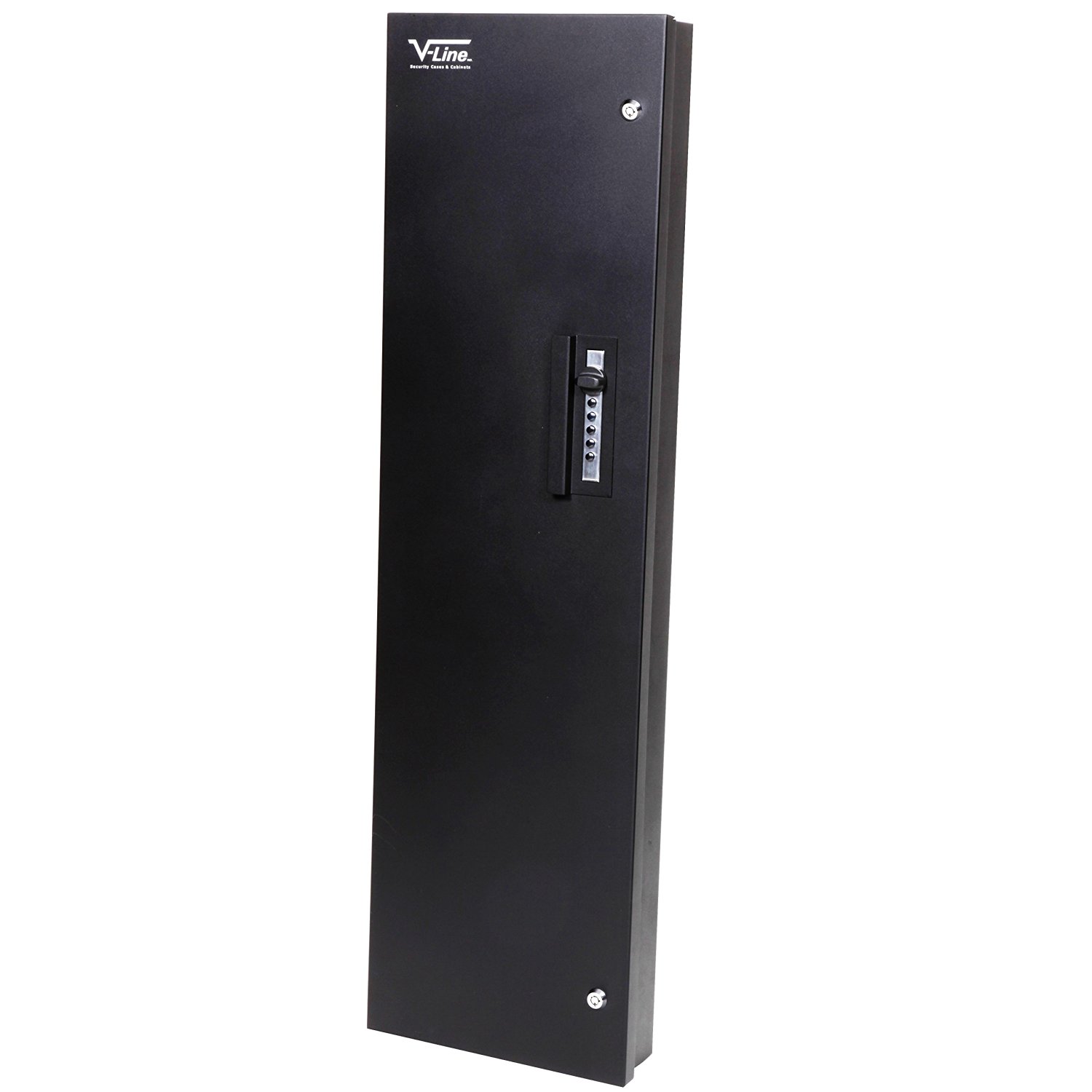 The V-Line Quick Access Keyless Long Gun Safe is a bigger safe than we have reviewed here so far. It measures 42 x 12 x 3.5 inches and weighs just over ten pounds. The V-Line features a quick access keyless high-grade lock with front and top opening so that it can be mounted upright or hanging on the wall or a door thanks to the pre-punched mounting holes for easy mounting.
The V-Line Rifle Safe is a compact yet sturdy way to store your rifles and long guns, making it ideal as a quick access shotgun safe. The steel construction has a pry resistant clam shell design and high security locking system combines to keep your gun both safe as well as being incredibly handy. There are two additional key locks that give you the added security when quick access is not needed. It features a premium powder coated finish that will last for year and will protect the steel underneath.

---
BARSKA Quick Access Biometric Safe Review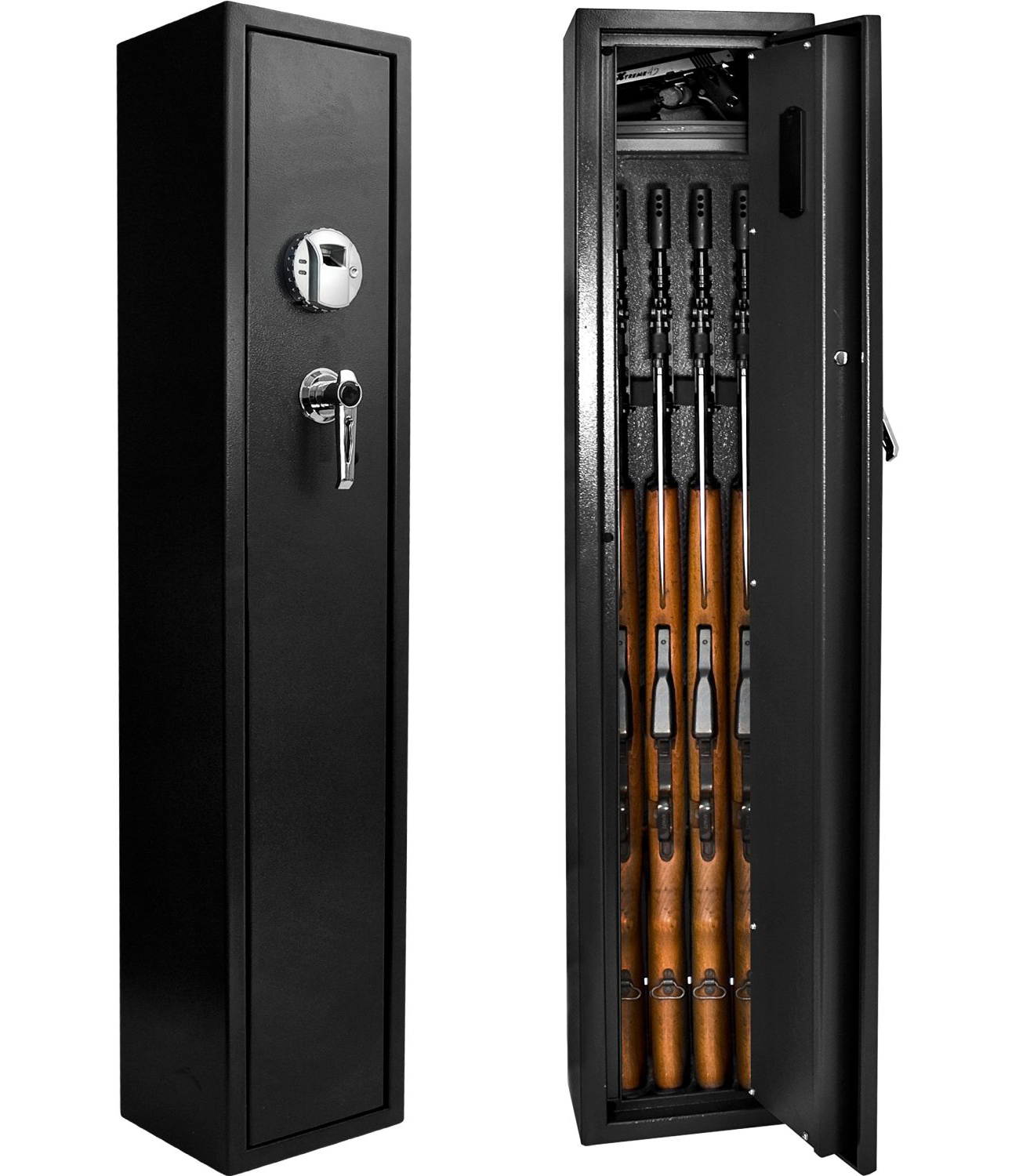 Finally, we have the BARSKA Quick Access Biometric Safe. The biometric technology of this safe allows you to store up to 120 different identities and has two backup keys for times when quick access is not absolutely necessary. The easy to use system allows you to store fingerprints in mere seconds.
With this type of technology, you have the ability to quickly and effortlessly access your weapons and valuables in a time of emergency. The Barska is ideal for storing rifles and shotguns as well as other valuables such as important documents, jewelry, medications and more. It can hold up to three rifles at once, or fewer guns and more valuables. It also features a removable storage shelf for guns and ammo and there is a three point solid dead bolt locking system that can be quickly opened with a one hand turn motion.
This bedside safe comes with an emergency set of backup keys, an external battery pack as well as mounting hardware. It also comes with four AA batteries on which it operates and these can last up to two years. For maximum security and performance, make sure you keep the fingerprint scanner clean and free from dust, debris and smears. After each use, use a dry cloth to remove any smudges or prints from the scanner. Test registered fingerprints once every six months. It is also important to note that when the door is closed and three repetitive beeps are heard and the indicator lights flash red, that is an indication that the batteries are low and need replacing.

---
My Vote for Best Quick Access Gun Safe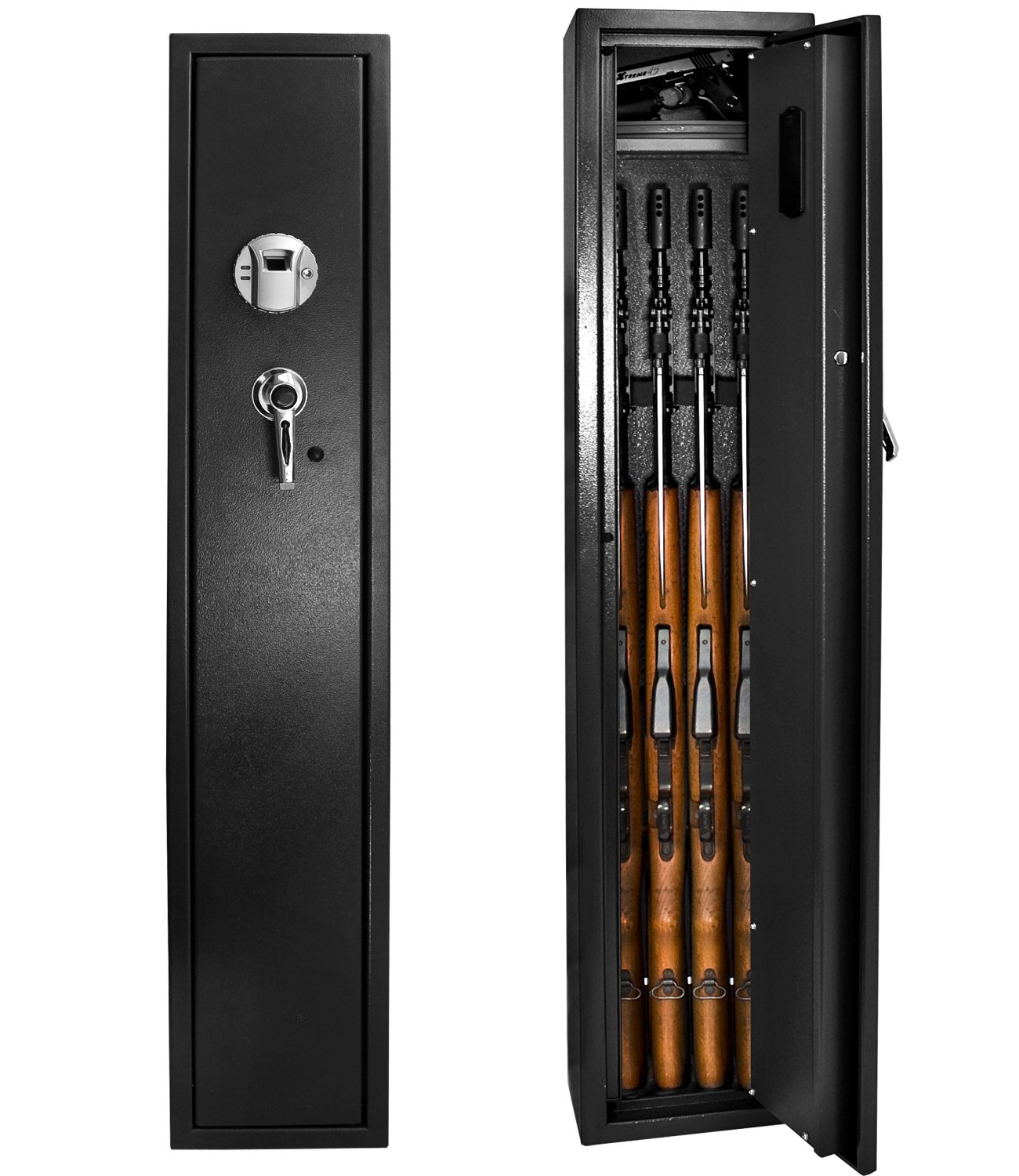 These are all great safes, but what may be best for you might not be the best for someone else. For instance, you are looking for nightstand gun safe, you aren't looking to store long guns. Similarly, if you want quick access safe for rifles, you don't want to be looking at the best quick access pistol safe, or the best nightstand gun safe.
That said, however, I do have a personal favorite of these fast access gun safes, and it would have to be the Barska Quick Access Biometric Safe.
Of all that are listed within our review here, this is the only one that features the biometric technology that allows you to open the safe with the simple touch of a finger. While keypads do certainly work, it takes a few extra seconds and those are seconds that may cause dire circumstances in certain situations.
There is also the fact that bringing a complicated numeric code to mind can truly be a feat when there is an emergency happening around you or if you are under undue duress at the time. With the fingerprint scanner, you can simply touch the safe and it will open, giving you access to whatever you have inside.
It is also incredibly handy that this safe is large enough for three rifles, and it also comes with a storage shelf for ammunition and smaller weapons as well as other valuables.