Best Fortress Gun Safe Reviews

Heritage safe company developed the Fortress brand over 20 years ago as a more affordable alternative to their higher end safes. Since then, The Fortress brand has been a go to for anyone looking for a light duty safe that is easier on the wallet than some of the other big names out there. You'll find that Fortress has designed a great product with amazing value. I really believe that is why the Fortress name has really excelled in the gun safe world. Fortress has also been an innovator in the safe world and has developed the first home security safe that allows for programmable alarm settings and a built in interior light.
Fortress has been intentional in designing a small variety of safes for your home, office, vehicle and more. Their product catalogue includes small electronically locked home security safes, on the go mobile safes, nifty cash security boxes, heavy duty gun cabinets, pistol lock boxes and what we'll be looking at for now, full-size gun safes. Their full size FS series is the only full-size option from Fortress and provides 8 different sizing options to choose from.
Here are our Top Picks
If you're in the market for a gun safe and have had a chance to check out all of the different brands and features, you've probably realized that there is much more to a safe than just the aesthetics. When reviewing a safe, I always make sure to touch on the most important features to look for in a safe: Capacity, fire protection, security, aesthetics and warranty. In these next few paragraphs I'll breakdown of each of these review categories. If you'd like more in depth version of these features, check out my article "What to look for in a safe"
When choosing the capacity of your new safe, it is important that you always leave room for expansion. My general rule of thumb when it comes to capacity is to always purchase a safe that you can grow into and not out of. A safe can be something you keep for a lifetime so it is best to always have the room available for expansion.
The strength and security features of your safe will decide how easy it is for an intruder to gain entry to your safe. You'll want to make sure that the boy of the safe you choose is made from thick steel, preferably a minimum thickness of 14-gauge. You'll also want to make sure that door includes several steel locking bolts that cover all four sides of the safes door, re-locker and a steel hard plate that prevents drilling. Fire protection is just as important as the safes strength and security features. I always suggest a minimum of 60 minutes of fire protection no matter the scenario. If you live far from a fire station, you may want to consider more than my minimum recommendation.
Click to See All Fortress Prices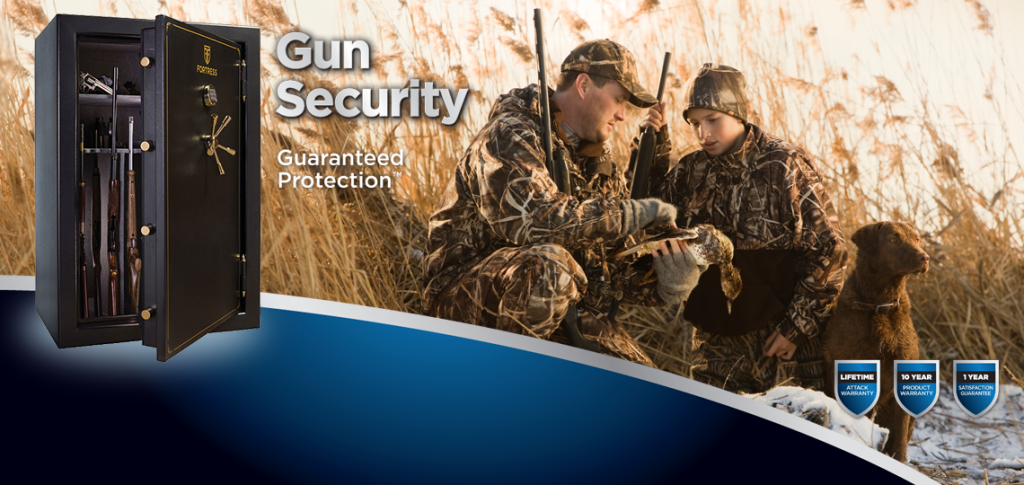 The aesthetics of your new safe will be important if you're planning on placing your safe out in the open. A safe can be a great conversation piece for any game room or living room but if you're planning on storing it in the bedroom closet or hidden away in the corner of your basement, this may not be as important to you. All the safe manufacturers I have reviewed provide some type of warranty. If you plan on having your safe for longer than a few years, it is best to choose a manufacturer that provides a lifetime warranty that offers repair or replacement on your damaged safe.
Now that I have educated you a little bit more on what to look for in a safe, let's check out the details on Fortress's full-size FS series gun safe.
Click to See All Fortress Prices
---
Fortress FS Series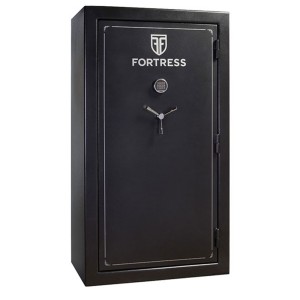 The FS series from Fortress proves to be an excellent choice if you're looking for entry-level safe that is affordable but still provides great security and fire protection. You'll find that the FS series includes several features that are generally only available on higher priced safes making this series a great value. The FS series comes in 7 different capacity and size options ranging from a small 14-gun capacity all the way up to a generous 60-gun capacity safe. Since these safes are so affordable, I'd suggest going with the one of the larger models.
The fire protection of the FS series varies depending on which capacity option you choose and range from 20 minutes all the way up to 60 minutes. The smallest two of the series offers 20 minutes of fire protection, the 4 mid sized models provide 40 minutes of protection and the two largest 60-gun capacity models offer 60 minutes of fire protection. I always recommend a minimum of 60 minutes worth of fire protection. If you choose to go with their mid or small sized option, I would suggest storing it somewhere like a cement garage or basement.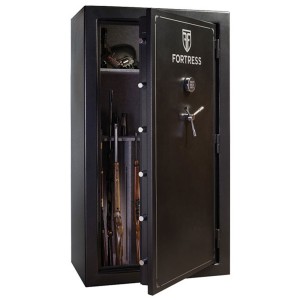 When it comes to security, the Fortress brand is truly a great value. No matter which sizing option you choose, the FS series comes with a minimum body thickness of 14-gauge steel, large steel locking bolts, pry-resistant recessed door and bolt-down kit. Fortress has designed the FS series security specs to increase with capacity, which means the larger capacity models come with thicker steel bodies, larger steel bolts and pry resistant notched bolts.
Click to See All Fortress Prices
Aesthetically the Fortress brand provides a black textured exterior with chrome hardware. As with most budget friendly safes, the FS series does not come with any exterior color options. The interior of the safe is covered in gray carpet and comes with a handy door panel for accessory and handgun storage. Also included is an electronic keypad for quick access entry to your firearms. The two smallest capacity safes do not include the accessory door panel or the electronic lock.
Fortress stands behind all of their products and offer a lifetime warranty on all of their gun safes. This warranty protects you against break-ins, break-in attempts and fire damage and Fortress will replace it free of charge! In addition, they also provide a 10-year warranty that covers the parts, lock and paint on your safe. Fortress also provides an additional one-year satisfaction guarantee on the FS series safes.
Fortress Gun Cabinets
| Model | Guns | Height | Width | Depth | Weight | Price |
| --- | --- | --- | --- | --- | --- | --- |
| FS3 | 3 | 57" | 9.8" | 9.8" | 70.4 lbs. | $ |
| FS7 | 7 | 57" | 13.8" | 13.5" | 120 lbs. | $ |
| FS10 | 10 | 57" | 19.7" | 13.8" | 135 lbs. | $ |
| FS11 | 11 | 59" | 19" | 14" | 140 lbs. | $ |
Click to See All Fortress Prices
Fortress FS Safes
| Model | Guns | Height | Width | Depth | Weight | Price |
| --- | --- | --- | --- | --- | --- | --- |
| FS10C | 10 | 55" | 18" | 15" | 202 lbs. | $ |
| FS14C | 14 | 55" | 20" | 17" | 226 lbs. | $ |
| FS24 | 24 | 60" | 26" | 20" | 330 lbs. | $$ |
| FS30E | 30 | 60" | 28" | 20" | 386 lbs. | $$ |
| FS60E | 60 | 72" | 40" | 25" | 867 lbs. | $$ |
Click to See All Fortress Prices
---
Bottom Line
Fortress provides some of the best entry-level safes out there by including features only found in higher end safes at an affordable price. With 20 years of experience and innovation, Fortress has become a serious competitor in the entry to mid-level safe game.
It is very important to buy the absolute best you can afford because odds are you'll have the gun safe for several years and maybe even a lifetime. Make sure you fully understand all of the different features that are included in the safe as well as fully understand your exact needs for capacity, fire protection, security and strength as well as aesthetics. I would suggest Fortress' more popular models, the 45 or 60-gun capacity safe as it has the higher fire protection and security ratings and will hold a pretty large collection of guns and valuables.