Top Homak Gun Safe Reviews

Homak first began as small steel fabrication shop in Chicago in 1947, specializing in steel kitchen cabinets, tool cabinets and a few other miscellaneous steel items. Homak was purchased by JVA Corporation in 2005 and was moved to Pennsylvania. Today, Homak still manufactures high quality steel products and has expanded the Homak name to Homak Security, which offers personal safes, wall safes, pistol boxes, security cabinets, gun safes and more. But for now, we will be looking at their line of gun safes and reviewing some of their key features.
Homak Security has designed two different types of gun safes: fire-rated safes and non-fire safes. The fire-rated safes are designed to keep your valuables safe when being exposed to fire for up to 30 minutes. The non-fire safes are built with no fire protection and will not protect your items in the event of a house fire. No matter the scenario, I always suggest going with a safe that has fire protection.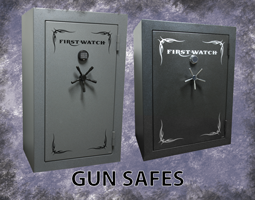 Now that you've heard a little about the Homak Security brand, it's time that we go over the important features that make up a quality safe. These important features will help you decide exactly what you need and what you should be looking for in full-size gun safe. Unfortunately, I cannot simply tell you which one to purchase. However, I can help inform you of what you should be looking for in a safe and help guide you so that you make the best possible decision. Let's take a quick look at some of the features that we will be covering.
Click to See Lowest Homak Prices
---
When looking through the different brands of safes, you'll probably realize right away that each model of safe generally comes in a few different sizes and capacities. When choosing the size and capacity of your safe, it is very important that you don't choose a model that you'll quick grow out of. Always choose a sizing option that you can grow into, and now out of.
Another important feature in a gun safe is the fire protection rating. I always suggest a minimum of 60 minutes of fire protection in any scenario. If your budget is not quite enough to purchase a safe with 60 minutes of fire protection, I would suggest storing your safe somewhere surrounded in cement like a garage or basement. In addition to fire protection, the actual strength and security of the safe plays a huge role in how protected your valuables are. Some important things to look for are the thickness of the steel body, number of locking bolts in the door, drill plates and relockers.
If you're planning on putting your safe somewhere visible, you will most likely will want to consider the aesthetics of the safe. Depending on the brand you decide to go with, it may come in a few different colors and finish options. However, Homak Security only comes in a textured black powdered coated finish.
Last but definitely not least, the warranty. All gun safes will come with some type of warranty ranging from a 5-year warranty all the way up to a lifetime warranty that covers everything from fire damage to break-in attempts. Since safes are generally a once maybe twice a lifetime purchase, it is important to pick a safe that has a great warranty, preferably lifetime.
Click to See Lowest Homak Prices
---
HS501 Fire-Rated Series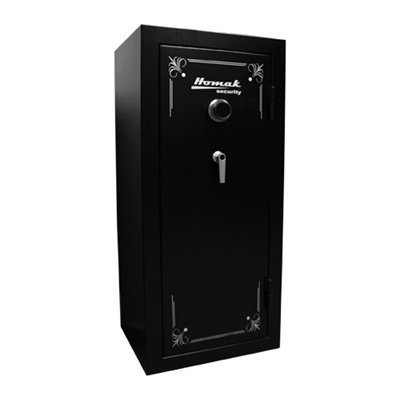 The HS501 Fire-Rated series is the only series from Homak that offers fire resistance and moderate security features. Even though this is Homak's flagship series safe, it is still economically priced and great for any looking for something that won't completely break the bank. The HS501 series comes in three different size and capacity options; a 16 long-gun capacity model, 24 long-gun, and the largest of the 3 has a mid-sized 36 long-gun capacity. Each of these models are the same ht and just vary in depth in width. Now that we've covered capacity, let's check out the other features of the safe.
Homak Security provides 30 minutes of fire protection on their HS501 Series safes. 30 minutes is common among most entry-level more affordable safes. I always recommend a minimum of 60 minutes of fire protection in any situation so a 30-minute rating may leave you unprotected in the event of a house fire. The only way to combat against is to put the safe in the garage or basement where it can be surrounded by cement instead of wood flooring and walls. The fire protection rating of a safe is just as important as the security features.
The body of the HS501 series is constructed from 14-gauge steel sides, back and door while the top and bottom are made from thicker 12-gauge steel. The locking system includes a 4-way system with 5 locking bolts and your choice of electronic keypad lock or a dial combination lock. This is considered an entry-level lower security safe so If you are looking for something to store high priced valuables, I would spring for something with a higher security level.
The HS501's exterior comes in a powder coated black finish that is proven to be durable around the shop. The handle and lock come in shiny chrome that matches perfect with the black finish. The interior of the safe comes carpet and has a few adjustable shelves that vary in size depending on the size model you choose to go with. It also comes with adjustable barrel rests to fit perfectly with your different sized guns. You may want to consider purchasing a battery powered LED light and a dehumidifier for the interior of the safe.
You will probably end up having your safe several years so it is important to get a safe with a good warranty. Homak provides a 5-year limited warranty that pays for parts and replacement if your safe is damaged from fire, break-ins and manufactures defects. This isn't quite as good as a lot of the other manufactures out there but I feel it is reflected in the price of the safe.
Click to See all HS501 Series Prices
---
HS301
The HS301 series is Homak's step up from a gun cabinet and provides an entry level, budget friendly affordable way to store your valuables. To keep the HS301 affordable, Homak has not equipped this series with any fire protection, which can be a make or break for many of you. The HS301 series comes in two small capacity sizes; a 12 long-gun capacity option as well a bit larger 12-gun capacity. Keep in mind, the actual gun capacity will vary depending on the size of your guns.
Since the HS301 is built with affordability in mind, it is not built with any fire protection. However, it does have some security features that doe help aid in the prevention of prying and drilling. These features include 14 gauge steel body and a 2-way locking system complete with 3 live-action locking bolts. It also comes with your choice of electronic or mechanical lock. The electronic model comes with a nifty retractable USB Entry key. I always suggest going with the electronic lock because of the ease of access in the case of an emergency.
The HS301's exterior comes textured in a hunter green power coated finish with shiny gold hardware and the interior of the safe is carpeted with an adjustable shelf and barrel rest. It also includes Homak's 5-year warranty that will cover your safe from fire damage, break-ins and manufactures defects.
Click to See all HS301 Series Prices
---
Bottom Line
Homak offers well-built entry-level safes that are much more affordable than many other safe manufacturers. If you're looking for a budget-friendly safe but want something that is a step above Field & Stream and Stack-On. Keep in mind; this is an entry-level safe so it provides only entry-level security. I would spring towards a mid-level to high security safe if you're looking for something to keep your high value goods safe.
If you're sold on the Homak brand, I would suggest going with a Homak Security HS501 Fire-Rated series. This is their most popular best-selling model and provides the most security out of their gun safe product line. Unlike the HS402 series, it provides 30 minutes of fire protection and some descent security features. If you're considering the HS402, I would strongly advise you to spend the extra money and get HS501.